Air India Ex-Staffer Sampathkumar Obstructs CVC Corruption Inquiry

Corruption Case of DPS Cooperative Group Housing Society, Sector 4, Dwarka, New Delhi
While India's Prime Minister Narendra Modi is shouting from the rooftops that he will weed out corruption from the country, he does not know that corruption is happening under his very nose – at DPS Housing Society.
By Rakesh Raman

It may well be an obstruction of justice case, as M.N. Sampathkumar – who claims to be a former employee of India's domestic airline Air India (AI) – is trying to block an inquiry directed by India's top anti-corruption organization Central Vigilance Commission (CVC).
The Directorate of Vigilance of Delhi Government – under CVC's direction – ordered the inquiry through the Registrar Cooperative Societies (RCS) against the managing committee (also called MC) of DPS Cooperative Group Housing Society in Dwarka.
I (Rakesh Raman) had approached the Central Vigilance Commission (CVC) with details of corruption by the DPS Housing Society MC members and on the basis of these details, the inquiry has been initiated. This is one of the many corruption cases about which I have reported as a journalist and I also run campaigns against corruption.
As Sampathkumar is currently leading the shady operations of the DPS Housing Society as the Secretary of the MC, the CVC-directed inquiry may spread its tentacles around his neck.
Obviously, Sampathkumar is leaving no stone unturned to get the probe into the corruption by the MC members stopped as he has become part of the group that was involved in the misappropriation of public funds.
While the inquiry is getting delayed, it is possible that Sampathkumar and his accomplices have bribed the officials at the RCS office to get it scuttled.
CVC Inquiry
Covering seven probe areas, the inquiry seeks explanation from the MC members – including R. Balasubramanian, K.V. Varghese, Neeraj Kumar Vaish, Sandeep Taneja, Leela Swami, Manjit Kaur, and Gaurav Kumar Sood – about the money spent in building repairs, excess money spent on procuring water for residents, underhand dealings in allowing illegal car parking, and the financial processes followed in spending the public money.
Since Sampathkumar has joined hands with the MC members who are facing corruption charges, he says he is using his influence to block the inquiry which may expose corruption worth crores of rupees.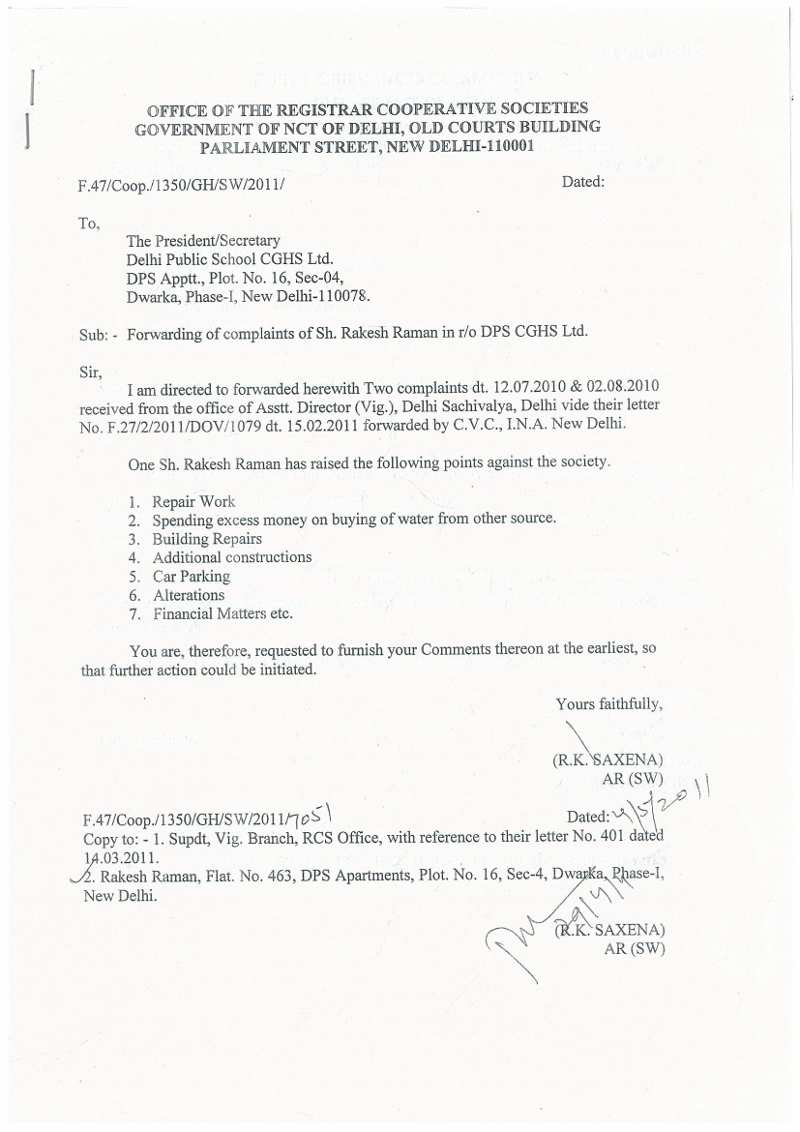 In an email, Sampathkumar indicated in May that since he is associated with Central Bureau of Investigation (CBI), CVC, and Enforcement Directorate, he can get any corruption inquiry stopped.
"I am associated with CBI, CVC, Enforcement Directorate since 1978," Sampathkumar said in his email which is in the possession of RMN News Service.
Instead of simply explaining about the issues related to financial mismanagement and lawlessness raised in the inquiry letter, Sampathkumar is using diversionary tactics to avoid the inquiry.
He said in his email about CVC inquiry that "if investigation report is not filed within 24 months from the date of filing SIR (Special Incident Report), same shall be deemed as closed."
How is it possible when the people whose money has been swindled are still asking for the accounting records and the manner in which their money was spent? Since Sampathkumar and the current / past MC members have failed to produce financial information being sought by the residents, it appears that either the required financial documents are missing from the Society office or they have been criminally destroyed by the present and / or past MC members.
No Response to Inquiry Letter
Moreover, as I had asked the CVC to direct the inquiry, it cannot be closed without formally showing me the reply of DPS Housing Society MC members through the RCS office. And the inquiry cannot be closed without giving me an opportunity to send a rejoinder to the MC members' reply (if there is any) in order to highlight their lies.
The fact is that till today I have not received any reply from DPS Housing Society MC members about the CVC-directed inquiry letter sent to the MC through RCS office.
Moreover, if the MC has a reply to the inquiry letter, it is supposed to send it to RCS office and RCS office should send it to me. The MC's reply must also include statutory financial documents, names of vendors, vendor selection procedures, payment terms, all related vouchers, expenditure processes, etc. that are required to be produced as per the inquiry. Only the income-expenditure statements and balance sheets will not satisfy the inquiry, as these bland statements / sheets conceal more than what they reveal.
In order to maintain transparency, the MC must also put the inquiry letter along with its response and supporting documents, procedures, etc. as mentioned above on the Society's website and proactively inform all the members about it. The MC must also paste the inquiry letter along with its response on the Society notice boards. Then after studying MC's response, documents, vouchers, expenditure procedures, etc., I will send my rejoinder.
The RCS office can also order a special audit as part of the thorough inquiry to know the extent of misappropriation of funds at DPS Housing Society.
The RCS office has also not yet given me any such reply received from the MC members about the CVC-directed inquiry letter. Obviously it has not given me the opportunity to respond. Hence, the inquiry against the MC members is still open.
Rogue Group
In all probability, the DPS Housing Society MC members facing investigation have shared the booty with Sampathkumar, as he is struggling to stop the long arm of the law that is coming toward him and the other MC members.
Sampathkumar foolishly argues that since the MC is an elected body, it cannot be challenged for its corruption. The truth is that mostly old MC members who are responsible for the mismanagement come again and again without holding complete election at DPS Housing Society.
Most new Society members are reluctant to become part of the MC because of the persisting financial and other irregularities in the Society. The corrupt MC members are supported by a group of rogue members who have indulged in various criminal activities at the Society.
They have formed a gang which is now threatening me as I had asked the CVC to start the inquiry against the MC members of DPS Housing Society. In his letter dated June 23, 2017 – which is full of lies and vulgarity – Sampathkumar chose to attack me and my editorial profession, but he failed to hide the corruption at DPS Housing Society.
Sampathkumar Accuses Air India
As Sampathkumar has a dubious record at Air India, he has indulged in anti-establishment activities. Sampathkumar alleged that the top management of Air India follows unethical corporate practices that forced him to resign from his post. He also has lamented that when he declined to become part of the unscrupulous deals at Air India, he was victimized.
As Sampathkumar is now unemployed, he has become the MC member of DPS Housing Society where he could make a fast buck, as the Society has a history of corruption.
DPS Housing Society in Dwarka – which has become an epitome of corruption and lawlessness – is perhaps the only Society in Delhi where the CVC and the Directorate of Vigilance of Delhi Government have ordered an inquiry through the RCS office.
And now Sampathkumar is making the things worse by planning to start a high-value construction project at an estimated cost of Rs. 15 crore. The extended construction project under some vague FAR (floor area ratio) rules of the government tends to add more rooms in the occupied flats.
As the planned construction will damage the environment with cement-dust pollution and noise pollution, it will be extremely harmful for hundreds of men, women, children and particularly senior citizens who are living in the Society building. Many residents have been opposing it peacefully. But the corrupt MC members have silenced most of them with threats.
Sampathkumar – who is supported by a gang of MC members and some greedy residents – is hell-bent to start this harmful construction project, as it will give him and his accomplices an opportunity to swindle public money. The MC members have roped in more than a dozen other law-breaking residents / members who have become part of Sampathkumar's felonious network.
The current MC members who are supporting the ongoing corruption at DPS Housing Society are: Neeraj Vaish, R. Bala Subramanian, M.N. Sampathkumar, Ms. Leela Swami, Sandeep Taneja, Manguram Tyagi, and Ms. Naseem Afshaque.
Villains of DPS Housing Society
Recently, I started approaching various government departments to get the corruption inquiry reopened so that the culprits at DPS Housing Society could be caught and punished according to the law.
But Sampathkumar and others who are facing corruption charges have started behaving like villains and trying to harm me with hints of physical attacks, false police complaints against me, and threats to expel me from the Society.
And like frustrated fools who are feeling the gradual movement of shackles toward them, Sampathkumar and the MC members have launched a petulant personal tirade against me, attacking my editorial profession and my socio-economic status.
But I am not deterred. I have almost collected new details of corruption in which Sampathkumar and the past and present MC members are involved. I am in the process of compiling the information that I will soon share with anti-corruption and law-enforcement agencies in India and abroad.
With all their evil actions including criminal intimidation against me, these accused MC members (past and present) are also obstructing me from performing my professional editorial responsibilities.
Attack on Freedom of the Press
Sampathkumar and the MC members have been complaining about my editorial articles about their corruption. But if they do not like my articles, who gave them the right to expel me from the Society (as they have been saying)? Will these fools expel a journalist who writes about their misdeeds and lives in some other housing society? They can't because expulsion can never be the punishment for editorial work. Sampathkumar and the MC members are misusing their authority to punish me for my editorial work.
If they have some objections with my or any other journalist's articles, they can first send a specific rejoinder to the media property. And if they are still not satisfied, they can follow the legal route to get the articles removed or correction published. This is how the media ecosystem works all over the world.
But Sampathkumar and the MC members – in connivance with a gang of other residents who want to silence me because I am opposing their harmful extended construction project and exposing their corruption – have become criminals and have arbitrarily decided to expel me from the Society where I have been living for the past about 15 years. Stupid gangsters!
If this is their logic, then Sampathkumar must be expelled from the Society for his anti-establishment activities as he has made wild, unsubstantiated allegations against his organization Air India.
Similarly, a former President of the Society M.M. Shukla who has been openly circulating documents about corruption at Society must be expelled as he is tarnishing the image of the Society. If Shukla and Sampathkumar are so sure about the corruption of a previous MC, why don't they go to anti-corruption agencies as I have done about MC's corruption? Cowards!
Shukla had even threatened a woman member / senior citizen of the Society by using abusive language against her because she has been questioning the MC's foul practices.
The case was reported to the government and law-enforcement agencies to take action against Shukla. Subsequently, he resigned under mysterious circumstances before completing the term.
But as President of the Society, Shukla was involved in many deceptive deeds including fraudulently appointing vendors for major contracts and wasting Society money without any authorization.
While Shukla claims that he belonged to the army, he is giving a bad name to the integrity of the profession with his misdeeds and misbehavior. Therefore, Shukla must immediately be expelled from the Society.
Criminal Activities
The criminal activities of Shukla, Sampathkumar, and the MC members do not end here. They are apparently enjoying support from Delhi's builder mafia that is pursuing the extended construction business worth billions of dollars in connivance with corrupt politicians and dishonest bureaucrats.
While India's Prime Minister Narendra Modi is shouting from the rooftops that he will weed out corruption from the country, he does not know that corruption is happening under his very nose. If Modi really wants to fight against corruption, he must begin the cleaning process from Delhi's group housing societies – and particularly from DPS Housing Society which has become a quintessential example of corruption and lawlessness.
The government must immediately dissolve the MC of DPS Housing Society and hold a thorough investigation in its corrupt operations. The accused must be tried under the laws pertaining to prevention of corruption and prevention of disruptive activities. The sooner the better.
Disclosure: I have written this article not only as a journalist, but also as a victim of the fraud and intimidation happening at DPS Housing Society. I am facing repeated threats from the MC members and their supporters because I am raising my voice against corruption, environmental damage, and human rights violations.
By Rakesh Raman, who is a government's National award-winning journalist. He had been associated with the United Nations (UN) through United Nations Industrial Development Organization (UNIDO) as a digital media expert to help businesses use technology for brand marketing and business development. He also runs a free school for deserving children under his NGO – RMN Foundation.
The complete DPS Housing Society case is described at the following link:
[ Humanitarian Crisis Persists at DPS Housing Society in Delhi ]
Support RMN News Service for Independent Fearless Journalism
In today's media world controlled by corporates and politicians, it is extremely difficult for independent editorial voices to survive. Raman Media Network (RMN) News Service has been maintaining editorial freedom and offering objective content for the past more than 12 years despite enormous pressures and extreme threats. In order to serve you fearlessly in this cut-throat world, RMN News Service urges you to support us financially with your donations. You may please click here and choose the amount that you want to donate. Thank You. Rakesh Raman, Editor, RMN News Service.