Beach Volleyball Event to Promote Youth Olympic Games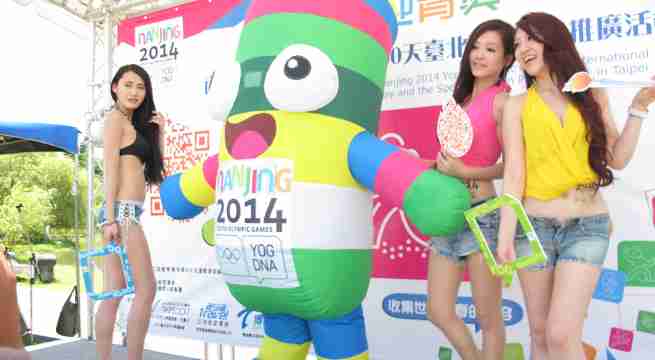 To celebrate the 30-day countdown to the start of the Nanjing 2014 Youth Olympic Games (YOG), a beach volleyball event was held in Taipei, Taiwan on July 19.
Shen Yi-ting, deputy secretary general of Taipei Olympic Games and Hong Jia-wen, deputy director of New Taipei City Education Bureau attended the event.
Taiwan volleyball teams were invited to participate in a volleyball tournament as part of the "Young Smiles from the World" YOG promotional event.
Taipei is the fifth location in the promotional event series after Hong Kong, Los Angeles, Singapore, and Buenos Aires.
The event included the performance of Taiwan's famous Monster Cheerleading Team as they performed somersaults and stunts.
The organizers invited 16 teams to compete against each other in an elite beach volleyball tournament. The teams came from all over Taiwan to compete, share experiences and make friends.
After a day filled with exciting beach volleyball competition, one male team and one female team finally emerged as champions to win round trip tickets to Nanjing and free tickets to the YOG beach volleyball competition and also will take part in Sports Initiation Activity in Nanjing.
The Nanjing 2014 YOG mascot, NanjingLeLe flew out to Taiwan especially for the event. His cute, round appearance got the crowd excited as they rushed to take pictures with him. The event also aimed to collect photographs of "Young Smiles from the World" using special YOG DNA photo frames and NanjingLeLe dolls.
The bright smiles should go a long way in encouraging Chinese Taipei athletes during the coming games. Three YOG "torchbearers" wearing QR-code of the YOG Virtual Torch Relay for people to scan were also on hand to give everyone a chance to act as virtual torchbearers.