Pierce Brosnan Stars in Kia Super Bowl Commercial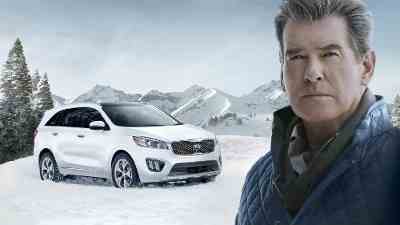 Pierce Brosnan, known for his movie hero roles, makes the "Perfect Getaway" in Kia Motors America's (KMA) 60-second spot for the all-new 2016 Kia Sorento CUV, making its broadcast debut during the third quarter of Super Bowl XLIX.
In the spot, part of KMA's multifaceted campaign for the 2016 Sorento CUV, Brosnan listens to a Hollywood agent pitching a starring role in an upcoming project.
As the agent describes various scenes, Brosnan confidently interjects one movie cliché after another, wrongly assuming he and the Sorento will encounter danger at every turn.
[ Meet Daniel Craig in the 24th James Bond Adventure 'Spectre' ]
"Along with the two leading teams, at one of America's greatest sporting events, the Super Bowl commercials are the centerpiece of the day," said Brosnan. "I've enjoyed being a part of the Kia team, which traditionally has one of the most memorable spots in the game."
Before and after the Super Bowl, Kia's "The Perfect Getaway Vehicle" campaign – created by advertising agency of record, David&Goliath – will incorporate multiple components, including TV, cinema, digital and social media.