Hug to Barack Obama: Damage Control Attempt by Narendra Modi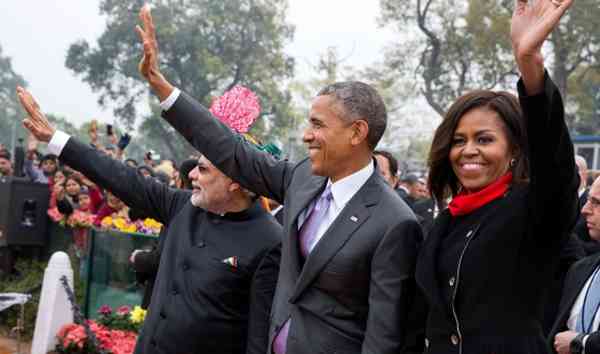 Although the invitation to Barack Obama was made to appear like an Indian attempt to improve trade ties with America, Narendra Modi perhaps had a hidden agenda behind his hug.
By Rakesh Raman

When the U.S. President Barack Obama arrived in India as a chief guest for India's Republic Day function on January 26, Indian Prime Minister Narendra Modi greeted him with an ostensibly passionate hug.
Although the invitation to Obama was made to appear like an Indian attempt to improve trade ties with America, Modi perhaps had a hidden agenda behind his hug.
Modi – a naïve politician who managed to become the Prime Minister (PM) of India – has a kind of inferiority complex, particularly when it comes to his own assessment by the U.S.
While Obama was the chief guest at the Indian Republic Day function, he is largely being considered a personal guest of Modi, who presumably wants to return favors to Obama because the U.S. administration recently allowed Modi to visit America after denying him visa for his alleged role in the human rights violations in Gujarat.
In 2002, Modi was the Chief Minister of India's Gujarat state where 2,000 Muslims were murdered in communal riots besides there were incidents of rape, robbery, and widespread destruction of property affecting Muslims.
As a result, the U.S. administration denied visa to Modi in view of the allegations of human rights violations against him in the 2002 incidents of riots and carnage. But when he became Prime Minister of India, Modi was allowed by Obama administration to visit the USA.
[ Also Read: Will Indian Muslims Live and Die for India? ]
Obviously, Modi has reciprocated and called Obama to be his guest. Surprisingly, Obama accepted the invitation instantly. Plus, Modi wants a tacit support of the U.S. for his leadership in the country, as Modi has mostly been a politician in Gujarat – a small state in India.
Now, as he has maneuvered to become the Prime Minister of India, Modi's ability to manage the national affairs is increasingly being challenged, although the media (which is largely paid media directly under the control of the government) is projecting him as a national leader.
While Obama is a shrewd leader, by now he would have studied the real motive of Modi's hug. Modi – like a foolish child – even tried to impress Obama by wearing an attire that had his name embroidered over it.
Plus, whatever Modi said in his praise or about the development in India was pure rhetoric and exaggeration of facts – to the extent of telling lies.
[ Also Read: How "Make in India" Will Break in India ]
But could he win Obama's confidence? Before leaving Tuesday after his three-day trip in India, Obama gave sufficient hints to tell Modi that he has not fallen into the trap of his hug.
On the trade front, Obama stated that China is a much better trade partner than India, as America is doing trade worth $560 billion a year with China, as compared to a paltry $100 billion with India.
The U.S. President subtly expressed his concerns about the other bottlenecks in India – including the lack of security for women, gender inequality, communal violence, and religious hatred.
Although Obama managed to look good about his meeting with Modi, he knows the things are not really hunky-dory in India. The U.S. President may have his own political compulsions to visit India, as he wants to give an impression back home that he cares about the dwindling U.S. economy and is looking for improvement avenues. But normally he should not have accepted this invitation at this time.
Besides human rights violations, the state of religious freedom is going from bad to worse under Modi-led Bharatiya Janata Party (BJP) government in India.
[ Also Read: What Is the Future of Muslims in India? ]
While Modi has become a mere spectator, his parent Hindu outfit Rashtriya Swayamsevak Sangh (RSS) and other affiliated Hindu groups are openly spreading communal hatred in the country.
A US-based terrorism threat management group has put RSS in the list of terrorist organizations, saying "RSS is a shadowy, discriminatory group that seeks to establish a Hindu Rashtra, a Hindu Nation. The group is considered the radical ideological parent group of India's ruling Hindu nationalist party – the Indian Peoples Party (BJP)."
These BJP groups, which are hell-bent to make India a Hindu Rashtra or a nation only for Hindus, are making controversial statements and forcing minority communities (such as Muslims, Christians, and Sikhs) to change their religion to Hinduism.
Opposition political parties in India have protested strongly against the BJP government and particularly Modi on the issue of forced religious conversions which amount to human rights violations.
[ Also Read: Hindu Rulers in India Irk the Muslims, Again ]
But beleaguered Modi is unable to tame these Hindu groups because they were mainly instrumental in BJP's win in the 2014 Lok Sabha election and in making Modi the PM of the country.
And to woo the voters before the Lok Sabha election, Modi himself had been singing the Hindu song with the pledge to make India a Hindu Rashtra. With nearly 80% people of India's 1.25 billion population belonging to Hindu religion, BJP and Modi exploited the religious sentiment of people to their political advantage.
Now RSS wants Modi to deliver on his commitment to make India a Hindu Rashtra, which is actually a secret priority for Modi also, though he talked about economic development, etc, in front of Obama. In the past eight months of his rule in the country, Modi has failed on almost all fronts while attacks on minority communities are increasing substantially.
[ Church Burning in India: Human Rights Commission's Response ]
Of late, social activist Anna Hazare threatened to launch a protest against Modi's BJP government, as it has failed to deliver. Hazare warned Modi that he must fulfill his poll promise of paying every Indian citizen Rs. 15 lakh (USD $25,000 approximately).
Modi and BJP had allured the Indian voters before the Lok Sabha election, saying they will recover the black money stashed away abroad by a slew of Indian crooks and distribute it among all citizens of India. But they failed to do so.
Similarly, the opposition Congress party released a 30-page booklet to highlight the unfulfilled promises and lies of the ruling BJP in India.
Titled "chhe mahine paar, U-turn sarkar" (six months spent by a U-turn government), the booklet counts BJP's false promises made during the Lok Sabha election. It says that the Modi-led BJP government has failed on almost every step.
In fact, Modi is not worried about his own and BJP's failures. He also is not worried about lack of development in India. He is worried about his own image in the eyes of America and Americans who didn't allow him to even put a foot in their country.
Modi knows that he was allowed to enter America a few months ago after denying him visa for years only because as PM of India, he enjoys diplomatic immunity. Actually, Americans still see him as a Hindu gang lord who could not protect Muslims in Gujarat.
His hug to Obama was only a cunning attempt to control the damage and get himself exonerated in the eyes of U.S. people. But Obama's subtle words about the growing communal hatred and human insecurity in India would have told Modi that he has failed in his attempt.
By Rakesh Raman, the managing editor of RMN Company
You also can read: More Articles by the RMN Editor, Rakesh Raman
Photo / Video courtesy: White House
Support RMN News Service for Independent Fearless Journalism
In today's media world controlled by corporates and politicians, it is extremely difficult for independent editorial voices to survive. Raman Media Network (RMN) News Service has been maintaining editorial freedom and offering objective content for the past more than 12 years despite enormous pressures and extreme threats. In order to serve you fearlessly in this cut-throat world, RMN News Service urges you to support us financially with your donations. You may please click here and choose the amount that you want to donate. Thank You. Rakesh Raman, Editor, RMN News Service.