President Obama Signs Declaration to Fulfill Promise of America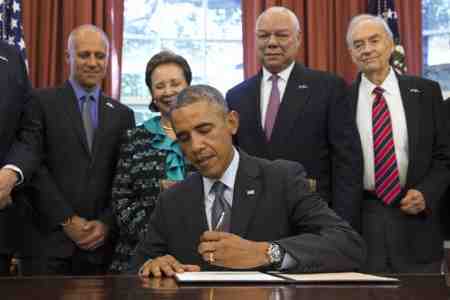 President Obama became the seventh consecutive president Monday to sign a declaration calling on all Americans to do more to help young people in America reach their full potential.
In an Oval Office ceremony, Obama added his signature to the Presidents' Declaration to Fulfill the Promise of America.
The Declaration, the centerpiece of the Presidents' Summit for America's Future in Philadelphia in 1997, originally was signed by then-President Bill Clinton; former presidents Gerald Ford, Jimmy Carter, and George H.W. Bush; and Nancy Reagan on behalf of Ronald Reagan. In July 2001, President George W. Bush added his signature.
---
Related Stories:
How President Obama's Analysis Is Wrong on Terrorism
Hillary Clinton Voted "Most Likely to be President"
---
The Declaration is stated to be the only known instance in American history to include the signatures of seven consecutive presidents.
"By signing onto the Declaration, President Obama gives fresh momentum to this vital national priority," said Alma J. Powell, chair of the America's Promise Alliance board of directors, who witnessed the Oval Office signing.
America's Promise Alliance is dedicated to improving the lives of children and youth.
In the picture above: America's Promise Alliance president and CEO John Gomperts, board chair Alma J. Powell, founding partner General Colin L. Powell USA (ret.) and former US Senator Harris Wofford, along with President Obama, who is signing the declaration.