US Half Marathon Draws Participants from 24 Countries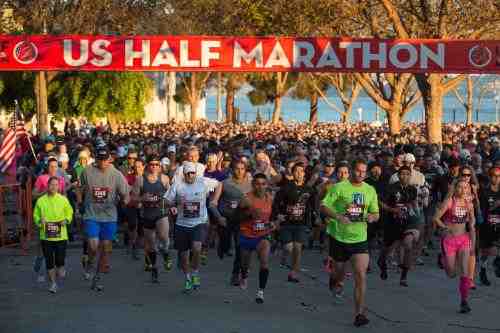 Over 5,000 running enthusiasts from 24 countries participated in the 13th annual US Half Marathon through San Francisco on Sunday.
"The US Half Marathon is a one-of-a-kind event which offers participants a unique opportunity to race through some of San Francisco's most iconic areas," said Ryan Dawkins, Race Director of the US Half Marathon.
The 13.1 mile route started and finished at the Aquatic Park Waterfront and passed through many of the city's most iconic areas including the Marina, Crissy Field, Fort Mason, the Presidio, Muni Pier and a signature crossing the Golden Gate Bridge.
The top male finisher was Greg Rolfes, 27, of San Francisco, CA, with an official race time of 1:17:24. "Winning for the second year in a row is something I am incredibly proud of," said Rolfes.
The top female finisher was Verity Breen, 47, of San Rafael, CA, with an official race time of 1:30:05. "Winning is always good and a privilege," said Breen.
The 14th annual race will be held on November 8, 2015 next year. To register or request information about The US Half Marathon, visit www.runsf.com