Real Voter Reveals How EVMs Are Manipulated to Win Elections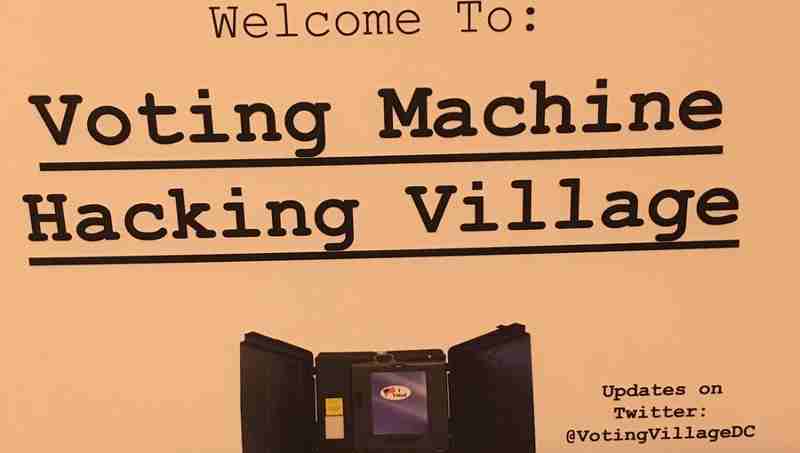 Top tech experts believe that it is very easy to tamper with EVMs in India and change the election results fraudulently in favor of certain candidates.
By Rakesh Raman
As the vulnerability of Electronic Voting Machines (EVMs) is clearly visible, it is believed that only those politicians and political parties will win future elections in India who know the art of stealing voter databases and hacking EVMs.
The weakness of EVMs in election systems has been manifested by professional hackers who participated in the Def Con convention in Las Vegas where they broke into the voting machines to manipulate the voting options.
A dedicated platform "hacker voting village" at the convention allowed hackers to break into over 30 popular voting machines as well as voter databases to exploit the vulnerabilities in order to change the outcome of an election.
Reports suggest that hackers were able to gain unauthorized access into voting machines and e-polling software within an hour. They could also steal remote access to tamper with the voting machines.
---
Real Voter Digital Magazine
This report will be part of the Real Voter digital magazine published by Raman Media Network (RMN). Real Voter focuses on the Lok Sabha election news and the crucial issues that have an immediate impact on the lives of commoners in India. Click here to read and download different issues of Real Voter magazine.
---
The Def Con experiments must be an eye-opener for the Election Commission of India (ECI) that baselessly claims that it is safe to use EVMs while most ECI officials are traditional bureaucrats who have hardly any knowledge of electronic systems.
Major opposition political parties in India have been repeatedly complaining about the vulnerability of EVMs. It is also being observed that when EVMs malfunction, they vote only in favor of Prime Minister (PM) Narendra Modi's Bharatiya Janata Party (BJP) which runs with Lotus election symbol.
Obviously, BJP will always oppose paper ballots and any investigation into the misuse of EVMs. And it goes without saying that the Election Commission – which is a toothless outfit – will always obey Modi.
Reports also reveal that these days the critical institutions such as courts, law enforcement agencies, and election commissions are headed by those officials who have dubious records and who can be blackmailed to toe the line of the government.
EVM vs. Paper Ballot
While most politicians in the opposition parties – who have been randomly opposing EVMs and demanding elections on paper ballots – are not quite educated, they will not be able to argue intelligently against the use of EVMs. That's why ECI ignores their demands for paper ballots.
The Indian politicians fail to understand that even in advanced democracies such as the U.S., paper ballots integrated with digital technology are used to ensure integrity of elections.
The Indian opposition parties also can learn from the example of 2016 U.S. presidential election that was allegedly hacked by Russian hackers to help Donald Trump win. Now, special counsel Robert Mueller is investigating the election frauds and if they changed the outcome of the election.
The U.S. intelligence agencies have concluded that Russian hackers had targeted 21 U.S. state election systems in the 2016 presidential race, although Russia has dismissed the allegations.
Top tech experts believe that it is very easy to tamper with EVMs in India and change the election results fraudulently in favor of certain candidates.
In their study on EVMs in India, security researchers from India, the United States, and the Netherlands argue that "contrary to claims by Indian election authorities, these paperless electronic voting systems suffer from significant vulnerabilities."
The researchers also have found that even brief access to the machines could allow dishonest election insiders or other criminals to alter election results. They have developed a video to demonstrate their claims.
Role of VVPAT
The opposition parties in India have baselessly accepted EVMs integrated with Voter Verifiable Paper Audit Trail (VVPAT). But with this acceptance they have embarked upon a suicidal mission. They don't understand that EVMs are vulnerable even with VVPAT.
Although VVPAT is supposed to provide a mechanism to audit the votes polled in an election, it is still not a foolproof solution because despite ECI's claims VVPAT option may not be available with each EVM.
Moreover, every voter will not (and perhaps cannot) demand the paper proof after voting. And if a defeated political party wants to recount the votes using VVPATs, it will create a chaos after every election. Therefore, the ECI has not accepted the opposition parties' demand to match 50% of EVM results with VVPAT.
It is not only the electronic security of EVMs that is under doubt, but the physical handling of machines also needs to be examined. A former Chief Election Commissioner of India Dr. S. Y. Quraishi said recently that custodial security of the machines is central to EVM security. 
Quraishi was responding to the reports that EVMs' first- and second-level checks will be outsourced during the upcoming elections. "It is disconcerting. Must be stopped forthwith," Quraishi said.
Election Results with EVMs
Although Congress recently defeated BJP in a few state elections, it is said that BJP allowed Congress to win in small local elections so that Congress should not complain against EVMs in the countrywide Lok Sabha election.
In response to the repeated aspersions cast on EVMs used in elections, the Chief Election Commissioner of India Sunil Arora has ruled out the possibility of machine manipulation.
He said that even in the recent elections in the five States, out of a total of 176,000 polling booths where EVMs were used, there were six incidents of violation of Standard Operating Procedure, particularly in reserved EVMs not used in the actual elections.
"Although the ratio is negligible, even in these cases stringent disciplinary action was taken and ECI has and always will have zero tolerance to any kind of errors in the election process," Arora reiterated.
But a fact is conveniently being concealed that there will be no glitch in the EVMs that are tampered with to change the results. Rather, the EVMs are programmed in such a way that they deliver the desired results while working normally.
Moreover, the dishonest governments that control EVMs as well as the election authorities do not manipulate EVMs blatantly for the fear of being caught. They take the help of EVMs to change election results only in key polling stations where their candidates do not hope to win.
While there are repeated claims and counterclaims about the digital security of EVMs, the Indian government must invite independent international observers to supervise the functioning of EVMs in the Lok Sabha election in order to ensure the fairness in the election.
Also, the opposition parties must unite and demand all future elections on paper ballots. They must also demand the formation of a special all-party commission including international experts to probe the EVM-based voting frauds if they happened in the state elections as well as the 2014 Lok Sabha election.
By Rakesh Raman, who is a national award-winning journalist and social activist. He is the founder of a humanitarian organization RMN Foundation which is working in diverse areas to help the disadvantaged and distressed people in the society. He also creates and publishes a number of digital publications on different subjects.
About the Writer: Rakesh Raman

Rakesh Raman is a national award-winning journalist and social activist. Besides working at senior editorial positions with leading media companies, he was writing an exclusive edit-page technology business column regularly for The Financial Express (a daily business newspaper of The Indian Express Group).
Earlier, he had been associated with the United Nations (UN) through United Nations Industrial Development Organization (UNIDO) as a digital media expert to help businesses use technology for brand marketing and business development.
He has handled major editorial projects for leading global technology companies including IBM, HP, Intel, 3D Networks, SAP, and a few leading Indian companies.
After doing his M.Sc. and Computer Science orientation from Panjab University, Chandigarh, he has worked as a software developer for about seven years with a couple of leading technology companies at Mohali, Chandigarh (India).
His areas of interest are content and brand communications strategy design for the upcoming online virtual worlds and content development and management for the future Semantic Web.
Contact
Rakesh Raman
463, DPS Apts., Plot No. 16, Sector 4
Dwarka, Phase I, New Delhi 110 078
INDIA
You may please contact me on my email.
Support RMN News Service for Independent Fearless Journalism
In today's media world controlled by corporates and politicians, it is extremely difficult for independent editorial voices to survive. Raman Media Network (RMN) News Service has been maintaining editorial freedom and offering objective content for the past more than 12 years despite enormous pressures and extreme threats. In order to serve you fearlessly in this cut-throat world, RMN News Service urges you to support us financially with your donations. You may please click here and choose the amount that you want to donate. Thank You. Rakesh Raman, Editor, RMN News Service.