BJP Government Working for Poverty Eradication: Arun Jaitley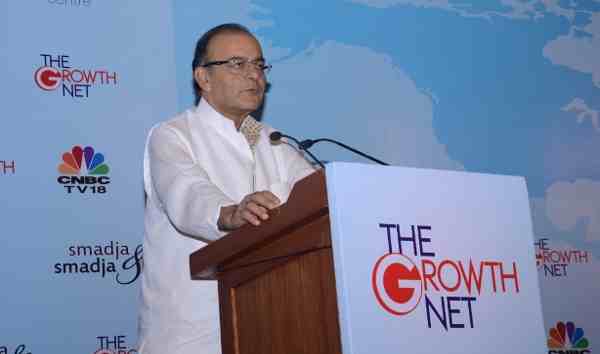 Finance Minster of India, Arun Jaitley, says that Prime Minister Narendra Modi-led BJP (Bharatiya Janata Party) government has clear roadmap to ensure that poverty eradication is a direct outcome of economic growth.
Jaitley who was delivering his keynote address at The Growth Net, an annual business event, outlined the government's plans to stimulate growth in various sectors of priority such as agriculture, manufacturing, railways, infrastructure, and insurance.
The Growth Net event is being organized March 25-27 in New Delhi.
[ Also Read: How Pollution Makes Delhi a Poisonous Gas Chamber ]
The opening plenary session was moderated by Ms. Shereen Bhan, managing editor, CNBC-TV18, a local TV channel.
The other participants in the session included N. K. Singh, chairman, The Growth Net Summit and senior member, BJP and Claude Smadja, president of the Smadja and Smadja Strategic Advisory.
Speaking about the Land Acquisition Bill Jaitley said that the current government had increased the number of exempted areas to 18 from the previous 13 exempted areas in the original Bill of 2013.
[ BJP, Congress Misleading Farmers: Anna Hazare ]
He also added that compensation in those 13 areas had been increased. He said that the Bill had completely decentralised powers to state governments.
Elaborating on the 'Make in India' initiative of the government Jaitley said "this is a sector in which we need to create an engine of growth. We have observed that there is interest to shift manufacturing to India from countries like China where the costs have gone up."
This article is part of our editorial initiative called
REAL VOTER
that covers political developments in India. Click here to visit
REAL VOTER
.