Is the Indian Government Fearing a Military Coup?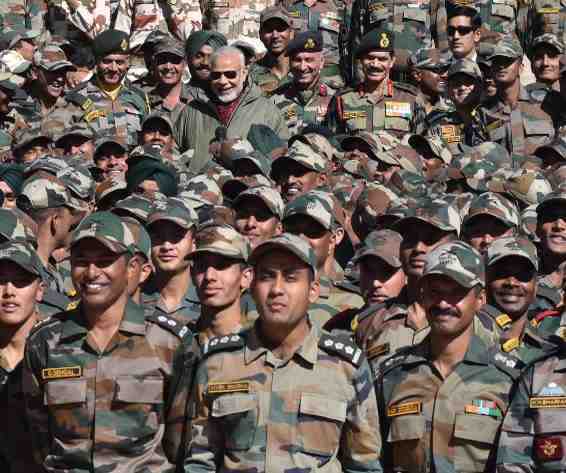 When elected politicians try to subvert the democratic principles, coups are carried out by disciplined soldiers to bring democracy back on track.
By Rakesh Raman

The ongoing ostentatious display of the Indian government around the soldiers point to a single fact that the government is fearing something drastic that could unseat it.
While there is no need to create a hoopla around the armed forces, the Bharatiya Janata Party (BJP) government headed by Prime Minister Narendra Modi is leaving no stone unturned to show its infatuation for the military men.
Recently, Modi dedicated the full Deepawali (Diwali) festival to soldiers. "On the occasion of this festive season of Deepawali, PM Modi invites citizens to pen their thoughts, their feelings, their sense of gratitude, towards our soldiers." This was the message displayed on the government website in October.
Modi also created a special hashtag that screamed: #Sandesh2Soldiers – Express your Gratitude Towards Soldiers. And on Deepawali day (October 30), Modi praised the soldiers in his tweets – a lot of them.
Sudden Love for Jawans
After the recent Uri attack in Kashmir on Indian soldiers, the Modi government has created a dangerous hysteria across the country to show Modi's hidden love for the jawans.
Although it is not yet clear who carried out the attack in Uri, the Modi government is forcing all Indians to believe that Pakistan was behind the killings of Indian soldiers. Therefore, it says, every Indian must hate Pakistan and love Indian jawans. Ridiculous, but true.
Earlier, in August, the Modi government unleashed a musical extravaganza under the banner "Aazadi 70 Saal: Tiranga Yatra" to woo the soldiers on the occasion of 70 years of India's independence. Almost all Modi's ministers led theatrical parades of BJP supporters who chanted slogans in praise of Indian soldiers.
All this Modi-led razzmatazz is so disturbing for the common Indians that Congress leader Rahul Gandhi said Modi is playing with the blood of Indian soldiers.
But what is the reason behind Modi's sudden and one-sided romance with soldiers?
Government Failures
History tells that the armed forces dethrone the elected governments or monarchs with coups when they fail to serve the masses.
This reason fits well with the Modi regime that has failed on all fronts during the past 30 months of its rule in the country. Although Modi and his ministers are patting on their own backs to highlight their work, truth is that they have brought the country on the brink of a disaster.
In the latest World Bank Doing Business 2017 report, for example, India's Ease of Doing Business rank is a poor 130 in the list of 190 countries. This shows that the claims of the Modi government that India is a top economy in the world are false and mostly based on fake data.
Modi's failures are further manifested in multiple independent reports. According to a leading industry association ASSOCHAM in India, sharp drop in merchandise exports has contributed to a loss of 70,000 jobs, although Modi had promised to create 40 million jobs in the first two years of his government.
Moreover, ASSOCHAM reveals that for the first two quarters of the fiscal 2015-16, the country's merchandise exports had dropped by over 17%. The fall in exports continues even this year despite advantage of a low base.
In his reaction, Communist Party of India (Marxist) leader Sitaram Yechury criticized the Modi government by saying that Modi has failed to fulfill his promise of providing 20 million jobs (in a year) and people are, in fact, losing their jobs under Modi's regime.
As a result, the unemployment situation in India has gone so bad in the past about two years of Modi's government that it is soon expected to trigger a social unrest in the country. In 2015, India added the fewest organised-sector jobs —in large companies and factories — in seven years across eight important industries.
As Modi is not skilled to manage India's social and economic affairs, he is wasting his time on totally frivolous activities such as cleaning of streets, yoga exercises, useless sports, and so on to divert people's attention from the most pressing problems.
Military Intervention
The chattering classes believe that Indians do not need a Prime Minister to perform these extravagant hijinks, as these can be performed even by a jungle ass. A Prime Minister is supposed to provide prosperity to the citizens with good governance, which is not visible in Modi's India.
Obviously, in such a scenario, military intervention in political affairs cannot be ruled out. Modi seems to be aware of this fact. That's why with his limited skills he is trying to please soldiers.
At the same time, the Modi's BJP government is subtly depriving the armed forces of their administrative powers in order to weaken their dominance in the event of a coup.
"The BJP has been carrying out a covert assault on the Indian armed forces, using every bureaucratic trick in the book to cut the honour and prestige of our brave men and women in uniform. This can be seen in the lowering of armed forces ranks, dithering on OROP (One Rank One Pension), cutting disability pensions, and not removing the anomalies of the 7th Pay Commission," the opposition party Congress said in a statement.
Analysts believe that the result of such moves against the armed forces can have disastrous consequences for the government. A recent article "A Military Coup in India?" in a leading newspaper concludes that it is a known fact that the military is simmering. If they are not given their due by the government, the Indian rulers are likely to reap what they sow, the article analyzed while discussing the possibility of a military coup in India.
Coup for Democracy
Historical data shows that most coups – including Pakistan, Turkey, Bangladesh, etc. – were attempted in different parts of the world by nationalist soldiers who wanted welfare of the people of their respective countries.
Research suggests that coups promote true democratization, have become less likely to end democracy, and their positive influence has increased since the end of the Cold War.
In other words, when elected politicians try to subvert the democratic principles, coups are carried out by disciplined soldiers to bring democracy back on track.
In a recent survey, for example, one-third of Americans supported a coup against the U.S. government, as America is currently facing one of the worst socio-economic crises. And nearly 50% would "hypothetically" back a military takeover if the U.S. government violated the Constitution, the survey revealed.
Currently, India is also witnessing a similar harsh reality. The politicians of all political parties have reduced India to a level of criminalized kleptocracy, in which all the four pillars of democracy have collapsed.
Successive governments in India have leveraged democracy to their own advantage or for the benefit of a few politicians while depriving the citizens of their fundamental rights. So, military intervention becomes inevitable.
Steps to Avoid Coup
As Narendra Modi knows that the politicians' pot of sins is now full, he has taken a few steps to keep armed forces away from the political affairs. As stated above, reduction of their administrative powers and their unprecedented appeasement with shallow rhetoric and a slew of tweets are among Modi's maneuvers.
However, he has also kept soldiers busy in different pursuits so that they should not think about the socio-economic upheaval in the country.
For example, when there is no immediate threat of war from Pakistan, Modi and his ministers have built a war hysteria in the country. And Indian Army's top brass is spending a lot of time in discussing the war preparedness.
While Pakistan is being praised by leading powers of the world for its fight against terrorism, Modi government is repeatedly blaming Pakistan for cross-border terrorism just to keep Indian Army engaged in terrorism-related issues.
An Indian political leader Mayawati has stated that Modi may trigger a war with Pakistan to hide his failures during the past couple of years.
As Modi is a cunning politician, he has taken a significant step to avoid army's influence on his government and on the armed forces. A former Chief of Army Staff of the Indian Army, General V.K. Singh, who is a retired four star general, is currently part of the Modi government.
Instead of making him India's defence minister, Modi has given him a junior position in an insignificant ministry, Development of North Eastern Region. Modi knows that Singh's clout with the top army men as well as the rank and file of the army can be dangerous for his government.
Modi also knows that General Singh's name figured in the attempted coup in 2012 when Congress government was in power. So, Singh has been relegated to a mere figurehead role, while Modi has made a totally naive and docile politician the defence minister of the country.
Modi also is relying on an unfounded belief that the diversity of Indian armed forces will never allow them to unite and attempt a coup against him.
However, there can be a unity in diversity among the soldiers to save India from the existential crisis caused by the repeated political failures, which are clearly visible in Modi's India. In such a situation, the possibility of a coup cannot be ruled out.
Sorry, before I forget, let me utter the following patriotic slogans to prove that I am a true Indian who has written this article in the national interest.
भारत माता की जय. वन्दे मातरम्, जय जवान-जय किसान, जय हिन्द …
By Rakesh Raman, who is a government award-winning journalist and social scientist. You also can visit the REAL VOTER – Politics in India Information Center that he manages.
Support RMN News Service for Independent Fearless Journalism
In today's media world controlled by corporates and politicians, it is extremely difficult for independent editorial voices to survive. Raman Media Network (RMN) News Service has been maintaining editorial freedom and offering objective content for the past more than 12 years despite enormous pressures and extreme threats. In order to serve you fearlessly in this cut-throat world, RMN News Service urges you to support us financially with your donations. You may please click here and choose the amount that you want to donate. Thank You. Rakesh Raman, Editor, RMN News Service.