James Bond Daniel Craig Gets UN 'Licence to Save'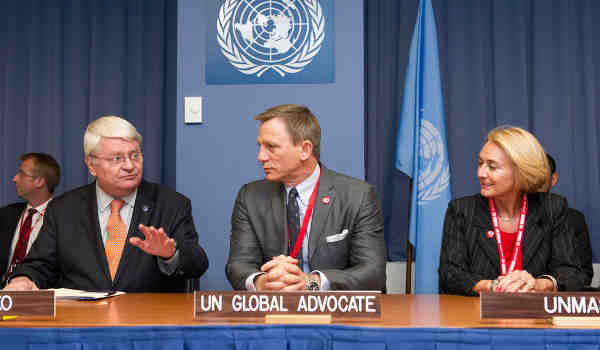 After designating the renowned actor Daniel Craig as the first United Nations (UN) Global Advocate for the Elimination of Mines and Explosive Hazards at Headquarters Tuesday, Secretary-General Ban Ki-moon thanked the current James Bond for his commitment to supporting the UN's vision of a world free from the threat of landmines and explosive remnants of war.
"Along with moviegoers worldwide, I have been on the edge of my seat watching Mr. Craig, as James Bond, defuse ticking time-bombs with seconds to spare. I am even more excited that Mr. Craig has agreed to use his star power to draw attention to the noble causes of mine destruction and mine awareness," said Mr. Ban.
[ Behind-the-Scene Images of Bond Film Spectre Released ]
"As 007, Mr. Craig had a 'licence to kill.' Today we are giving him a 'licence to save,'" said the UN chief.
The designation is one of a number of events organized to observe the 10th anniversary of the International Day for Mine Awareness and Assistance in Mine Action.
---
Important Note
While terrorist attacks and human rights violations are happening at an alarming rate all across the world, the UN has failed miserably in finding peaceful solution to any of the conflicts. The UN Secretary-General and other top UN officials are doing nothing to stop terrorism and other crimes except issuing statements which are utterly useless and meaningless.
In the given situation, the UN member countries must challenge the role of this intergovernmental organization and stop financing it. All the funds given by the member states are being squandered by the UN which is now overstaffed with unskilled officials. Believe me, UN has lost its relevance.
---
"IEDs [Improvised Explosive Devices] are one of the biggest problems, as well as unexploded ordnance. You know, it's no longer just mines," said Mr. Craig. "There is a terrible clean-up that needs to happen after armed conflict. I think the world is aware of that but they need to be more aware."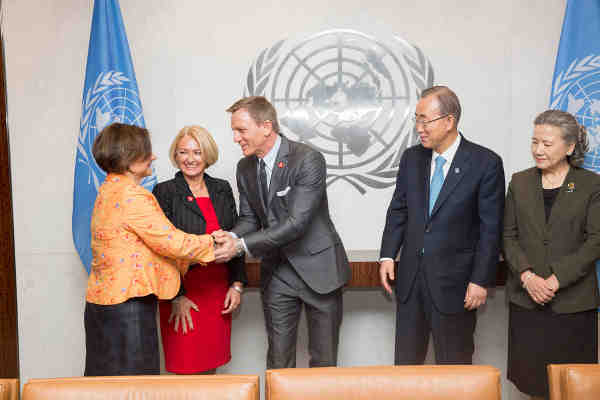 The Secretary-General paid tribute to Mr. Craig's work and that of the Mine Action Service, which has been working to clear mines, educate people on risks, assist victims, destroy stockpiles and advocate for the elimination of landmines and explosive hazards since 1997.
"The United Nations is playing a vital role in freeing the world from the threat of mines and explosive remnants of war," said Mr. Ban. "I welcome the support of Mr. Craig to work on these issues. I count on his advocacy to make a difference."