Panasonic Solar Lanterns for Ebola Relief Efforts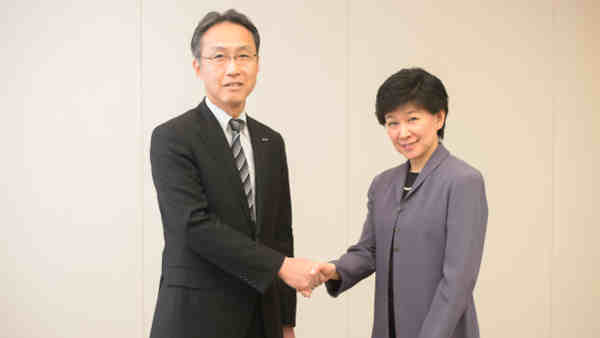 With the severe and far-reaching impact of the Ebola epidemic in West Africa, governments and international organizations need more support for their relief efforts.
They have called on the private sector to help the affected populations meet their basic needs in the midst of the crisis.
In response, Panasonic donated 240 solar lanterns to the United Nations Development Programme (UNDP). Solar lanterns are now providing light to Ebola survivors, orphans, medical teams and workers fighting the epidemic in the affected areas of Liberia, where the outbreak is especially serious.
[ Panasonic Solar Lights Come with Mobile Charging Ports ]
Solar lanterns have also been distributed to people living in quarantined areas, where access to electricity is often limited. In the capital Monrovia, solar lanterns are supporting medical teams while they work at nighttime.
In the picture above: (From left) – Satoshi Takeyasu, Panasonic Corporation Executive Officer in charge of Groupwide Brand Communications Division, and Ms. Izumi Nakamitsu, Assistant Secretary-General, Assistant Administrator and Director of the Crisis Response Unit at UNDP