President Trump Threatens to Withdraw from NAFTA. But Why?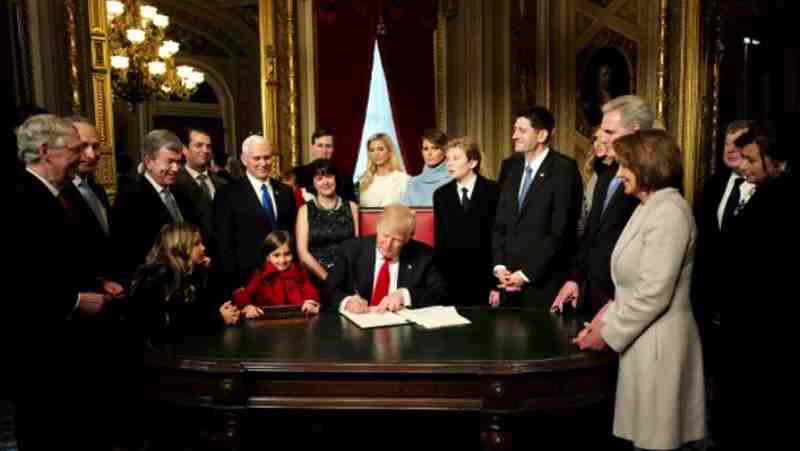 Trump's attempt to introduce a new era of protectionism conceived around his slogan of 'buy American and hire American' will be disastrous for the country because it will shut the doors for American products in developing markets.
By Rakesh Raman
The new U.S. President Donald Trump is all set to bring his election campaign rhetoric to reality. After assuming the office on Friday, Trump took just a day to work toward one of his campaign promises: end of NAFTA (North American Free Trade Agreement).
It is an agreement signed in 1994 by Canada, Mexico, and the United States, creating a trilateral trade bloc in North America.
But Trump has been saying during his election campaign that NAFTA has failed to protect the interests of Americans and his administration will put an end to the agreement. Now Trump is trying to fulfill his campaign promise.
According to a White House statement released Saturday, President Trump is committed to renegotiating NAFTA. But if the partner countries refuse a renegotiation that gives American workers a fair deal, then the President will give notice of the United States' intent to withdraw from NAFTA, the statement mentioned.
But analysts believe that it is an impulsive decision of Trump who does not prefer to think before he speaks or acts.
NAFTA for America
NAFTA ensures elimination of most tariffs on products traded among the three countries: Canada, Mexico, and the U.S. From America's standpoint, it is a bipartisan initiative—negotiated by Republican President George H.W. Bush and passed through Congress and implemented under Democratic President Bill Clinton.
According to an independent think tank Council on Foreign Relations (CFR), the agreement encouraged a more than tripling of regional trade, and the cross-border investment between the three countries also grew significantly.
Yet, according to CFR, NAFTA has remained a target in the debate over free trade, largely because it is accused by some as leading to a shift in production, and jobs, to Mexico. This has reference to Trump's unsubstantiated claims.
In a detailed report CFR said that economists largely agree that NAFTA has provided benefits to the North American economies. Regional trade increased sharply over the treaty's first two decades, from roughly $290 billion in 1993 to more than $1.1 trillion in 2016.
And contrary to Trump's gut feeling, the American economy has benefited from NAFTA. The CFR report reveals that Canada and Mexico are the two largest destinations for U.S. exports, accounting for more than a third of the total.
If, as per this data, NAFTA is working fine for all the partner countries, then why does Trump want to change it unnecessarily?
Business Knowledge of Trump
The White House statement praised Trump by saying that the President has a lifetime of negotiating experience and understands how critical it is to put American workers and businesses first when it comes to trade.
However, many believe that Trump does not have requisite knowledge to understand the subtleties of modern business world. Although Trump claims that he runs profitable businesses, independent reports suggest that his businesses are under heavy debt.
According to a new report mentioned by The Independent, Trump's companies are under a debt of nearly $1.8 billion to more than 150 institutions – raising questions about potential conflicts of interests. That's why Trump is reluctant to reveal his tax information.
[ Wikileaks May Release the Secret Tax Returns of Donald Trump ]
If Trump has failed to manage his proprietary bricks and mortar business, how can he understand and take decisions about complex international trade which is defying geographical demarcations?
Trade and Jobs
In fact, Trump is exploiting the sentiment of gullible Americans by linking trade with jobs. He claims that with tough agreements, international trade can bring jobs back to America.
But this is a foolish argument. Today, most American companies are using cost-effective offshore outsourcing models to get their work done in countries such as China, India, and Mexico where labor costs are extremely low. These outsourcing models are equally good for both services and manufacturing businesses.
If, for example, an American worker expects $6,000 per month for a particular job, the workers in China, India, Mexico, or any other developing country will happily do the same job at one-fifth of that remuneration.
Then why should American companies hire local Americans who will be extremely expensive and add to the companies' costs? If their costs are high, companies will have to sell their products at higher prices. Obviously, the demand for such products will be low.
Consumers will stop buying them and American companies will stop production and lay off workers. So unemployment will increase in America. This is basic economics, but either Trump does not understand it or he is deliberately cheating Americans with his lies.
Moreover, it is almost impossible to create more local jobs in America, as the country is reeling under a huge debt amounting to nearly $20 trillion and a severe economic slowdown.
Shallow Slogans
Trump's attempt to introduce a new era of protectionism conceived around his slogan of 'buy American and hire American' will be disastrous for the country because it will shut the doors for American products in developing markets such as China, India, and Mexico.
As local Americans do not have sufficient purchasing power, American companies will not be able to sell their products and services. Obviously, it will ring the death knell for American companies and will cause severe joblessness in America. Then who will buy American and who will hire American, as Trump dreams?
Trump has already shown his misdirected aggression by withdrawing from the Trans-Pacific Partnership (TPP) which is similar to NAFTA.
It is a free trade agreement (FTA) that aimed to liberalise trade and investment between 12 Pacific-rim countries: New Zealand, Australia, Brunei Darussalam, Canada, Chile, Japan, Malaysia, Mexico, Peru, Singapore, the United States, and Viet Nam.
The agreement was signed in February 2016 in Auckland and awaiting implementation. Trump's decision to withdraw from TPP will have serious consequences for the U.S.
But as the things stand today, it is not possible to tame Trump who is not only a naive politician but also a traditional – and perhaps unsuccessful – businessman. With his limited knowledge and plenty of conceit, he is hell-bent to take America to a path of disaster. Will you walk with him?
By Rakesh Raman, who is a government award-winning journalist and had been associated with the United Nations (UN) through United Nations Industrial Development Organization (UNIDO) as a digital media expert to help businesses use technology for brand marketing and business development.
Photo courtesy: White House
Support RMN News Service for Independent Fearless Journalism
In today's media world controlled by corporates and politicians, it is extremely difficult for independent editorial voices to survive. Raman Media Network (RMN) News Service has been maintaining editorial freedom and offering objective content for the past more than 12 years despite enormous pressures and extreme threats. In order to serve you fearlessly in this cut-throat world, RMN News Service urges you to support us financially with your donations. You may please click here and choose the amount that you want to donate. Thank You. Rakesh Raman, Editor, RMN News Service.