Swachhta Saptah for Swachh Rail Launched in New Delhi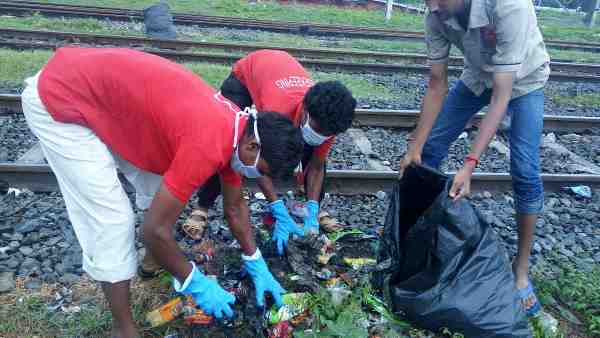 India's Minister for Railways Suresh Prabhakar Prabhu launched Swachhta Saptah under the Swachh Rail Swachh Bharat Mission from New Delhi Railway Station on Saturday.
In order to spread wider awareness on sanitation and cleanliness in rail premises and make hygiene a habit amongst the travelling public, the Indian Railways is organizing a special nine-day long public outreach programme scheduled from 17th September to 25th September 2016.
Stating that this day coincidentally marked the birthday of Prime Minister Narendra Modi, the Minister said that it is befitting that the Swacchta Saptaah should commemorate his lofty vision and goals.
Related Articles:
[ Is New Delhi the Dirtiest City of the World? ]
[ Welcome to the Smart City of Stray Dogs ]
[ Can 'Clean India' Clean India? No Way. ]
Commencing the Swachhta Saptaah as Swacch Paryavaran Diwas (Clean Environment), the Minister spelled out the Railway's commitment by recounting the initiatives taken under the Swachh Rail Swachh Bharat Mission.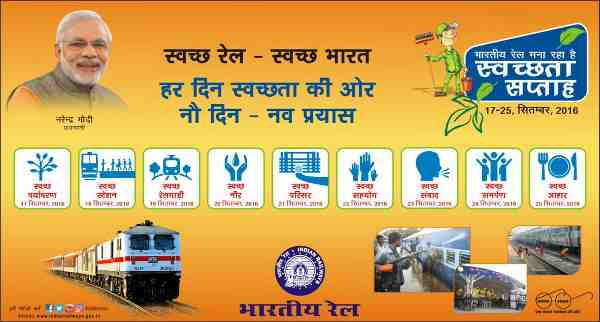 Earmarking each day with specific focus area for spruce-up, the cleanliness programme has certain defined thrusts like Swachh Stations (Clean Stations), Swachh Rail Gaadi (Clean Train), Swachh Neer (Clean Water), Swachh Parisar (Clean Complex), Swachh Sahyog (Cleanliness Participation), Swachh Samvad (Cleanliness Dialogue), Swachh Samarpan (Dedication for ensuring Cleanliness), Swachh Aahar (Clean Food) upto 25th September 2016.
The Indian Railways appeals to all rail users to express their solidarity through greater public support and an active public co-operation to make the Railways a place of pride and rail journey a pleasant experience.
Photo courtesy: Ministry of Railways, Government of India