Communist Party Condemns Sedition Case on Sitaram Yechury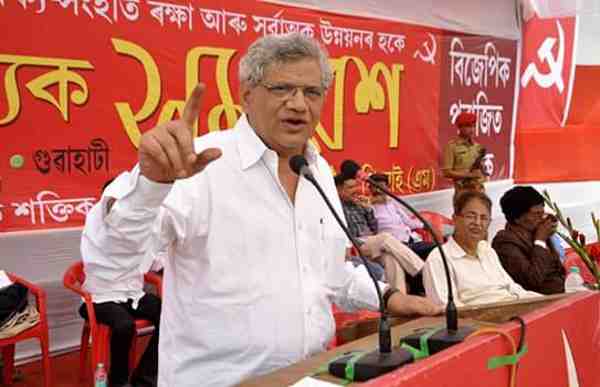 The Polit Bureau of the Communist Party of India (Marxist) has condemned the registering of a case of sedition against Sitaram Yechury, General Secretary of the CPI(M), and other leaders of opposition parties, in Hyderabad.
The First Information Report (FIR) has been lodged by the police ostensibly because these leaders had extended support to the students of Jawaharlal Nehru University (JNU) who are protesting against the arrest on sedition case of leaders of the students union and other student organisations.
Congress leader Rahul Gandhi, Delhi chief minister Arvind Kejriwal and five other political leaders have been accused of sedition in the FIR filed on Saturday.
[ Hindu Groups Attacking Human Rights in India: Amnesty ]
The other leaders facing sedition charges in the complaint are CPI leader D. Raja, CPM general secretary Sitaram Yechury, JD(U) MP K C Tyagi, and Congress leaders Ajay Maken and Anand Sharma.
CPI(M) says that the manner in which the sedition clause is being used in this case underlines the necessity to scrap the sedition clause 124A in the Indian Penal Code. The CPI(M) demands the withdrawal of the cases against the opposition leaders and all others named in the FIR.
The Polit Bureau warns the central government to desist from actions which suppress democratic rights and freedoms in the country by branding dissent and opposition as "anti-national".
Photo courtesy: CPI(M)