Contempt of Court Notice Issued to President of DPS CGHS Dwarka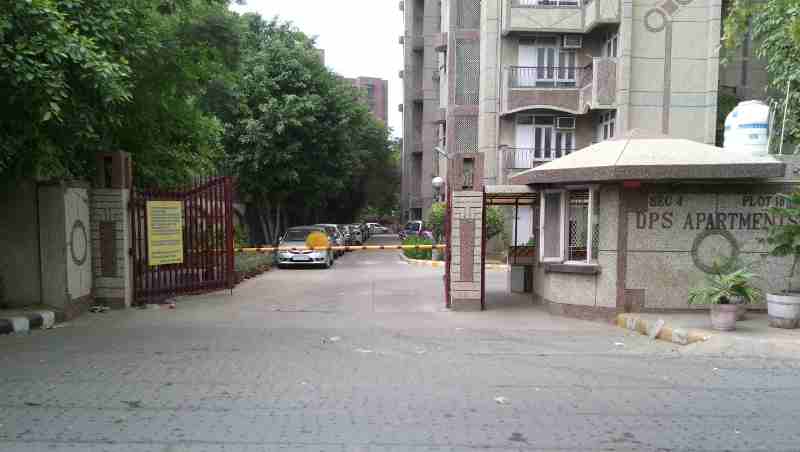 Contempt of Court Notice Issued to President of DPS CGHS Dwarka
DPS Cooperative Group Housing Society (DPS CGHS or DPS Housing Society), Plot No. 16, Sector 4, Dwarka, New Delhi 110 078
DPS CGHS president Neeraj Vaish had circulated the false message purposely with a mala fide intention to extort money from members for illegal FAR construction / repairs.
May 7, 2019
By Rakesh Raman
As an organized crime racket has been apparently running at DPS CGHS, the managing committee (MC) members of the Society are facing a slew of criminal cases opened by the courts and law-enforcement agencies.
In a new case, president Neeraj Kumar Vaish, secretary M.N. Sampathkumar, and the MC of DPS CGHS have been served a legal notice for "criminal contempt of court" as they publicly spread false and concocted information about a judgment of Delhi High Court.
In this felonious act, president Neeraj Vaish deliberately circulated a false message electronically through WhatsApp, etc. on May 2, 2019 saying that Delhi High Court has dismissed the petition of a member against FAR (floor area ratio) construction that the DPS CGHS MC has been pursuing. The WhatsApp DPS CGHS group has been created by secretary M.N. Sampathkumar who is an accomplice in the false messaging act.
Vaish also crossed all limits of falsehood when he said in his message that the Court has fined the petitioner Rs. 25,000. He claimed "this is a big success for all of us." He started celebrating this imaginary "success" with all those rogue members who are in favor of illegal FAR construction and repairs that the DPS CGHS MC has been planning deceptively.
Neeraj Vaish had circulated the false message purposely with a mala fide intention to extort money from members for illegal FAR construction / repairs. Since he knew that he is mischievously spreading falsehood about the Court case, he did not officially put his fake message on the DPS CGHS website. Therefore, Vaish is personally responsible for this mischief.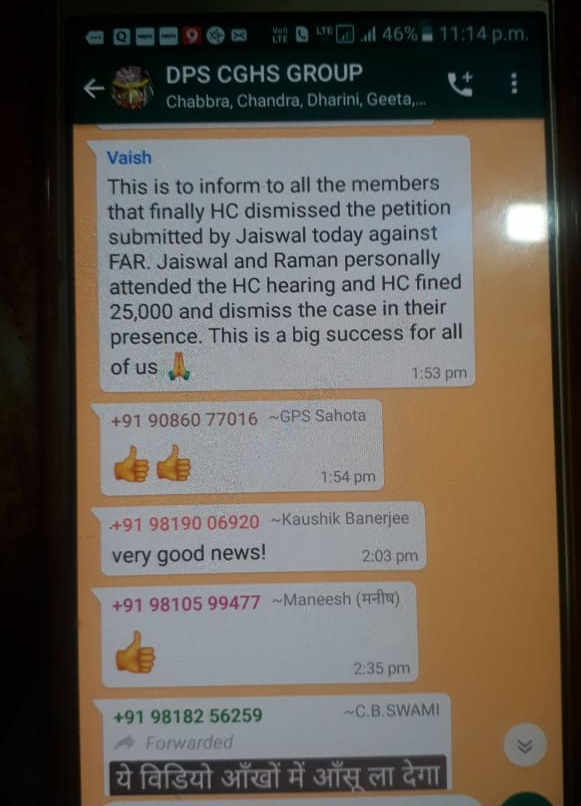 In fact, the Court case was not about FAR. Rather, the petition was filed by a senior citizen woman member to get the financial inspection and supersession (termination) of DPS CGHS MC expedited at the RCS (Registrar Cooperative Societies) court so that the MC should not demand money from members for illegal FAR project or take any other major decision till the RCS-ordered inspection is complete.
As the petitioner has also filed a similar petition at the Court of the Financial Commissioner of Delhi to get the financial inspection against DPS CGHS MC started, the Delhi High Court observed that it cannot entertain such petition against a "private entity" (MC), and the petitioner can pursue her similar petition at the Court of the Financial Commissioner.
The Delhi High Court also said in its order [W.P.(C) 4327/2019] that "it will be open to the petitioner to pursue the other remedies she may have in accordance with law."
Judgment of the Court
Instead of fully understanding the case, the Court took a hasty decision to dismiss the petition, which was not only against the "private entity" but it was mainly against the RCS office which is a government department.
The Court should have analyzed that the main objective of the petition is to safeguard the interest of common citizens and stop the perpetual crime in a housing society even if it is a "private entity." The Court should have also observed that an entity cannot be private when it is controlling public money worth crores of rupees and it is supervised by a regulatory authority such as the RCS office.
But the Court ignored all such facts and took a haphazard decision to discard the petition. The less said about the Indian courts, the better.
In the advanced parts of the world, the judges do their own research to understand the finer nuances of a case before pronouncing their judgments so that full justice is delivered. They do not depend solely on the content written in the petitions and arguments in the courtrooms.
This type of research-based approach is urgently required in the Indian courts where lawyers and judges do not possess sufficient English language skills to write court documents and they lack domain expertise in the cases they handle. Since Indian lawyers and judges are working in a casual, free-wheeling manner, the Indian legal system is plagued by random judgments and long delays.
As a result, there is a backlog of 3.3 crore (33 million) cases in various courts of India. Of these, 2.84 crore (28.4 million) cases are in the subordinate courts, 43 lakh (4.3 million) are in the High Courts, and about 58,000 are in the Supreme Court.
This case will also be reported in the Legal Directions newsletter that I publish to cover Indian and international legal affairs. I will also send this case to police and law-enforcement agencies to further investigate the matter so that the culprits could be caught and penalized.
Petition and False Messaging
The petition filed by the octogenarian woman member was not related to FAR. Rather, the petitioner had prayed to seek an order for the RCS office which should restrain the DPS CGHS MC from taking any major decision including FAR in the Society till the time the corruption inquiry ordered by the RCS court against the MC is complete.
The DPS CGHS MC is facing a serious case of its supersession (termination) under Section 37 of the DCS Act, 2003 in the RCS court as well as an inspection that has been ordered by the RCS court under Section 61 to know the extent of "financial and other irregularities" committed by DPS CGHS MC members and their accomplices. The next date of hearing in this case is 06.06.2019 at the RCS court. Subsequently, the hearing will take place at the Court of the Financial Commissioner.
In order to divert the attention of gullible DPS CGHS residents / members from the criminal cases that the MC is facing, Neeraj Vaish circulated the false message claiming his success at the Delhi High Court and wrongfully attributed his message to the Court. It is an offence under "criminal contempt of court."
According to Contempt of Courts Act, 1971, "contempt of court" can be civil contempt or criminal contempt. The false messaging by the DPS CGHS president is a case of criminal contempt.
"Criminal contempt" means the publication (whether by words, spoken or written, or by signs, or by visible representation, or otherwise) of any matter or the doing of any other act whatsoever which—
(i) scandalises or tends to scandalise, or lowers or tends to lower the authority of any court; or
(ii) prejudices, or interferes or tends to interfere with, the due course of any judicial proceeding; or
(iii) interferes or tends to interfere with, or obstructs or tends to obstruct, the administration of justice in any other manner;
Punishment for Contempt of Court:
Save as otherwise expressly provided in this Act or in any other law, a contempt of court may be punished with simple imprisonment for a term which may extend to six months, or with fine which may extend to two thousand rupees, or with both.
The DPS CGHS president not only committed contempt of court, but he also violated the Information Technology (IT) Act, 2000 as he tried to cheat the members with false message to take money from them for FAR construction and repairs. It also amounts to cheating if the offender has an intention to cheat.
Punishment for IT Act Violation:
According to Section 66D of the IT Act (cheating using computer resource), if a person cheats someone using a computer resource or communication, he or she will face imprisonment up to three years, or/and a fine of up to ₹100,000.
The false message delivered by Neeraj Vaish on an electronic platform created by his accomplice Sampathkumar also attracts the cheating statutes as described in the Indian Penal Code (IPC). The offense of cheating is established when:
The representation made by the accused was false;
The accused knew the representation was false at the very time when he made it;
The accused made the false representation with the dishonest intention of deceiving the person to whom it was made.
Punishment for Cheating:
The offender in the cheating crime can be punished with up to 7 years of imprisonment (simple or rigorous) and fine.
Legal Notice and Wrong Response
Since DPS CGHS president Neeraj Vaish – with the help of secretary M.N. Sampathkumar – had spread false information with the criminal intent to extort public money for FAR construction / repairs and defame the woman petitioner, she issued a legal notice to Vaish, Sampathkumar, and MC through her lawyer on May 5, 2019.
The notice advised the accused MC members to withdraw the false message and put out correct version of the facts with clear admission of deliberately circulating false information. The notice further stated that if the accused MC members do not comply within 24 hours, contempt of court proceedings will be initiated against them.
But president Neeraj Vaish and other DPS CGHS MC members ignored the legal notice arrogantly. Instead of apologizing for his wrongdoing and complying with the advice in the notice, Vaish sent a vague message on WhatsApp saying there were some concerns raised through the legal notice. But he did not admit that he spread false information with the intention to cheat the DPS CGHS members.
While DPS CGHS MC members have already been convicted and penalized by a court in a labour rights violation case, they have not yet been removed from their positions by the RCS office, although convicted felons are not supposed to hold MC positions.
The DPS CGHS MC members – who are behaving like street goons – have formed a virtual gang comprising other lawless members in the Society and together they are breaking many laws with impunity. They have not yet been arrested and jailed because the justice delivery system in India is extremely slow.
The accused MC members are taking undue advantage of the flawed legal system to commit more crimes including misappropriation of public funds and the illegal FAR construction / repairs project which is being carried out in a totally dishonest manner.
But the accused DPS CGHS MC members must know that it will not be possible for them to evade the long arm of law. They will eventually be caught and punished while the cases against them are actively running in different courts.
In order to fully understand the criminality at DPS CGHS, you may click the following link to study different cases along with supporting documents.
[ Humanitarian Crisis Persists at DPS Housing Society in Delhi ]
Link: http://www.ramanmedianetwork.com/humanitarian-crisis-persists-at-dps-housing-society-in-delhi/
By Rakesh Raman, who is a national award-winning journalist and social activist. He is the founder of a humanitarian organization RMN Foundation which is working in diverse areas to help the disadvantaged and distressed people in the society. He also creates and publishes a number of digital publications on different subjects.
About Me – Rakesh Raman

Rakesh Raman is a national award-winning journalist and social activist. Besides working at senior editorial positions with leading media companies, he was writing an edit-page column regularly for The Financial Express (a daily business newspaper of The Indian Express Group).
Nowadays, for the past about 8 years, he has been running his own global news services on different subjects. He also has formed a free Education and Career Counselling Center for deserving children at a poor J.J. Colony in Dwarka, New Delhi under his NGO – RMN Foundation.
He runs an exclusive community-driven anti-corruption social service "Clean House" to help the suffering residents of Delhi raise their voice against the growing corruption and injustice. He also has formed an environment-protection group called Green Group in Delhi.
He creates and distributes a number of digital publications that cover areas such as technology, law, environment, education, politics, corruption and transparency. He has created a comprehensive online information service to educate the Indian voters for the 2019 Lok Sabha election.
Earlier, he had been associated with the United Nations (UN) through United Nations Industrial Development Organization (UNIDO) as a digital media expert to help businesses use technology for brand marketing and business development.
Contact
Rakesh Raman
463, DPS Apts., Plot No. 16, Sector 4
Dwarka, Phase I, New Delhi 110 078
INDIA
You may please contact me on my email.
Editorial Disclosure: I have written this report not only as a journalist, but also as a victim of the fraud and intimidation happening at DPS CGHS. I am facing repeated threats from the MC members and their supporters because I have been raising my voice against their corruption, lawlessness, environmental crimes, and human rights violations.
Support RMN News Service for Independent Fearless Journalism
In today's media world controlled by corporates and politicians, it is extremely difficult for independent editorial voices to survive. Raman Media Network (RMN) News Service has been maintaining editorial freedom and offering objective content for the past more than 10 years despite enormous pressures and extreme threats. In order to serve you fearlessly in this cut-throat world, RMN News Service urges you to support us financially with your donations. You may please click here and choose the amount that you want to donate. Thank You. Rakesh Raman, Editor, RMN News Service.