Modi's Monarchy: Banks in India Refuse to Pay People's Money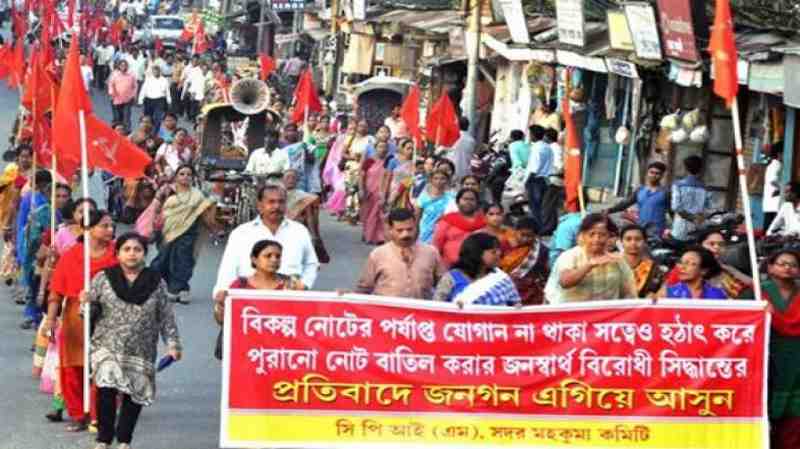 While Narendra Modi said he wants to check corruption with demonetization, analysts argue that his decision cannot help, as corruption has become the lifeblood of Indian bureaucrats and politicians.
By Rakesh Raman
It all began with a royal diktat from Narendra Modi who has become the self-crowned monarch of the kingdom of India.
At 8:00 p.m. on November 8, Modi – who is known for his extreme actions – announced that the most widely used currency in India will not be accepted in the country, leaving over one billion citizens in a state of shock and fear.
Modi demonetized the currency notes of Rs. 500 and Rs. 1,000, saying that the step is necessary to stop corruption and flow of black money. However, Modi failed to establish relationship between demonetization and corruption. He also failed to visualize the consequences of his dictatorial announcement.
Look, what happened. Modi's utterance has brought millions of Indians on the roads, as they are standing in endless queues to get their old currency notes exchanged with new ones. Their dilemma: Banks are not quite eager to pay their own money which they had deposited in Indian banks thinking that their money is safe in banks.
Modi has put numerous restrictions so people should not get their money back. Banks are asking account holders to prove their identity, they have put arbitrary limits on withdrawal amounts, and even poor people are being asked to reveal their sources of funds.
Commoners – including small shopkeepers, old retired employees, farmers, housewives, labourers – all stand in long queues to get their own money from banks, but fail to get it. As most are not able to work, they are not able to earn to run their homes.
Although Modi claimed that his decision will curb corruption, the truth is that corruption has reached every street of India. A few people who had notes of lower denomination (Rs. 100 or Rs. 50) or have new notes of Rs. 500 are selling these notes in black to those who have no currency after demonetization to buy even routine household goods.
If you pay old currency of Rs. 1,000, you get back only Rs. 800 or less in the open market. With Modi's decision, virtually every Indian has become a black marketer. And government corruption has increased manifold because corrupt government employees now want to get compensated for the loss they suffered because of demonetization.
Demonetization Reasons
While Modi said he wants to check corruption, etc. with demonetization, analysts argue that his decision cannot help, as corruption has become the lifeblood of Indian bureaucrats and politicians.
"This measure does not in any way address the four objects that Modi outlined – black money, corruption; counterfeit currency notes, and terrorist funding," said the Polit Bureau of the Communist Party of India (Marxist) on Tuesday.
It blamed the Modi government by saying that no effort has been made to bring back the bulk of black money which is generated and stored in offshore accounts in foreign currency. Cash constitutes only 6% of the black economy.
Also a study conducted on behalf of the National Investigation Agency by the Indian Statistical Institute, Kolkata has found that only 0.028% of the currency withdrawn is counterfeit.
According to CPI (M), the basic avenues for money laundering through participatory notes and diversions through tax havens remains untouched. There is no attempt to curb the roots of generation of black money such as in the real estate sector, it said.
The utter insincerity of the government in bringing back black money is revealed in its wariness to making public the names of those holding bank deposits and accounts in tax-havens and those refusing to return humongous loans – estimated at over Rs 11 lakh crores (approximately US$ 170 billion) – from nationalised banks.
Recent reports, according to CPI (M), show that bad loan provisioning for most state-owned banks doubled – and even trebled in some cases during 2015-16. There has been a lack of concerted effort to recover these bad loans. Instead, according to CPI (M), Modi's BJP government waived off Rs 112,078 crore of bad loans of big borrowers in two years of 2014-16.
These big borrowers are supposed to be friends of Modi who helped him win the 2014 Lok Sabha election. Congress leader Rahul Gandhi stated that by depriving common people of their right to withdraw their money from banks, Modi wants to compensate his dozen-odd cronies.
Illegal Scheme
How will Modi do it? Today, nearly Rs. 17 lakh crore of money is in circulation in India. Out of this, an estimated 87% is in the form of currency notes of Rs. 500 and Rs. 1000 that Modi has banned.
According to government claims, it expects to get old currency notes of about Rs. 10 lakh crore back in banks in the next couple of months as people will get them exchanged with new notes.
The balance Rs. 7 lakh crore will be shown as shady money which will be pumped back into the banks as new currency to help banks rebuild their non-performing assets (NPAs).
So, instead of asking big defaulters (presumed to be Modi's friends) to repay their loans, banks will get compensated through the demonetization scheme of Modi.
But this is illegal. May be; Modi does not care. And there is no mechanism in India that could be used to challenge his decision.
The notes that Modi has banned are in fact promissory notes. With the signatures of the Governor of Reserve Bank of India (RBI), it is printed on the notes: "I promise to pay the bearer the sum of five hundred rupees" in the case of, for example, Rs. 500 notes. It is also printed on the notes: "Guaranteed by the Central Government."
Then how can Modi cancel the legal tender character of these notes? He can do it because he is the reigning monarch in India and whatever he says becomes law instantly. A similar system of governance is used in the Islamic State where its leader Abu Bakr al-Baghdadi makes such laws and impose them on citizens against their will.
The Polit Bureau of CPI (M) expressed serious concern over the increasing authoritarian trends of the Modi government.
---
RMN Popularity Poll
Meanwhile, Modi's popularity is severely damaged in India. In an ongoing RMN Poll launched on November 13, Modi got only 8% votes as compared to Baba Ramdev's 14%, Kanhaiya Kumar's 13%, and Mayawat's 13% in a list of 10 candidates. You can vote and check out the poll results so far.
---
Hidden Objectives
It is also believed that with demonetization drama, Modi wants to divert people's attention from the real problems that have plagued India during his 30 months of rule.
Although Modi and his ministers are patting on their own backs to highlight their work, truth is that they have brought the country on the brink of a disaster.
In the latest World Bank Doing Business 2017 report, for example, India's Ease of Doing Business rank is a poor 130 in the list of 190 countries. This shows that the claims of the Modi government that India is a top economy in the world are false and mostly based on fake data.
Modi's failures are further manifested in multiple independent reports. According to a leading industry association ASSOCHAM in India, sharp drop in merchandise exports has contributed to a loss of 70,000 jobs, although Modi had promised to create 40 million jobs in the first two years of his government.
Moreover, ASSOCHAM reveals that for the first two quarters of the fiscal 2015-16, the country's merchandise exports had dropped by over 17%. The fall in exports continues even this year despite advantage of a low base.
In his reaction, CPI (M) leader Sitaram Yechury criticized the Modi government by saying that Modi has failed to fulfill his promise of providing 20 million jobs (in a year) and people are, in fact, losing their jobs under Modi's regime.
As a result, the unemployment situation in India has gone so bad in the past about two years of Modi's government that it is soon expected to trigger a social unrest in the country.
In 2015, for example, India added the fewest organised-sector jobs —in large companies and factories — in seven years across eight important industries.
As Modi is not skilled to manage India's social and economic affairs, he is wasting his time on totally frivolous activities such as cleaning of streets, yoga exercises, useless sports, and so on to divert people's attention from the most pressing problems.
Modi and his ministers are also trying to raise a false alarm about terrorism and war threats from Pakistan.
An Indian political leader Mayawati has stated that Modi may trigger a war with Pakistan to hide his failures during the past couple of years.
All these valid arguments from various groups of people show that demonetization is just another tool for the Modi government to hoodwink the people.
Trouble, however, is that he cannot be stopped. Indians will have to tolerate Modi and his monarchy till 2019 – the year of the next Lok Sabha election in India.
By Rakesh Raman, who is a government award-winning journalist and social scientist. You also can visit the REAL VOTER – Politics in India Information Center that he manages.
Support RMN News Service for Independent Fearless Journalism
In today's media world controlled by corporates and politicians, it is extremely difficult for independent editorial voices to survive. Raman Media Network (RMN) News Service has been maintaining editorial freedom and offering objective content for the past more than 12 years despite enormous pressures and extreme threats. In order to serve you fearlessly in this cut-throat world, RMN News Service urges you to support us financially with your donations. You may please click here and choose the amount that you want to donate. Thank You. Rakesh Raman, Editor, RMN News Service.