Rahul Gandhi Hits Out at Kejriwal's Dharna Politics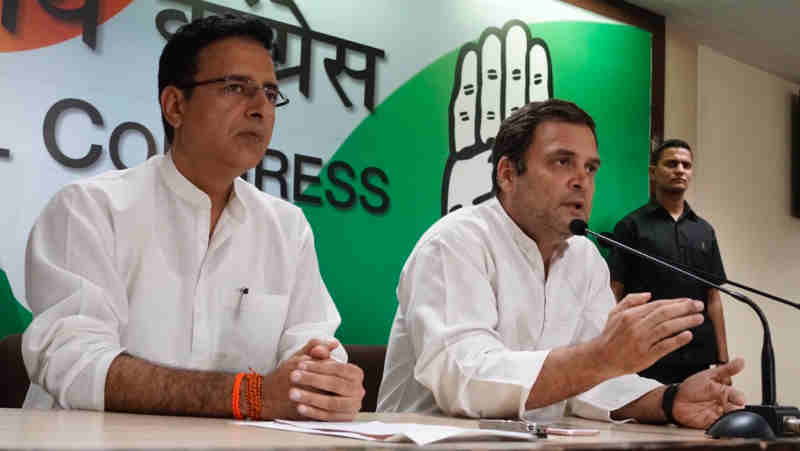 While Baijal and Modi completely ignored the protests of Kejriwal and his Aam Aadmi Party (AAP), Kejriwal's fasting ministers – Satyendar Jain and Manish Sisodia – ran away sheepishly to take refuge in the comforts of a hospital.
By Rakesh Raman
After staying silent for a few days over the chaotic situation in Delhi, Congress president Rahul Gandhi today termed the current turmoil as a state of anarchy.
Rahul Gandhi stated that Delhi chief minister (CM) Arvind Kejriwal is sitting on a dharna at Lt. Governor (LG) Anil Baijal's office, opposition party BJP is sitting on a dharna at CM's residence, Delhi bureaucrats are addressing press conferences while PM (Narendra Modi) has turned a blind eye to the anarchy.
"People of Delhi are the victims, as this drama plays out," the Congress president added.
Delhi CM, sitting in Dharna at LG office.

BJP sitting in Dharna at CM residence.

Delhi bureaucrats addressing press conferences.

PM turns a blind eye to the anarchy; rather nudges chaos & disorder.

People of Delhi are the victims, as this drama plays out.

— Rahul Gandhi (@RahulGandhi) June 18, 2018
It was in fact a drama – directed by Kejriwal – which ended as a flop show. While Baijal and Modi completely ignored the protests of Kejriwal and his Aam Aadmi Party (AAP), Kejriwal's fasting ministers – Satyendar Jain and Manish Sisodia – ran away sheepishly to take refuge in the comforts of a hospital.
[ Actor Prakash Raj Blames PM Modi for Kejriwal Crisis ]
Kejriwal and his ministers were sitting on a dharna since last Monday in the office of LG Baijal. They were demanding the end of bureaucrats' strike among other approvals from Baijal, while the LG office has stated that the dharna is "without any reason."
The bureaucrats including IAS officers have not been interacting with Kejriwal government after an alleged assault on Delhi chief secretary Anshu Prakash in February at Kejriwal's residence. They are demanding Kejriwal's apology for the said attack on Delhi Government's top bureaucrat.
Instead of feeling sorry for the attack on chief secretary, Kejriwal has preferred to give a political color to the incident of assault. Dharna at LG office was part of Kejriwal's dirty drama. He has often claimed that PM Modi is directing Baijal to create problems for Kejriwal government, although Kejriwal could never substantiate his claims.
The bureaucrats may not be cooperating with Kejriwal during the past 4 months, but Kejriwal government could not perform in the past over 3 years of its rule in Delhi.
Failures of Kejriwal
But why is Kejriwal resorting to such an unruly behavior? Answer: Kejriwal and his ministers as well as party colleagues are mostly uneducated, inexperienced, or goons who do not understand the ABC's of governance.
Since AAP government has failed on all fronts, Kejriwal is blaming Baijal and Modi for his own failures. In the process, he is trying to hoodwink the voters by saying that Baijal is not allowing him to work.
However, most people believe that in just 3 years, Kejriwal and AAP have caused such a damage to Delhi that now it will take it almost 30 years to recover from the ruins.
Today, Delhi is among the most polluted and the dirtiest cities of the world, corruption is rampant in every street of Delhi while Kejriwal government never tried to control it.
Similarly, the education standards – particularly in Delhi schools – are going from bad to worse while Kejriwal has no interest in improving the quality of education. Rather, Kejriwal and his party colleagues are making false claims about Delhi school education.
[ Let Us Save the School Education of Delhi ]
While Kejriwal is going gaga over the hyped performance of his Mohalla Clinics, people in Delhi complain about the uselessness of such a flawed health care concept.
People told RMN News Service that mostly these so-called community health care centres are locked and when they open they fail to provide proper medical treatment.
During the past couple of years, Kejriwal and his Aam Aadmi Party (AAP) have only been blaming the LG for their own failures. No doubt, LG Baijal is a highly inefficient bureaucrat who mostly wastes his time in useless closed-door meetings or avoidable inauguration ceremonies of shops and roads. But Kejriwal and his ministers are equally incompetent.
[ Report Corruption in Delhi Housing Societies to Clean House ]
Now Kejriwal is playing mob politics to intimidate LG Baijal so the latter could accept all his irrational demands. Kejriwal – who was sitting on a dharna in LG office since last Monday – also instigated a group of hirelings to shout slogans against LG Baijal.
Kejriwal's illegitimate demands include the end of bureaucrats' strike who are not cooperating with Kejriwal government because Kejriwal's goons had allegedly assaulted Delhi chief secretary.
He has cleverly roped in a few other anti-Modi politicians like Mamata Banerjee, N Chandrababu Naidu, Pinarayi Vijayan, Sitaram Yechury to support him in this chaos. While Kejriwal thinks they are supporting him, but actually they are working on the saying "the enemy of my enemy is my friend." Kejriwal has given them an opportunity to blame Modi for Delhi crisis.
[ कौन है दिल्ली में बढ़ते भ्रष्टाचार और बर्बादी के लिए जिम्मेदार? ]
On Sunday, Kejriwal's party – with a group of idle supporters – had decided to protest in front of the PM house. But Kejriwal has failed to realize that with all his theatrics, the people of Delhi are more confused that enthused.
The sorry plight of people in Delhi indicates that India has already become a politically unstable banana republic with rampant lawlessness, corruption, and exploitation of the ordinary citizens. It is expected that soon India will formally appear in the list of banana republics such as Botswana, Guatemala, Nigeria, Zambia, and Cuba.
If the situation is not controlled immediately, it is expected that international sanctions will be imposed on India because of government's failure to stop increasing lawlessness, crime, and corruption.
While an ugly impasse has been persisting in Delhi, there is a need to immediately dissolve the Delhi Assembly and remove inefficient LG Baijal from his position. 'No government' than 'bad government' will be good for the people of Delhi.
By Rakesh Raman, who is a national award-winning journalist and social activist. He is the founder of a humanitarian organization RMN Foundation which is working in diverse areas to help the disadvantaged and distressed people in the society.
Photo courtesy: Congress
Support RMN News Service for Independent Fearless Journalism
In today's media world controlled by corporates and politicians, it is extremely difficult for independent editorial voices to survive. Raman Media Network (RMN) News Service has been maintaining editorial freedom and offering objective content for the past more than 12 years despite enormous pressures and extreme threats. In order to serve you fearlessly in this cut-throat world, RMN News Service urges you to support us financially with your donations. You may please click here and choose the amount that you want to donate. Thank You. Rakesh Raman, Editor, RMN News Service.