Why Insecurity Persists in India's Food Security Act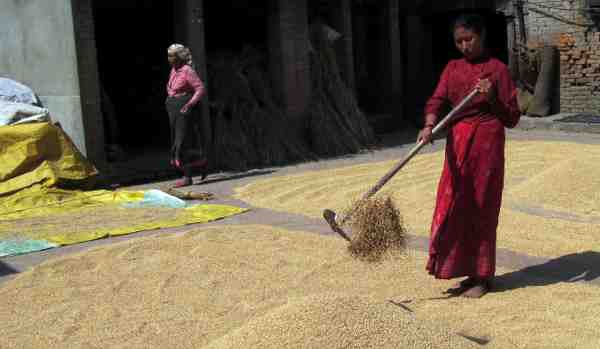 Government fails to understand that such a colossal mass distribution project can't be implemented without using an automated supply chain management (SCM) system integrated with an online grievance redress interface.
By Rakesh Raman

The National Food Security Act (NFSA), which aims to provide subsidized food grains to nearly 70% of India's 1.2 billion people, continues to face some serious implementation hiccups.
NFSA or Right to Food Act, which came into force in September 2013 when the Congress-led United Progressive Alliance (UPA) was ruling the country, is said to be the largest welfare program in the world to provide food security to poor populace in a country.
The program offers 5 kilograms of cereals including rice and wheat (and in some cases sugar) per person per month at a paltry price ranging between Rupee 1 and Rs. 3. The scheme is supposed to benefit nearly 800 million poor in the country and costs the government an estimated $20 billion a year.
Despite its scope and enormity in terms of food aid to the poor, NFSA has few takers in the Indian states. Out of 36 states and Union Territories which were supposed to be covered by NFSA, only 11 have tried to implement it while the deadline for implementation was April this year. Now Prime Minister Narendra Modi-led BJP government has extended the implementation deadline for six months, till October 2015.
Even the states which have accepted the Act are not serious in its execution and are terribly slow in providing the benefits of the food scheme to the poor masses.
So, what have been the bottlenecks in NFSA application? Raman Media Network (RMN) carried out a field case study in Delhi with support from Satark Nagrik Sangathan (SNS or Smart Citizen Organization), a civil society group that is using RTI (Right to Information Act) to get NFSA benefits for the poor.
The study was done Friday in the slum area of Panchsheel Park in New Delhi where SNS held a grievance camp to record the complaints of slum dwellers who come under NFSA scheme.
It was apparent from the interaction with the locals that retailers who distribute the food items are corrupt and they also enjoy tacit support from government officials. Instead of giving the cereals to the ration card holders, the shopkeepers sell it in the black market to earn more profits and ostensibly share the booty with the government officers who are actually supposed to ensure the smooth functioning of the scheme.
Local shopkeepers leave no stone unturned to harass the poor people by not giving them the food items that they are authorized to get under the NFSA scheme. These shopkeepers use foxy tactics to save the food grains and sell them at higher rates in the open market.
For example, shopkeepers don't open their shops at the stipulated time notified to the beneficiaries of the scheme. They coerce and intimidate the families of beneficiaries so that they should not ask for food items and must not complain against them. They also sell wheat and rice of inferior quality which is not even good for human consumption.
Only a few victims of this retailer-government nexus raise their voice and complain against them mostly through the visiting SNS teams who record their grievances and take the RTI route to know the reasons behind non-distribution of food items among the poor.
But the RTI process of getting relief for the poor people is too cumbersome, tardy, and perhaps ineffective. This is mainly because most government officials play hand in glove with the corrupt shopkeepers and they are reluctant to follow the RTI stipulations.
Moreover, the government departments do not prefer to use the right digital technology partly because of lack of skills and partly because they want to run the system in a covert, secret manner to hide their corrupt practices.
Government fails to understand that such a colossal mass distribution project can't be implemented without using an automated supply chain management (SCM) system integrated with an online grievance redress interface. As such an integration will expose the unfair deeds, the government is averse to the use of technology.
Take the website of the Department of Food, Supplies, and Consumer Affairs of the Delhi government, for example. Although this Department claims that it is implementing NFSA 2013, but it does not provide an interface for citizens to submit their grievances. When you click the "Grievance Officers" hyperlink on this Department's website, you get a blank page with the message: "Page Under Construction, Will be available soon.." [ Status on April 4, 2015 ]
Similarly, the website of the Department of Food & Public Distribution, Government of India exists like a web ruin without having any utility for the citizens. It gives some static information about NFSA and fails to connect with the citizens in a meaningful way.
These websites are like most other government websites that use archaic technology and lack content. Government uses these sites as false propaganda tools to hoodwink the citizens. You can't trust the information given on government websites.
Similarly, the other stakeholders such as non-government organizations (NGOs) working as interface between the government and the citizens depend on old manual techniques which are extremely slow – and thus ineffective.
For example, Satark Nagrik Sangathan (SNS) with which RMN did the field study in Delhi, distributes printed awareness literature such as pamphlets about RTI and other rights of the citizens. While awareness is an important component for the implementation of schemes such as NFSA, technology use is inevitable for mass communications of awareness campaigns.
For example, NGOs like SNS can install touch-screen kiosks with iconic and multimedia interfaces that even illiterate citizens could use. Mobile technology can help them usher in a paperless environment while recording complaints of citizens in field interactions. It will be faster, too.
Plus, they can introduce real-time complaint tracking systems to receive complaints and instantly report about their movement in the government departments. Of course, the cost of such projects will be high. But the public-private partnership options can be explored for technology introduction.
Even an NGO website can serve as an effective interface for citizens if it is developed using the right online user experience (UX) design, backend technology, and its content is updated regularly to engage different stakeholders.
In a recent interview with RMN, Anjali Bhardwaj, the founder of SNS and co-convener of National Campaign for Peoples' Right to Information (NCPRI), stressed the need for e-governance and communication through digital channels for the benefit of citizens.
However, you can't expect the Indian governments to use technology efficiently because there is hardly any skilled workforce in India and governments (politicians as well as bureaucrats) avoid technology for the fear of getting exposed and caught for their corrupt deals.
Their aversion to technology is evident from The Global Information Technology Report 2014 released by the World Economic Forum in which India's rank is a poor 83 in the world.
But NGOs can still leverage technology to get the government benefits for the masses across the country. No doubt, field activities and demonstrations are important for NGOs to run their campaigns. But in the absence of technology, the impact of such campaigns will continue to be negligibly low.
And particularly for government schemes like NFSA or RTI that target masses across the country, you can't afford to ignore technology. Believe me.
By Rakesh Raman, the managing editor of RMN Company
You also can read: More Articles by the RMN Editor, Rakesh Raman
This article is part of our editorial initiative called
REAL VOTER
that covers political developments in India. Click here to visit
REAL VOTER
.
Photo courtesy: Wikimedia Commons
Support RMN News Service for Independent Fearless Journalism
In today's media world controlled by corporates and politicians, it is extremely difficult for independent editorial voices to survive. Raman Media Network (RMN) News Service has been maintaining editorial freedom and offering objective content for the past more than 12 years despite enormous pressures and extreme threats. In order to serve you fearlessly in this cut-throat world, RMN News Service urges you to support us financially with your donations. You may please click here and choose the amount that you want to donate. Thank You. Rakesh Raman, Editor, RMN News Service.