DPS CGHS MC Members May Go to Jail for Corruption and Fraud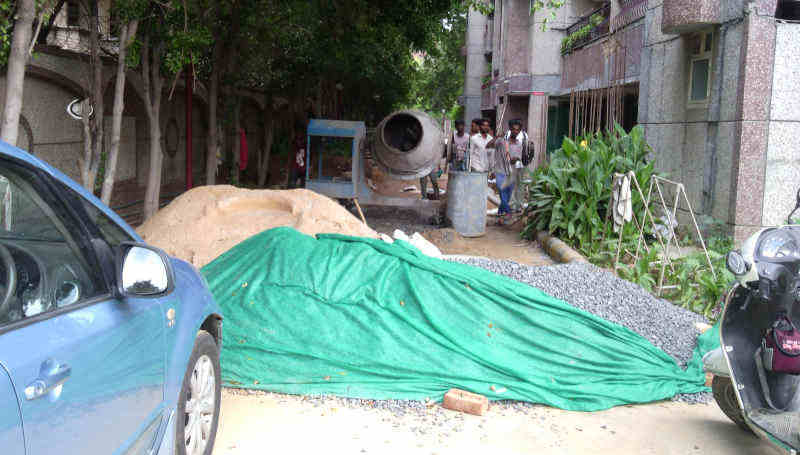 DPS CGHS MC Members May Go to Jail for Corruption and Fraud
DPS Cooperative Group Housing Society (DPS CGHS), Plot No. 16, Sector 4, Dwarka, New Delhi 110 078
August 19, 2019
The next step is to get the charge sheet filed against the accused DPS CGHS MC members and their supporters so that all of them could be jailed at the earliest. 
By Rakesh Raman
Most of you would have never met people who dig their own grave. But here is an opportunity. You can meet such people who claim to be the managing committee (MC) members of DPS CGHS.
While the noose is tightening around their neck for the crimes they have been committing, these MC members are blatantly committing more crimes that can put them as well as their accomplices behind bars.
On the basis of prima facie evidence, the anti-corruption agencies of the government have already ordered probe in the estimated Rs. 20 crore corruption scandal in which the DPS CGHS MC members are believed to be involved. 
Now, in additional cases, the MC members will face charges of criminal conspiracy, cheating, financial fraud, and intention to hurt others in the ongoing floor area ratio (FAR) construction and repairs work that the accused MC members have started in a totally illegal manner.
The IPC Sections that will apply to prosecute the DPS CGHS MC members and their accomplices are Section 415 and Section 420 (cheating and fraud), Section 120A (criminal conspiracy), Section 299 (culpable homicide or intention to hurt others), Section 503 (criminal intimidation), and others. The punishment to the convicts under these Sections could be a jail term for 7 years or more besides financial penalties.
The white-collar crimes that the DPS CGHS MC members are apparently committing are equivalent to traditional crimes such as land grabbing, bank robbery, and dacoity.  
ILLEGAL AND HARMFUL CONSTRUCTION WORK
The accused MC members admit that this FAR construction / repairs activity – which, if allowed, will run for years – is extremely dangerous for hundreds of people living in the Society building. But since their eyes are on the easy money that they can loot from the members in this illegal work, they are putting to risk the lives of all the residents – including men, women, children, and senior citizens.
The illegal construction work started by the DPS CGHS MC members is spreading lethal dust and noise pollution in the building and has damaged the entire premises because of which the residents are facing umpteen problems.
On August 12, 2019, the accused DPS CGHS MC members broke the IGL (Indraprastha Gas Limited) gas pipeline which could have resulted in numerous casualties in the building. They also criminally stopped gas supply in the houses of the building. Obviously, this is a criminal activity because the MC members did not take IGL approval before starting the construction work.
This was at least the second such accident of gas pipeline breakage that happened during the past few weeks while the DPS CGHS MC members had started the illegal construction activity last month – in July 2019. Although it is learnt that the IGL officials have raised informal objections to the illegal construction without the IGL permission, they have not bothered to stop the risky construction. 
Obviously, the IGL officials are complicit in this crime which can lead to serious accidents and deaths in the society building. The possibility of bribes by the MC members to IGL officials for continuing the harmful construction work cannot be ruled out. As I have complained about this crime to the police and other law-enforcement agencies, it is being investigated.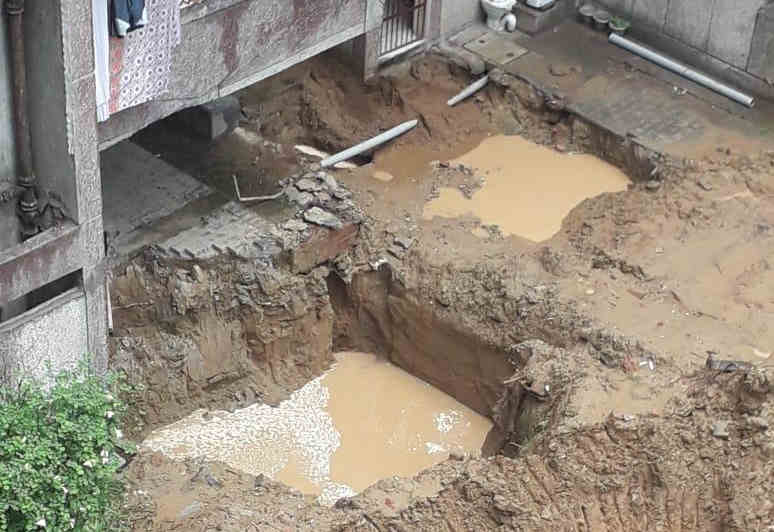 With illegal and harmful construction, the DPS CGHS MC members have also damaged the green parks in the building and weakening the structural stability of the building by digging deep pits in the foundation. The dirty water collection in the pits is also posing health risks to people living in the building.
NEW CRIMINAL CASES AND INVESTIGATIONS
All these construction-related crimes being committed by the DPS CGHS MC members and their accomplices will be part of the new cases and investigations, as I have been constantly reporting about them to the law-enforcement agencies.
The DPS CGHS MC claims that it is doing all these criminal activities with support from the majority of members. But the decision of the majority cannot be imposed on other members when it involves huge amount of money, or the majority decision contravenes any existing law, or it abuses the fundamental rights of a citizen, including the right to live in a clean, peaceful environment guaranteed under Article 21 of the Constitution. So, the majority of an inconsequential entity such as a housing society cannot enjoy supreme powers to violate the extant laws. The law is very clear about this fact.
The police and law-enforcement agencies must also know that the accused DPS CGHS MC members get all shady decisions approved in fraudulently conducted General Body Meetings (GBMs) where the majority of the voting members are bribed or lured with various illegal incentives such as illegal car parking, polluted renovation / repairs in flats, illegal alterations in individual flats, lavish late-night booze parties, and even cash kickbacks. 
With the help of these law-breaking members, the DPS CGHS MC members have formed a fully functional criminal gang which commits crimes and threatens other members who complain about their crimes. Such illegitimate majority cannot be allowed to take any decision.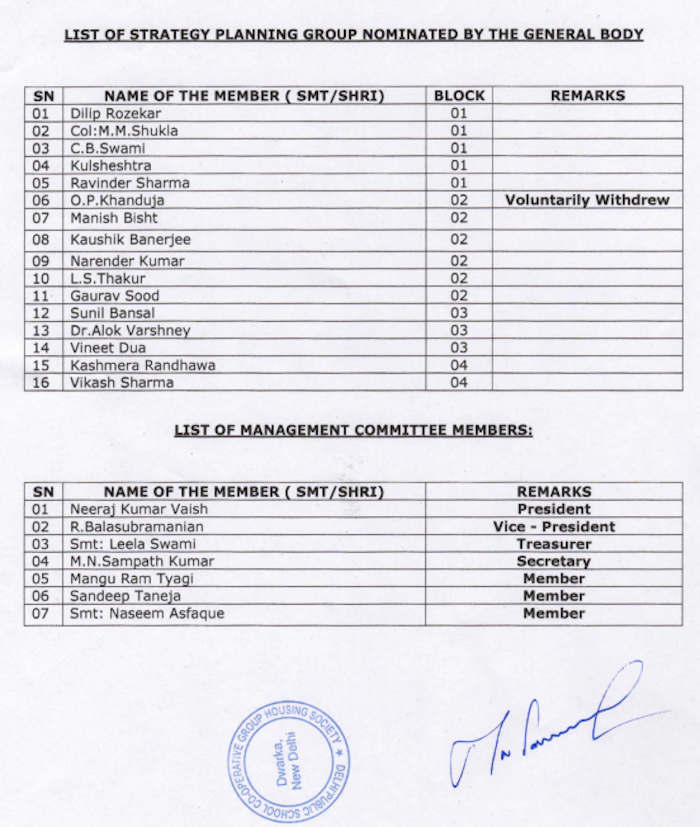 The accused DPS CGHS MC members have roped in some members of this gang in a dubious Strategy Planning Group (SPG). These members know that the MC is under government investigation for financial frauds and it has undertaken an illegal FAR construction / repairs activity. But they are still participating in the unlawful construction project as willful accomplices.
As the new cases are being filed against the DPS CGHS MC members, these members of the so-called SPG will face the legal consequences. According to the MC documents, the members in its SPG are: Dilip Rozekar, Col. M.M.Shukla, C.B. Swami, Kulsheshtra, Ravinder Sharma, O.P. Khanduja, Manish Bisht, Kaushik Banerjee, Narender Kumar, L.S. Thakur, Gaurav Sood, Sunil Bansal, Dr. Alok Varshney, Vineet Dua, Kashmera Randhawa, and Vikash Sharma.
The DPS CGHS MC also claims that the petitioners Mr. Davinder Wazir (Flat No. 123), Ms. Anita Bhagat (Flat No. 401), Mr. K.V. Varghese (Flat No. 313), and Mr. H.L. Kaul (Flat No. 121) have also decided to support the crimes as they have withdrawn from the ongoing RCS Court case against the MC. Presumably, these members have been either bribed or threatened by the MC to join the gang. 
VIOLATIONS IN FAR CONSTRUCTION AND REPAIR
The residents who understand the construction work can easily compare the physical construction at DPS CGHS building and the misleading drawings submitted by the accused DPS CGHS MC members to know that many of the 26 conditions mentioned in the DDA letter for FAR have already been violated. 
The DDA letter specifies that "Any deviation done against the bye-laws is liable to be demolished and the supervising Architect, engaged on the job will run the risk of having his license cancelled."
As the FAR construction at DPS CGHS has violated the DDA conditions, it will soon be demolished. The FAR construction has also violated a number of other laws such as the Unified Building Bye Laws (UBBL), the Delhi Apartment Ownership Act, Delhi Fire Service Rules, National Building Code, and others. The accused DPS CGHS members are also not following the preconditions specified by Delhi Fire Service for starting FAR construction.
As these violations are being documented, the construction / repairs work at DPS CGHS will stop as soon as the residents decide to file the case. But the residents will file the case when a major part of the building is totally broken so that maximum financial and other penalties could be imposed on MC members and those who paid for FAR construction / repairs.
This is also important to mention here that the assets (including the existing flats) of the MC members and others will be attached (confiscated) to recover the financial penalties and compensation to the members who oppose FAR construction / repairs.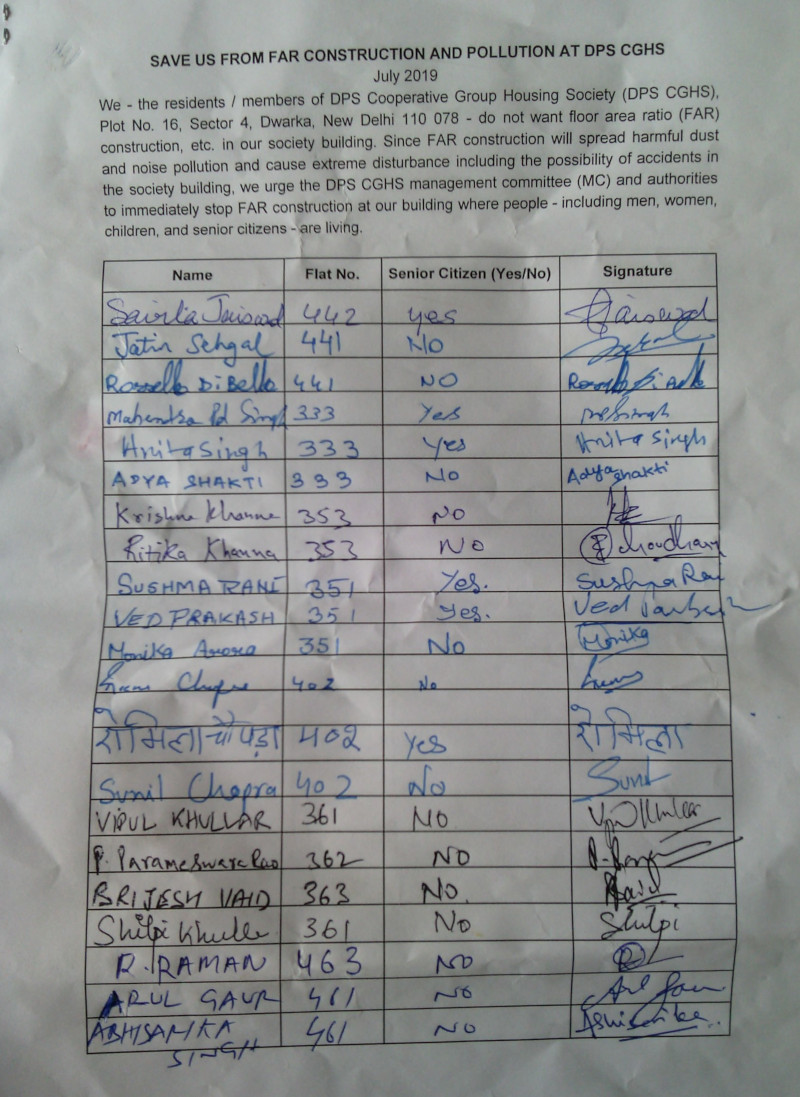 Besides construction violations, the MC members have also committed financial crimes in the FAR project. The documents reveal that the following external firms have been hired by the accused DPS CGHS MC members without following the proper tendering / purchase processes.
Vivek & Arti Architects [Contact: Mr. Vivek Malhotra, Architect, COA No: CA/89/12072, Registered Valuer: Cat-I/478/127/2003-2004 of B-3/55, Janakpuri, New Delhi – 110058 with contact 9654787858] 
Om Star Constructions Pvt Ltd [Contact: Mr. Sanjay Kumar Goel, D-17, First Floor, Pandav Nagar, Patparganj (Near Indane Gas Agency), Delhi – 110092 with contact 011-45615262, 22485372, 9310015350]
Design N Design Architects [Contact: S-4, Anupam Plaza, I.I.T. Crossing, Hauz Khas, New Delhi 110016. Ph: 011-26853257]
Team Professional Consultant and Resource Managers [Contact: 436, Sec-4, Vaishali, Ghaziabad-201012 (UP), Ph: +91-120-4167814 / +91-9718811005]
All these violations and cases of financial frauds are being reported to the investigating agencies so that the prosecution and imprisonment of DPS CGHS MC members and their gang members could be expedited.
EXISTING CORRUPTION CASES
Besides a financial inspection ordered by the RCS Court under Section 61 of the DCS ACT, 2003, the accused DPS CGHS MC members are also facing a case under Section 37 of the DCS ACT, 2003 for the supersession (termination) of the MC under charges of large-scale corruption, impropriety, abuse of power, and other irregularities. 
Now, along with the RCS Court, the corruption case against DPS CGHS MC members has also reached the Court of the Financial Commissioner (FC Court) which is a higher court to the RCS Court. 
The names and addresses of DPS CGHS MC members against whom the investigations are underway are given below.
Neeraj Kumar Vaish, Flat No. 153, DPS CGHS, Plot No. 16, Sector 4, Dwarka, New Delhi
M.N. Sampathkumar, Flat No. 151, DPS CGHS, Plot No. 16, Sector 4, Dwarka, New Delhi
R. Balasubramanian, Flat No. 322, DPS CGHS, Plot No. 16, Sector 4, Dwarka, New Delhi
Ms. Leela Swami, Flat No. 173, DPS CGHS, Plot No. 16, Sector 4, Dwarka, New Delhi 
Sandeep Taneja, Flat No. 473, DPS CGHS, Plot No. 16, Sector 4, Dwarka, New Delhi
Manguram Tyagi, Flat No. 133, DPS CGHS, Plot No. 16, Sector 4, Dwarka, New Delhi
Ms. Naseem Afshaque, Flat No. 172, DPS CGHS, Plot No. 16, Sector 4, Dwarka, New Delhi
The accused DPS CGHS MC members have been obstructing the financial inspection and threatening the Society residents / members to pay them huge money for construction / repairs for the illegal construction project which is estimated to be of Rs. 15 crore. 
The wise members should not pay any money to DPS CGHS MC for FAR construction / repairs and those who have already paid should demand their money back from the MC instead of becoming part of the construction crime.
The accused DPS CGHS MC members have also gone so berserk that they are threatening the members / residents who complain against their illegal activities with fake legal notices, false police complaints, and frivolous expulsion notices. 
The accused DPS CGHS MC members have been playing such dirty tricks for the past couple of years, but none of these tricks worked in their favour. Rather, they are losing court cases for expulsion conspiracies and other crimes, and now they are also under more investigations for their crimes and corruption.
The next step is to get the charge sheet filed against the accused DPS CGHS MC members and their supporters so that all of them could be jailed at the earliest. While they are planning to expand their flats with FAR extension, instead of living in these flats they may have to live in jail.
You can click here to study the criminal history sheet of DPS CGHS MC members and their accomplices.
Note: I have written this report not only as a journalist, but also as a victim of the fraud and intimidation happening at DPS CGHS. I am facing repeated threats from the MC members and their supporters because I have been raising my voice against their corruption, lawlessness, environmental damage, and human rights violations. These threats include false police complaints against me, threats of physical harm to me, expulsion notices, legal notices, arbitrary financial penalties on me, and slanderous attacks on my social as well as professional status.
By Rakesh Raman, who is a national award-winning journalist and social activist. He is the founder of the humanitarian organization RMN Foundation which is working in diverse areas to help the disadvantaged and distressed people in the society. He also creates and publishes a number of digital publications on different subjects.
About Rakesh Raman

Rakesh Raman is a national award-winning journalist and social activist. Besides working at senior editorial positions with leading media companies, he was writing an exclusive edit-page column regularly for The Financial Express (a daily business newspaper of The Indian Express Group).
Nowadays, for the past about 8 years, he has been running his own global news services on different subjects. He also has formed a free Education and Career Counselling Center for deserving children at a poor J.J. Colony in Dwarka, New Delhi under his NGO – RMN Foundation. 
He runs an exclusive community-driven anti-corruption social service "Clean House" to help the suffering residents of Delhi raise their voice against the growing corruption and injustice in housing societies. He also has formed an environment-protection group called Green Group in Delhi.
He publishes Clean Climate environment news magazine that covers local and international environment news and issues to engage with different stakeholders who are trying to protect the environment.
He creates and distributes a number of digital publications that cover areas such as technology, law, environment, education, politics, corruption and transparency. He also publishes Real Voter digital magazine that focuses on politics and governance in India.
Earlier, he had been associated with the United Nations (UN) through United Nations Industrial Development Organization (UNIDO) as a digital media expert to help businesses use technology for brand marketing and business development.
Contact
Rakesh Raman
463, DPS Apts., Plot No. 16, Sector 4
Dwarka, Phase I, New Delhi 110 078, INDIA
You may please contact me on my email.
Support RMN News Service for Independent Fearless Journalism
In today's media world controlled by corporates and politicians, it is extremely difficult for independent editorial voices to survive. Raman Media Network (RMN) News Service has been maintaining editorial freedom and offering objective content for the past more than 10 years despite enormous pressures and extreme threats. In order to serve you fearlessly in this cut-throat world, RMN News Service urges you to support us financially with your donations. You may please click here and choose the amount that you want to donate. Thank You. Rakesh Raman, Editor, RMN News Service.