FAR Construction Stopped at Chandanwari CGHS After Court Case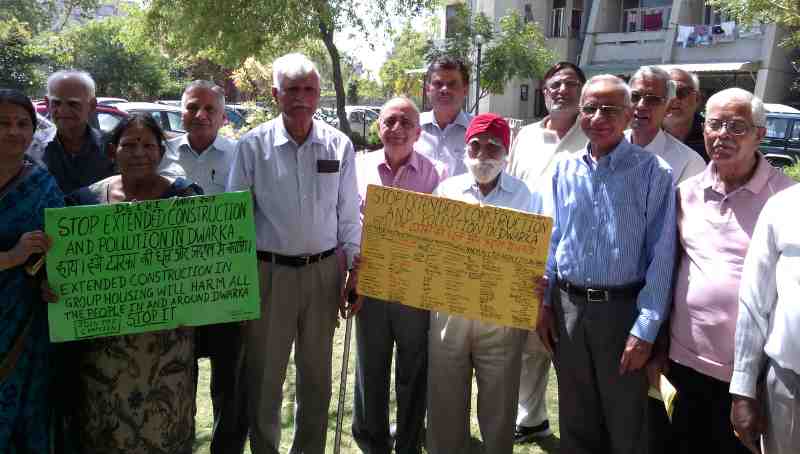 FAR Construction Stopped at Chandanwari CGHS After Court Case
April 24, 2019
Now many members of housing societies are going to the courts to get FAR planning or construction stopped in their buildings because it is a totally illegal activity.
By Rakesh Raman
Now most residents of Delhi know that the floor area ratio (FAR) construction in occupied cooperative group housing societies (CGHS) is a crime being committed by the corrupt managing committee (MC) members of housing societies in connivance with the corrupt government officials and private builders.
As the concerned government officials at Delhi Development Authority (DDA), Registrar Cooperative Societies (RCS), Delhi Fire Service (DFS), and Delhi Urban Art Commission (DUAC) are usually bribed by the MC members of housing societies, they ignore public complaints against FAR.
These corrupt government officials also bend the rules to allow FAR by issuing some vague letters to MCs which they use to extort money from the residents / members to start FAR expansion in their buildings where people – men, women, and children – are already living.
As a criminal racket involving thousands of crores of rupees is being run around FAR construction by the MC members, architect firms, government officials, and local politicians, the voice of the residents who oppose FAR expansion is not being heard.
So, now many members of housing societies are going to the courts to get FAR planning or construction stopped in their buildings because it is a totally illegal activity as FAR construction is spreading deadly noise and dust pollution and it breaks many other extant laws.
In an ongoing case of R. D. Apartments in Dwarka, for example, the Delhi High Court has stopped FAR construction because of its harmful pollution and violation of many other laws, although majority of the members were in favour of FAR.
Similarly, the members of Chandanwari Apartment (Chandanwari CGHS), Sector-10, Dwarka filed a court case against FAR construction in their society and currently FAR project is stopped at Chandanwari CGHS.
In their civil lawsuit filed in Dwarka Court, the petitioner members of Chandanwari Apartment have sought a permanent injunction to stop FAR expansion plan in the existing flats of the Society. The petitioners have argued that FAR project is illegal because it violates many existing laws and bylaws. In their detailed petition, the aggrieved members of Chandanwari have stated that about 90 of the 255 members oppose FAR expansion plan.
As most housing societies are being run by criminal MC members, they always deceive the other members by saying that if the majority of members take a decision, others will have to follow it. However, this is a totally false, baseless argument.
The majority rule does not apply in any decision (particularly that involves money) that MC takes and which violates even a single existing law. Therefore, the majority rule in FAR projects does not hold water in any court of law as it is evident in the cases of R. D. Apartments and Chandanwari where FAR construction has been stopped.
In their ongoing court case, Chandanwari petitioners – who are against FAR construction – have given a number of reasons which highlight the fact that FAR construction in occupied housing societies is illegal.
For instance, earlier Delhi Fire Service (DFS) had pointed out a number of shortcomings in the building plan on the basis of which the Chandanwari MC deceptively planned FAR project. However, when FAR project plan was submitted, the DFS – which is full of corrupt officials – did not object.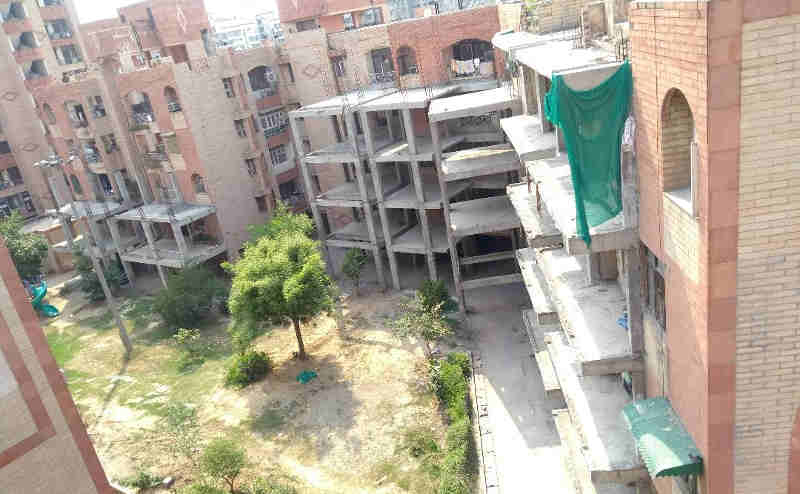 As DFS officials did not perform their official responsibilities honestly, they are trying to evade the court notice in the Chandanwari case as well as R. D. Apartments case. The same is true for Delhi Urban Art Commission (DUAC) officials who blindly allow FAR projects when corrupt DDA employees ask them to do so. Although the RCS office is supposed to stop this construction crime in housing societies, it has decided to wash its hands of the responsibility because RCS office is one of the most corrupt departments of Delhi.
Nevertheless, all these government officials can be hauled up legally under the Prevention of Corruption Act (PC Act) and other statutes for the negligence of their official responsibilities with the intention to willfully harm others.
The amended Prevention of Corruption (Amendment) Act now also extends to punish bribe givers under offence relating to bribing of a public servant. So, now you can file a case against the corrupt MC members of your housing society under the PC Act.
Remember, you should always file your court case by name against the MC members (as Chandanwari petitioners have done) instead of treating MC as an obscure organization. The individual MC members are personally liable for crimes.
Among the other arguments to stop FAR construction, the Chandanwari petition has quoted an independent study to state that the building cannot withstand the FAR construction, and if permitted, it can cause serious tragedy at Chandanwari CGHS.
It further argues that many members who support FAR do not live in the Society and therefore they cannot realize the difficulties that the resident members will face during construction and demolition of the building. Since Chandanwari MC was hell-bent to start FAR project illegally, the petition says, it has been ignoring the concerns of other members including senior citizens.
The Chandanwari petition has also given reference of a notification issued by the office of the Lt. Governor of Delhi. The notification states that
"…it has been decided in public interest that increased FAR should not be permitted in respect of already constructed and occupied CGHS (cooperative group housing societies)."
While most MCs are giving false information to DDA in order to get FAR approvals in a fraudulent manner, the Chandanwari petition has exposed a number of flaws in this approval process. For example, the width of the staircase should be 1.35 meters in a block / tower that has a single staircase.
If the width of staircase is less than 1.35 meters in any such housing society, FAR construction cannot be carried out because it will violate the Unified Building Bye Laws (UBBL). While DDA should not allow FAR construction in such cases where the width of staircase is less, if the construction starts in such a case it can be stopped and demolished with penalty on the MC members of the housing society.
The width of the road alongside the boundary wall is also a concern because FAR construction will block the movement of fire tender in the event of a fire mishap in the building which can cause a serious loss of life and property. Consequently, FAR construction / planning at Chandanwari CGHS has stopped.
The FAR construction is also illegal because it violates Article 21 of the Indian Constitution and breaks a number of laws such as the Unified Building Bye Laws (UBBL), the Delhi Apartment Ownership Act, Delhi Fire Service Rules, National Building Code, and many other statutory regulations.
So, if you want to stop FAR construction in your society, you can consider the points stated above while making your case. Remember, you should always make your case in such a way that the corrupt MC members and government officials are arrested and imprisoned. You can study some similar cases which are given below for your reference:
CASE 1 (CBI): Five to seven years rigorous imprisonment with fine ranging from Rs. 2 lakh to Rs. 11 lakh to five accused including official of RCS for the irregularities relating to cooperative group housing society (CGHS) case. Click here for details.
CASE 2 (CBI): A special CBI court sentenced five persons including RCS official to undergo five years imprisonment and imposed fines under various Sections of IPC and PC Act. Click here for details.
CASE 3 (CBI): An IAS officer and five retired government servants have been sentenced to one year imprisonment by a Delhi court in one of the corruption cases of cooperative group housing society (CGHS) scam which CBI started probing. Click here for details.
CASE 4 (Court and Anti Corruption Bureau): Ex-DDA Assistant Director jailed for 3 years in corruption case as the court framed charge for offence punishable under the sections of Prevention of Corruption Act. Click here for details.
CASE 5 (CBI and Court): Two DDA employees get four years in jail for demanding bribe. A Delhi court has awarded four years' imprisonment to two employees of the Delhi Development Authority (DDA) for demanding a bribe of ₹6,000 per month. Click here for details.
In order to fully understand the criminality in FAR construction and extreme corruption in housing societies, you can study the case of DPS CGHS at the following link. You should plan to make a similar case which is arranged chronologically.
The DPS CGHS MC members have already been convicted and penalized by the courts in cases where they have broken the laws. As their frauds have not yet stopped, the accused DPS CGHS MC members are currently facing many other cases in different courts and government departments.
A couple of cases have demanded the arrest and custodial interrogation of present and past DPS CGHS MC members and their accomplices. Click the following link to study the DPS CGHS case.
[ Humanitarian Crisis Persists at DPS Housing Society in Delhi ]
Link: http://www.ramanmedianetwork.com/humanitarian-crisis-persists-at-dps-housing-society-in-delhi/
By Rakesh Raman, who is a national award-winning journalist and social activist. He is the founder of a humanitarian organization RMN Foundation which is working in diverse areas to help the disadvantaged and distressed people in the society. He also creates and publishes a number of digital publications on different subjects.
About Me – Rakesh Raman

Rakesh Raman is a national award-winning journalist and social activist. Besides working at senior editorial positions with leading media companies, he was writing an edit-page column regularly for The Financial Express (a daily business newspaper of The Indian Express Group).
Nowadays, for the past about 8 years, he has been running his own global news services on different subjects. He also has formed a free Education and Career Counselling Center for deserving children at a poor J.J. Colony in Dwarka, New Delhi under his NGO – RMN Foundation.
He runs an exclusive community-driven anti-corruption social service "Clean House" to help the suffering residents of Delhi raise their voice against the growing corruption and injustice. He also has formed an environment-protection group called Green Group in Delhi.
He creates and distributes a number of digital publications that cover areas such as technology, law, environment, education, politics, corruption and transparency. He has created a comprehensive online information service to educate the Indian voters for the 2019 Lok Sabha election.
Earlier, he had been associated with the United Nations (UN) through United Nations Industrial Development Organization (UNIDO) as a digital media expert to help businesses use technology for brand marketing and business development.
Contact
Rakesh Raman
463, DPS Apts., Plot No. 16, Sector 4
Dwarka, Phase I, New Delhi 110 078
INDIA
You may please contact me on my email.
Support RMN News Service for Independent Fearless Journalism
In today's media world controlled by corporates and politicians, it is extremely difficult for independent editorial voices to survive. Raman Media Network (RMN) News Service has been maintaining editorial freedom and offering objective content for the past more than 10 years despite enormous pressures and extreme threats. In order to serve you fearlessly in this cut-throat world, RMN News Service urges you to support us financially with your donations. You may please click here and choose the amount that you want to donate. Thank You. Rakesh Raman, Editor, RMN News Service.