Pentagon Partners with Silicon Valley for Cyber Strategy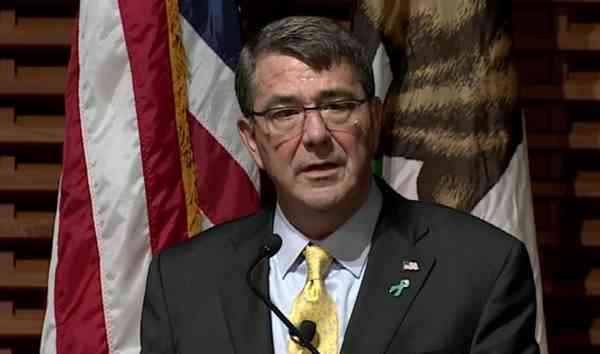 By Rakesh Raman
The U.S. Defense Secretary Ash Carter unveiled Thursday the Defense Department's second cyber strategy to guide the development of DoD's cyber forces and to strengthen its cyber defenses and its posture on cyber deterrence.
"While we in DoD are an attractive target, the cyber threat is one we all face as institutions and as individuals," Carter said.
In response to one of the world's most complex challenges, the Defense Department has three missions in the cyber domain, he added.
The first is to defend DoD networks, systems and information. The second is to defend the U.S. homeland and U.S. national interests against cyberattacks of significant consequence, and the third is to provide integrated cyber capabilities to support military operations and contingency plans.
"In some ways, what we're doing about this threat is similar to what we do about more conventional threats," Carter said.
[ Future of Crime: Attack of the Killer Robots ]
Carter said he has directed to consolidate DoD's IT services in the Pentagon and throughout the capital region in order to improve cybersecurity.
In fact, cybersecurity has become a priority area for the U.S. administration particularly after the cyber attacks on Sony's computer systems by Guardians of Peace or #GOP hackers.
The U.S. Federal Bureau of Investigation (FBI) has set up a Cyber Action Team (CAT) to deal with computer hackers. This rapid deployment group of cyber experts can be on the scene just about anywhere in the world within 48 hours, claims FBI. The group provides investigative support to answer critical questions that can quickly move a case forward.
While seeking tech experts to become Cyber Special Agents, FBI said that today the most sought-after candidates possess a uniquely 21st century quality: cyber expertise. Investigating cyber crimes—such as website hacks, intrusions, data theft, botnets, and denial of service attacks—is a top priority for the FBI.
[ U.S. Plans New Steps to Fight and Defeat ISIS ]
To ensure that the department's cyber operations are appropriate and effective, Carter said, "we're going to work more closely with our law-enforcement partners at FBI, with Homeland Security, and elsewhere."
Carter discussed the new strategy — an update to the original strategy released in 2011 — before an audience at Stanford University on the first day of a two-day trip to Silicon Valley in California.
A primary aspect of the strategy is working with partners in the private sector, across the government and around the world, the secretary said. And because U.S. businesses own, operate and see about 90 percent of national networks, the private sector must be a key partner, he added.
"The U.S. government has a unique suite of cyber tools and capabilities, but we need the private sector to take its own steps to protect its data and networks," Carter said.
This is serious business, Carter told the audience, and it requires collaboration.
"But in addition to the dangers there are great opportunities to be seized through a new level of partnership between the Pentagon and Silicon Valley," he added, "opportunities that we can only realize together."
By Rakesh Raman, the managing editor of RMN Company
You also can read: More Articles by the RMN Editor, Rakesh Raman
This article is part of our RMN editorial section
Wars and Conflicts
that carries related news and views from all parts of the world.