Sampathkumar Gang May Go to Jail for Breaking Gas Pipelines at DPS CGHS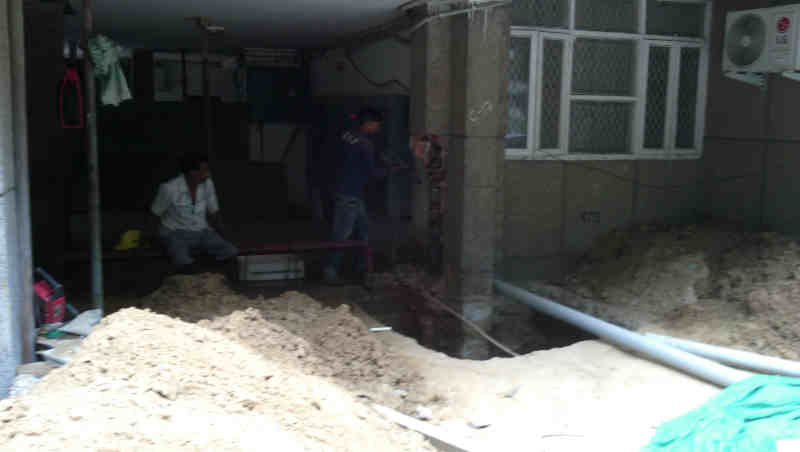 Sampathkumar Gang May Go to Jail for Breaking Gas Pipelines at DPS CGHS
Sampathkumar Gang (S-Gang) Headquarters: DPS Cooperative Group Housing Society (DPS CGHS), Plot No. 16, Sector 4, Dwarka, New Delhi 110 078
Although the IGL officials had informed the S-Gang that damaging any gas pipeline is a punishable offence with imprisonment, the S-Gang of Sampathkumar broke the gas pipeline at DPS CGHS. Obviously, the gang members should soon be in jail.
This report is part of our "Clean House" community court that reports about crime and corruption happening in Delhi's cooperative group housing societies (CGHS). 
You can click here to visit Clean House service and report about illegal activities in your housing society.
October 30, 2019
By Rakesh Raman
As the police and law-enforcement agencies are actively investigating the crimes of Sampathkumar Gang (S-Gang), it is stated in a new report filed by IGL (Indraprastha Gas Limited) that the crime of breaking IGL gas pipelines at DPS CGHS can lead to the imprisonment of S-Gang members. 
In its letter dated October 21, 2019, IGL has stated that the "reason for the explosion and breaking of IGL Explosive cooking gas line at DPS Apt., Sector-04, Dwarka is uninformed digging activity which was carried out by the society Management Committee (MC) / contractor."
The IGL statement adds that IGL did not provide permission to DPS CGHS MC for carrying out the digging work in the vicinity of gas pipeline. The detailed IGL letter indicates that the Sampathkumar Gang (S-Gang) – which operates under the cover of DPS CGHS MC – has committed a grave crime to break the gas pipeline despite warnings by the IGL officials.
As the repeated criminal activity of S-Gang can lead to serious fire mishap and deaths of residents, Amit Mathur, AGM (Regulatory & Corporate Affairs) at IGL, said in his letter that he had also informed the concerned fire officer about the possibility of fire at DPS CGHS.
Since S-Gang members are acting as hardened criminals, they broke the gas pipeline even when IGL had informed them that this can lead to their imprisonment.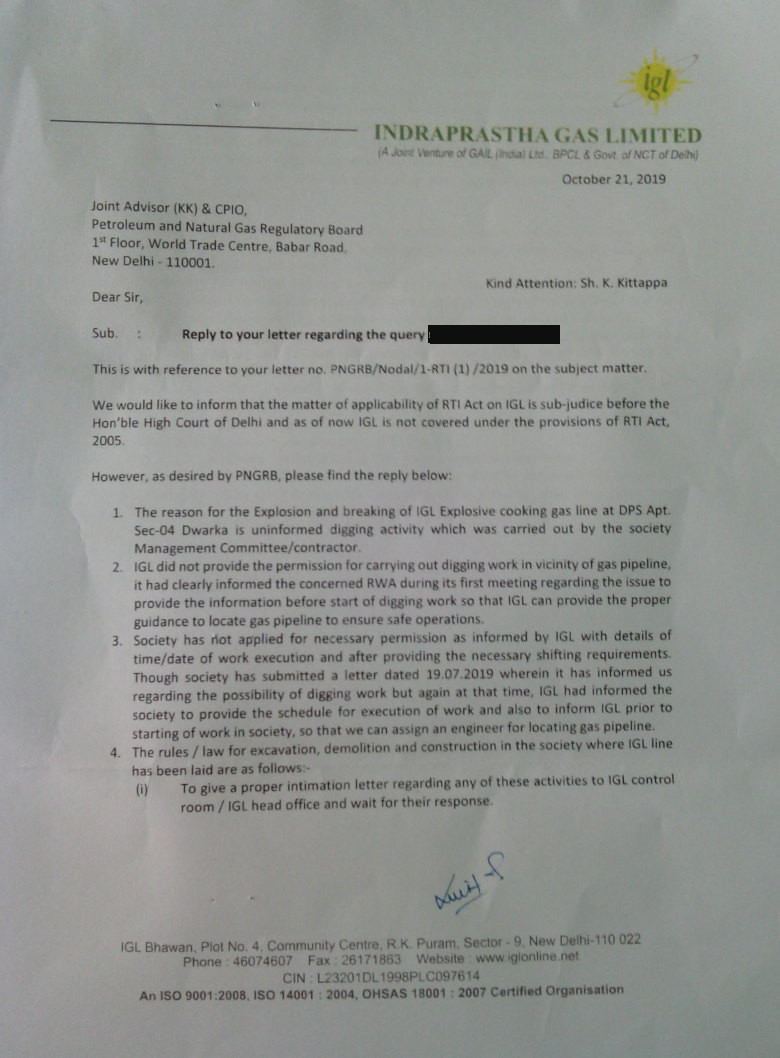 In a letter dated 30.07.2019, Abhishek Kumar Singh, Manager PNG at IGL, had informed the President / Secretary of DPS CGHS that "as per the Gazette of India for the Petroleum and Natural Gas Regulatory Board Act 2006, damaging any gas pipeline or local natural gas distribution network is a punishable offence with imprisonment."
But the S-Gang of Sampathkumar which is known for breaking the laws, ignored the imprisonment warning given by the IGL official and kept breaking the gas pipeline and repeatedly stopped gas supply to flats in the DPS CGHS building.
While Delhi Police is investigating the gas pipeline breaking case of S-Gang, with its letter dated 30.08.2019, the office of the Registrar Cooperative Societies (RCS) of Delhi Government has also issued a notice to the S-Gang (or DPS CGHS MC members).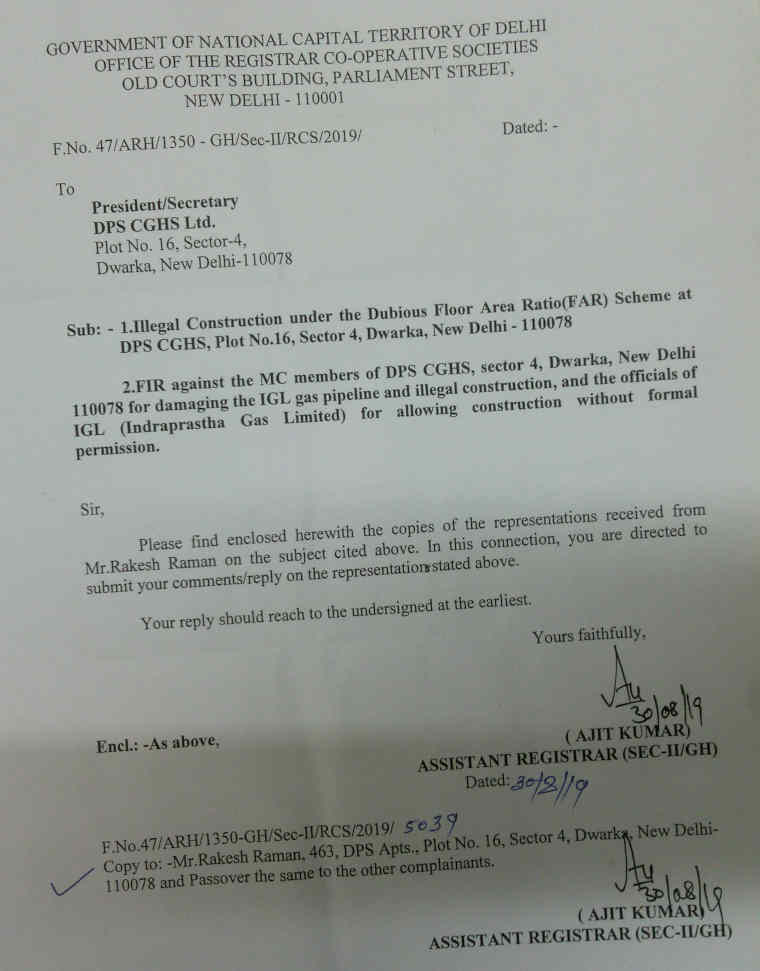 In the notice sent by Assistant Registrar Ajit Kumar, the RCS office has asked the gang members to explain why they broke the gas pipelines and criminally stopped gas supply to the flats during the illegal floor area ratio (FAR) construction. The S-Gang could not give any satisfactory response because it has committed a serious crime.
VIOLATIONS IN FAR CONSTRUCTION AT DPS CGHS
In a recent signed representation, the DPS CGHS residents have said categorically that they do not want FAR construction, etc. in their society building. They say the FAR construction is spreading harmful dust and noise pollution and causing extreme disturbance including accidents such as breaking of IGL gas pipeline and possibility of fire mishaps in the society building. 
The residents said in their representation that it has become almost impossible to live in the ruined building. Therefore, they urge the authorities to immediately stop FAR construction at DPS CGHS building where people – including men, women, children, and senior citizens – are living.
[ Also Download and Read: Delhi Disaster Report 2019 ]
The S-Gang members have started the illegal FAR construction work in the society building after getting its faulty drawings conditionally approved from Delhi Development Authority (DDA) which is one of the most corrupt departments in Delhi.
As per the contract document dated July 16, 2017, the MC president Neeraj Vaish even agreed to pay a huge Rs. 8 lakh as "liasioning fee" to a fraudulently appointed architect firm for getting approvals from DDA and other authorities. In the underworld, the term "liasioning fee" is used for bribes. 
Finally, DDA issued a conditional letter (it is not an approval letter) with 26 conditions for FAR construction. When DPS CGHS members, who oppose FAR, approached DDA to take the copies of drawings submitted by DPS CGHS MC, DDA refused to share the drawings.
Then I had to struggle to download the DPS CGHS drawings (File No. : DW4/0109/17-18, Dated: 14 August, 2018) from a restricted DDA website, which has now been blocked by DDA because it knows that it is approving flawed drawings of housing societies. 
In its conditional letter for FAR, the DDA specifies that "Any deviation done against the bye-laws is liable to be demolished and the supervising Architect, engaged on the job will run the risk of having his license cancelled."
After starting the FAR construction, in the past couple of months, DPS CGHS MC has already violated many of the 26 conditions mentioned in the DDA letter for FAR. As I have informed about these violations (along with photographic evidence) to Surjeet Jaradhara, Director (Building) and Praveen Dhamija, Dy. Director (Building) at DDA, the FAR construction / repairs should soon stop at DPS CGHS.
I have mentioned in my letter to DDA that "As per Clause 2) of the sanction letter, DDA must immediately stop and demolish the construction at DPS CGHS and cancel the license of the supervising Architect engaged on the job."
While the DPS CGHS MC is committing all these crimes under the pretext that the majority of the members support its decisions, but the majority of an inconsequential entity such as a housing society cannot be given supreme powers to violate the extant laws.
In Shiv Lal & Ors vs. Surya CGHS Ltd. & Ors [ W.P.(C) No. 4639/2013 & CM No. 10634/2013 ], the judgment says "The majority decisions have to be in consonance with the requirements of law."
As the DPS CGHS MC is violating a number of laws for carrying out FAR construction / repairs, its majority decision cannot be accepted.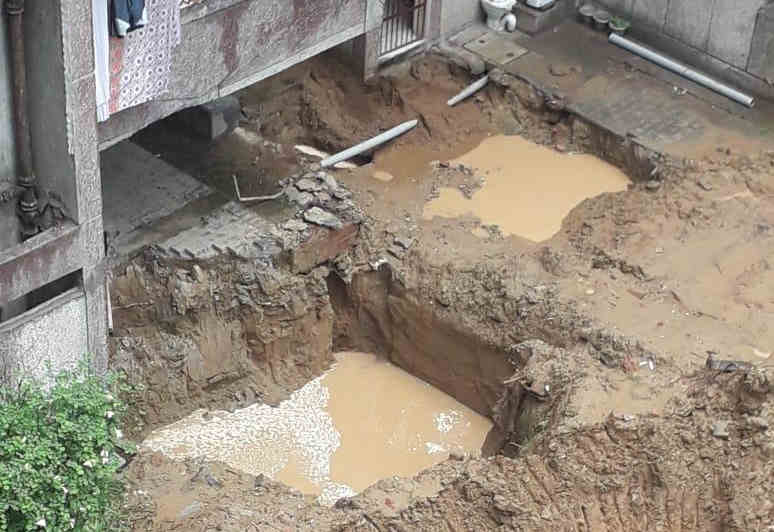 Although it is mandatory for S-Gang to inform all the members about the notices that it receives for its crimes, it dishonestly hides them from members because it wants to commit all the crimes secretly. 
The S-Gang is misusing the society website to put only selective information that is aimed to mislead the members. Therefore, I have created an exclusive online section on my news site to inform people about S-Gang's crime and corruption along with documentary evidence.
The S-Gang of Sampathkumar is committing all these crimes because the gang is trying to make crores of rupees by extorting residents' money for an illegal construction / repairs work in the DPS CGHS building. 
THREATS TO ME
I am facing repeated threats from Sampathkumar and his gang because as a journalist and social activist I have been raising my voice against their corruption and lawlessness. These threats include false police complaints against me, threats of physical harm to me, expulsion notices, legal notices, arbitrary financial penalties on me, and slanderous attacks on my social as well as professional status. The S-Gang (DPS CGHS MC members) are also using many other dirty tricks to discredit and insult me among others.
But I am not deterred and I will keep fighting truthfully against the crimes and corruption of Sampathkumar and his gang to get the culprits arrested and imprisoned.
EXPANSION OF S-GANG IN THE CRIME WORLD
In order to execute all its criminal plans, the S-Gang has also roped in a number of members from the society besides private companies that are wilfully participating in the crimes being committed by the S-Gang.
Formed by M.N. Sampathkumar – who claims to be a former employee of Air India – now Sampathkumar gang (or S-Gang) has nearly 40 gang members who are committing a range of crimes, including corruption, fraud, cheating, extortion, bribery, intimidation, illegal car parking racket, labour rights violations, underhand dealings with vendors, and so on.
The S-Gang – which is already facing a corruption inquiry ordered by the RCS office in a corruption scandal of an estimated Rs. 20 crore – is currently engaged in a fraudulent FAR construction / repairs work of an estimated Rs. 15 crore.
The S-Gang is conspiring with builders' mafia to illegally grab residents' flat by terrorizing them with crimes such as breaking the gas pipeline and harmful construction which is already causing serious accidents in the building and people are being hospitalized with serious injuries.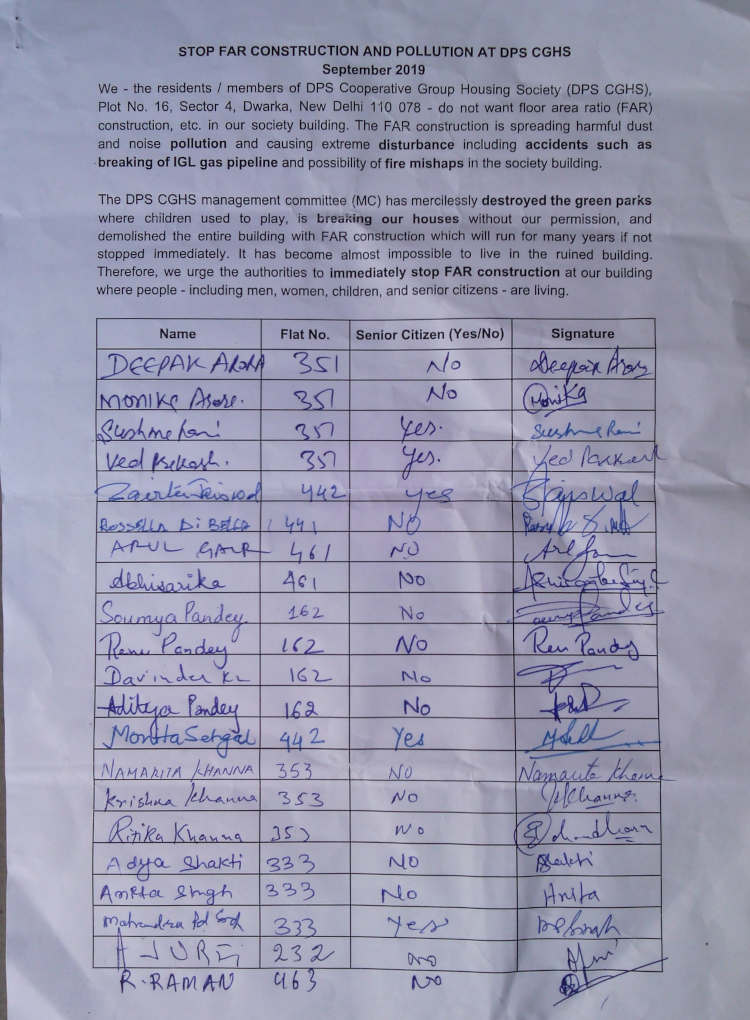 Currently, S-Gang operates from its headquarters at DPS CGHS building in Sector 4 of Dwarka. As the secretary of DPS CGHS MC, Sampathkumar is running a criminal racket that comprises nearly 40 members of the society and others from the builders' mafia.
While DPS CGHS MC secretary Sampathkumar (Flat No. 151) works as the ganglord, the other S-Gang leaders in the MC include Neeraj Kumar Vaish (Flat No. 153), R. Balasubramanian (Flat No. 322), Leela Swami (Flat No. 173), Sandeep Taneja (Flat No. 473), Manguram Tyagi (Flat No. 133), and Naseem Afshaque (Flat No. 172).
As their criminal activities have been expanding dramatically, the S-Gang members have enrolled a number of other DPS CGHS members who are actively participating in the S-Gang's crimes. In my complaints submitted to the law-enforcement agencies, I have included more names of members who are supporting the illegal activities of the S-Gang. 
These are Dilip Rozekar (Flat No. 111), M.M.Shukla (Flat No. 112), C.B. Swami (Flat No. 173), Pranav Kulshreshtha (Flat No. 163), Ravinder Sharma (Flat No. 113), O.P. Khanduja (Flat No. 261), Manish Bisht (Flat No. 253), Kaushik Banerjee (Flat No. 273), Narender Kumar (Flat No. 233), L.S. Thakur (Flat No. 301), Gaurav Sood (Flat No. 223), Sunil Bansal (Flat No. 311), Dr. Alok Varshney (Flat No. 323), Vineet Dua (Flat No. 412), Kashmera Randhawa (Flat No. 431), Vikas Sharma (Flat No. 451), R.K. Saggi (Flat No. 422), Vipul Khullar (Flat No. 361), and Madhukar Akhilesh (Flat No. 352).
Moreover, Davinder Singh Wazir (Flat No. 123), K.V. Varghese (Flat No. 313), and H.L. Kaul (Flat No. 121) have also decided to support the crimes of S-Gang. Therefore, they are also the targets of investigations.
The names of all these additional members of S-Gang appear in my complaints with their specific roles in the crimes while the corruption money involved at DPS CGHS is over Rs. 20 crore and corruption is increasing exponentially. This money will be recovered from the S-Gang members after their imminent indictment.  
I have learnt that now the S-Gang (DPS CGHS MC) is conspiring with other members to harm me.
Also, the following external firms have been hired by the accused S-Gang members (DPS CGHS MC members) for the illegal FAR construction / repairs project without following the proper tendering / purchase processes. According to official documents, the firms involved in the project are:
Vivek & Arti Architects [Contact: Mr. Vivek Malhotra, Architect, COA No: CA/89/12072, Registered Valuer: Cat-I/478/127/2003-2004 of B-3/55, Janakpuri, New Delhi – 110058 with contact 9654787858] 

Om Star Constructions Pvt Ltd [Contact: Mr. Sanjay Kumar Goel, D-17, First Floor, Pandav Nagar, Patparganj (Near Indane Gas Agency), Delhi – 110092 with contact 011-45615262, 22485372, 9310015350]

Design N Design Architects [Contact: S-4, Anupam Plaza, I.I.T. Crossing, Hauz Khas, New Delhi 110016. Ph: 011-26853257]

Team Professional Consultant and Resource Managers [Contact: 436, Sec-4, Vaishali, Ghaziabad-201012 (UP), Ph: +91-120-4167814 / +91-9718811005]
As the police and law-enforcement agencies are tightening their noose around the necks of S-Gang members and their accomplices within the society and external vendors, it is expected that soon they will be put behind bars – in Tihar Jail.
You can click here to study the criminal history sheet of Sampathkumar and his gang which is operating from DPS CGHS of Dwarka, New Delhi. 
*S-Gang = DPS CGHS managing committee (MC) and accomplices
By Rakesh Raman, who is a national award-winning journalist and social activist. He is the founder of the humanitarian organization RMN Foundation which is working in diverse areas to help the disadvantaged and distressed people in the society. He also creates and publishes a number of digital publications on different subjects.
Support RMN News Service for Independent Fearless Journalism
In today's media world controlled by corporates and politicians, it is extremely difficult for independent editorial voices to survive. Raman Media Network (RMN) News Service has been maintaining editorial freedom and offering objective content for the past more than 12 years despite enormous pressures and extreme threats. In order to serve you fearlessly in this cut-throat world, RMN News Service urges you to support us financially with your donations. You may please click here and choose the amount that you want to donate. Thank You. Rakesh Raman, Editor, RMN News Service.