Who Will Save Indians from Modi's Holocaust?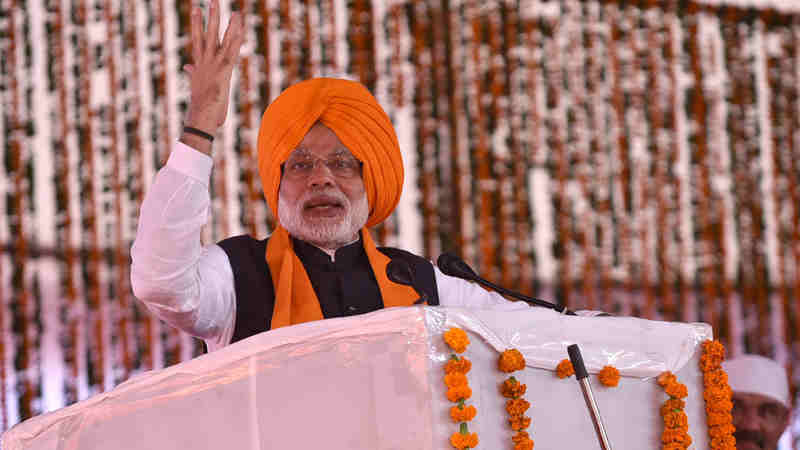 The long queues of dejected people in front of Indian banks remind you of the gas chambers and forced "death marches" in the Nazi regime which slowly consumed innocent lives.
By Rakesh Raman
As more than 100 people have reportedly died and millions of others are suffering because of Prime Minister (PM) Narendra Modi's demonetization diktat, hundreds of thousands of people observed an All India Protest Day – Akrosh Divas last week.
Nobel laureate and world's top economist Professor Amartya Sen says Modi's demonetization decision has showed authoritarian nature of the Indian government.
Similarly, former Prime Minister of India and leading economist Dr. Manmohan Singh said in India's parliament that Modi's demonetization scheme is a case of organized loot and legalized plunder.
He reminded Modi of the unfortunate deaths that have already taken place in India because Modi government is not allowing people to withdraw their own money from banks.
As a result of currency removal, daily-wage workers are not being paid, farmers are not able to sell their crops or buy seeds, small traders have lost their businesses because buyers don't have cash to pay, households are suffering because they are not able to buy even essential food items.
Besides deaths, about 800 million people of India are suffering because of one bad decision taken by the ruler of the country.
Demonetization vs. Holocaust
Thus, Modi's decision has put the Holocaust of Adolf Hitler's Nazi Germany to shame. In the Holocaust that took place between 1941 and 1945, 11 million people were killed under Hitler's order. In contrast, Modi's illegal order to deprive people of their money has put to risk lives of many more million people – men, women, children included.
The long queues of dejected people in front of banks remind you of the gas chambers and forced "death marches" in the Nazi regime which slowly consumed innocent lives.
Modi is shamelessly cheering, jeering, and watching the slow deaths happening in front of him. In his public rallies – where it is believed that most attendees are hired by Modi or his party to chant slogans in Modi's favor – he asks people to applaud his decision.
A top leader of the Congress party, Rahul Gandhi, said that Modi is a prisoner of his own image. He also said that the people who are suffering or dying because of Modi's decisions are the common, honest, and hard working citizens of India.
But there is no political mechanism in India that could help dying people get rid of Modi and his regime. Although India claims to be the largest democracy in the world because of its huge population of 1.3 billion people, actually the country follows the system of parliamentary dictatorship.
Simply put, the political party with maximum number of seats in the Lok Sabha enjoys absolute power without any opposition. As the election and voting system is totally flawed, it helps crooks win the elections. Now, for example, Modi's Bharatiya Janata Party (BJP) is exercising dictatorship with Modi as a dictator who ignores the parliament.
Ineffective Presidency
Opposition parties keep crying in the parliament and people keep protesting on the roads, but the elected dictator Modi ignores all of them. Thus, the Indian parliament has been reduced to a place for mud-slinging between politicians of different parties.
While the President of India is supposed to intervene in such cases when millions of people suffer because of the single decision of a politician, most Presidents turn a blind eye to people's sufferings because they want to enjoy luxurious lives offered to them by the ruling parties.
In the current case, a number of political parties approached the President to complain about Modi's authoritarian decisions, but President Pranab Mukherjee could not dare to act against Modi. Mukherjee says what he is asked to say.
Under Modi's regime, all the four pillars of democracy – Executive, Legislative, Judiciary, and Media – have collapsed. Currently, Modi is the only authority in India, as he has shown with his demonetization decision which is claiming hundreds of innocent lives.
Modi and Mankind
By nature, Modi does not have any compassion for dying or suffering human beings. History shows that the murder of nearly 2,000 Muslims in the Gujarat riots of 2002 when he was the chief minister in the state made him the hero of Hindus.
As nearly 80% of people in India belong to the Hindu religion, they treat Modi as the saviour of Hindu community. Since most Hindus vote for Modi, he became the Prime Minister (PM) of India in 2014 after winning the Lok Sabha election.
Naturally, Indian courts exonerated him for the Gujarat massacre. Less said about the Indian courts, the better.
According to Human Rights Watch, the attacks against Muslims in Gujarat were actively supported by Modi's state government officials and by the police. Police told Muslims, "We don't have any orders to save you."
As a result, the U.S. administration denied visa to Modi in view of the allegations of human rights violations against him in the 2002 incidents of riots and carnage. But now as he has become the PM, Modi is visiting the U.S. frequently because now he enjoys political immunity.
As Modi government has also failed to stop the ongoing human rights violations in the troubled Kashmir region, top rights organizations have urged the government to put an immediate end to wrongful detentions and arbitrary force on the people of the state.
But Modi wants to take political advantage from the chaos by diverting people's attention from the main issues such as poverty, joblessness, illiteracy, and so on.
Modi and Marxism
In the Lok Sabha election, Modi exploited the Hindu sentiment to win votes for his party. Now, he is using the class relations and societal conflicts to attract the voters.
In his speeches these days, Modi is saying that he is trying to help the poor and the middle-class people by extorting black money from the rich with his demonetization scheme announced in November.
With his repeated utterances aimed at creating a rich-poor divide, Modi is loosely following the socio-political theory – known as Marxism – of German philosopher Karl Marx.
As the theory of Marx suggested, Modi is trying to divide the entire Indian society between the ownership class (bourgeois) and the labouring class (proletariat). He is saying that he will distribute the wealth earned by the rich among the poor without carrying out tax reforms.
This is a dangerous game that Modi is playing because instead of empowering the idle poor with better education and skills, he is trying to make them rich with the money earned by the hardworking people.
Most Indians evade taxes and keep cash with them because they know that their money will be gobbled by the politicians most of whom are corrupt and criminals. As bureaucratic and political corruption is rampant in the country, governments never use tax money for socio-economic development. That's why India continues to be an underdeveloped country even after seven decades of its independence.
Now Modi is forcing people to share their money with his government so that he could help the poor. However, Modi and his ministers lack expertise to use the tax money for development purposes.
Modi is trying to practise loose socialism which will have a demoralizing impact on the professional working class and entrepreneurs who feel that their money is being snatched by the Modi government.
But Modi thinks he will thus win the proletariat vote which can easily help him stay in power. He is playing this dirty game under the garb of demonetization which, he says, will check corruption and stop the flow of black money.
But actually after Modi's demonetization announcement on November 8, corruption and black marketing has increased manifold. Black marketers are selling new currency notes at higher rates and using poor people's Jandhan bank accounts to deposit their black money.
Similarly, corrupt government officials have increased their bribe amounts to compensate the loss they suffered because of demonetization. Modi has no solution to control the mounting corruption and black money. His demonetization scheme has failed completely.
Political Impact
In spite of his divisive and extreme actions, Modi enjoyed a massive clout in India. His party BJP won an absolute majority with 282 seats in the Lok Sabha election of 2014. As he could bind the majority of voters with a single Hindu thread, it was easy for him to win.
During the past over 2 years of his rule in the country, Modi had been exploring similar threads that could unite Hindu voters in his favor. A Hindu exercise Yoga and an exaggerated nationalism zeal by pleasing the soldiers have been among Modi's ploys to win votes.
Modi also knows that only poor and uneducated people vote in most Indian elections. And it is quite easy to fool them. That's what Modi is trying to do. In his pre-election speeches, Modi makes all those false promises that can woo the poor and uneducated voters.
In the 2014 Lok Sabha election campaigns, for example, Modi promised to provide jobs to jobless through a hyped 'Make in India' program, curb corruption in the country, and even bring bullet trains for Indians. But he failed to fulfill any of his pre-election promises. Today, India is standing on the brink of a socio-economic disaster.
Modi and his ministers are also trying to raise a false alarm about terrorism and war threats from Pakistan. An Indian political leader Mayawati has stated that Modi may trigger a war with Pakistan to hide his failures during the past couple of years.
As most voters could see through his false propaganda, they rejected Modi and his party BJP in the recent state elections. For example, in the West Bengal election of 2016, BJP could win just 6 seats in the 295-seat assembly and it was also defeated in the 243-seat Bihar election of 2015.
---
RMN Popularity Poll
Meanwhile, Modi's popularity is severely damaged in India. In an ongoing RMN Poll launched on November 13, with only 9% votes Modi stands at No. 8 in a list of 10 candidates. You can vote and check out the poll results so far.
---
Now Modi's eyes are on the upcoming elections in states such as Punjab, Uttar Pradesh, Goa, and Gujarat. While his usual 'development' rhetoric has lost its sheen, he is now trying to hoodwink the voters with a weird political tool – demonetization.
While demonetization will hardly deter black marketers, Modi has cunningly tried to harm the opposition parties in the upcoming state elections, as they will not be able to use their black money to buy votes.
As Modi took the demonetization step secretly, opposition parties allege that Modi's BJP has converted Rs. 500 and Rs. 1000 currency notes in other forms of wealth to buy votes illegitimately – which is a normal practice in India – in the state elections.
But Modi's ploy is expected to fail, again. As the unrest caused by demonetization is spreading in all parts of the country, Modi and BJP are the targets of harassed people's anger, which is supposed to harm Modi's BJP in the forthcoming elections in multiple states of India. This will also affect Modi adversely in the Lok Sabha election of 2019 – which may bring an end to Modi's Holocaust.
By Rakesh Raman, who is a government award-winning journalist and social scientist. You also can visit the REAL VOTER – Politics in India Information Center that he manages.
Photo courtesy: Press Information Bureau
Support RMN News Service for Independent Fearless Journalism
In today's media world controlled by corporates and politicians, it is extremely difficult for independent editorial voices to survive. Raman Media Network (RMN) News Service has been maintaining editorial freedom and offering objective content for the past more than 12 years despite enormous pressures and extreme threats. In order to serve you fearlessly in this cut-throat world, RMN News Service urges you to support us financially with your donations. You may please click here and choose the amount that you want to donate. Thank You. Rakesh Raman, Editor, RMN News Service.