Arvind Kejriwal in Delhi = Bhagwant Mann in Punjab = Disaster for People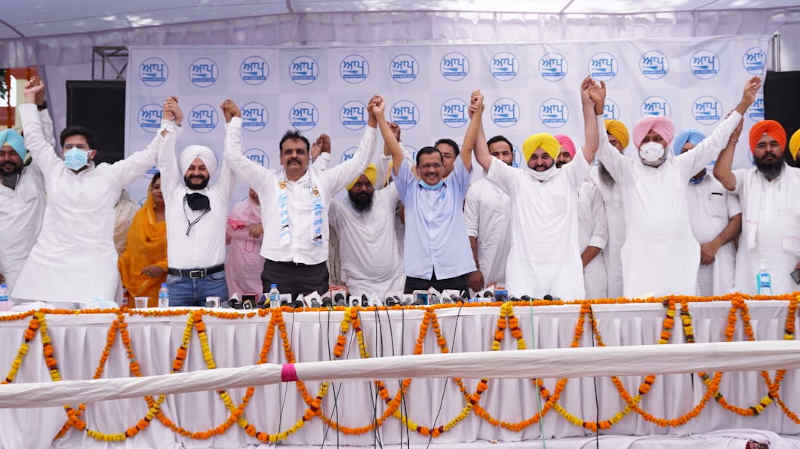 Arvind Kejriwal in Delhi = Bhagwant Mann in Punjab = Disaster for People
The priority of AAP is to make money by hook or by crook in Delhi and Punjab so that the party could expand its operations in different states of India.
By Rakesh Raman
The Aam Aadmi Party (AAP) – created and controlled by Arvind Kejriwal who is now the chief minister (CM) of Delhi – has been inflicting irreparable damage on the people in Delhi and Punjab.
While Kejriwal has won the Delhi election by deceiving the gullible voters with blatant lies, he has produced his clone in the form of Bhagwant Mann who has managed to become the CM of Punjab. 
Now with rampant corruption and lawlessness, both Kejriwal and Bhagwant Mann have made life miserable for people in their states. Today, nearly 30 million people of Delhi are suffering under unprecedented corruption, lethal pollution, and lack of basic amenities such as water and electricity. 
Delhi is so dirty that it looks like a colossal site for dumping debris. Although Kejriwal and his other AAP colleagues keep telling lies about the quality of school education and healthcare with the so-called Mohalla Clinics, the truth is that the education standard is extremely poor and the healthcare system has completely collapsed in the city-state.
The main reason for the disaster in Delhi is the unrestrained corruption in which AAP politicians are involved. A couple of ministers – Satyendar Jain and Manish Sisodia – in the Kejriwal government have already been jailed for their acts of corruption. And a number of other AAP leaders – including Kejriwal – are facing investigations for serious financial crimes.
[ VIDEO: शराब घोटाला: अदालत ने मनीष सिसोदिया को जमानत देने से किया इनकार, अगला निशाना : अरविंद केजरीवाल ]
Multiple complaints have been filed against Kejriwal and his AAP colleagues in different corruption cases. These cases include Delhi liquor scandal, school construction scam, money laundering cases, housing society scam, transport scam, and misappropriation of huge public money by Kejriwal on his house renovation.
In fact, the level of corruption is so high in the Kejriwal government that in May 2023, the government of prime minister (PM) Narendra Modi introduced an ordinance to stop the increasing cases of corruption by Kejriwal and his accomplices.
As corrupt AAP leaders have amassed assets disproportionate to their known sources of income, the government has attached their properties worth crores of rupees so that the stolen public money could be recovered from them.
[ VIDEO: जब मिले भगवंत मान और केजरीवाल, पंजाब और दिल्ली का हुआ बुरा हाल ] 
Now, it is expected that the law-enforcement agencies – such as the Enforcement Directorate (ED) and the Central Bureau of Investigation (CBI) – will search Kejriwal's luxurious house to seize the corruption money. It is believed that Kejriwal has hidden the ill-gotten money which may be hundreds of crores of rupees in his heavily guarded house in Delhi.
While Delhi is not a full state, Kejriwal has limited control here while Delhi LG Vinai Saxena is the administrative head in Delhi. Still, Kejriwal and other AAP politicians are leaving no stone unturned to make a mess in Delhi with their corrupt acts.
As a journalist and anti-corruption activist, I filed a corruption complaint at Delhi Lokayukta in April 2023 against Delhi Government Ministers and MLAs (Members of the Legislative Assembly) so that a punitive action could be taken against the corrupt politicians.
CORRUPT KEJRIWAL MODEL IN PUNJAB
Now Kejriwal is hell-bent to replicate his corrupt model of governance in Punjab through CM Bhagwant Mann who is an illiterate man and addict. Kejriwal reluctantly handpicked Bhagwant Mann – who used work in vulgar comedy shows – for the CM position in Punjab.
[ Also Read: ਕੀ ਭਗਵੰਤ ਮਾਨ ਪੰਜਾਬ ਵਿੱਚ ਅੱਤਵਾਦ ਦੇ ਦਿਨ ਵਾਪਸ ਲੈ ਕੇ ਆਉਣਗੇ? ]
In just over a year of his rule in Punjab, Bhagwant Mann has completely destroyed Punjab. Bhagwant Mann and Kejriwal are squandering huge public money of Punjab Government on advertisements in Punjab and other states to promote their party and their own images with fake publicity campaigns.
But the people of Punjab are suffering under extreme political corruption, lawlessness, unemployment, drug addiction, mafia culture, youth exodus, religious fundamentalism, and state oppression.
Today, with multiple protests by different sections of society, Punjab is witnessing a state of complete unrest while Bhagwant Mann – who is working as a puppet of Kejriwal and other AAP politicians in Delhi – has completely failed in running the government.
Like in Delhi, almost all AAP politicians in Punjab are allegedly involved in multiple criminal cases including corruption, property grabbing, collusion with drug mafia and liquor mafia, encroachment of large government land, and so on.
For example, a Jagraon MLA Sarvjit Kaur Manuke belonging to Kejriwal's AAP has been accused of illegally grabbing a house of a Canada-based NRI. Despite multiple complaints and protests against her, Bhagwant Mann and Kejriwal have not removed Ms. Manuke from the party and police have not taken any action against her and her accomplices in the land mafia.
Last year, the Bhagwant Mann government had sacked and arrested Punjab health minister Vijay Singla over corruption charges. However, it was a dirty ploy to deceive the public and falsely show that Bhagwant Mann is against corruption. But now Singla is moving freely and Bhagwant Mann openly hobnobs with the "corrupt" minister.
In April 2023, the Punjab vigilance bureau said it has filed a chargesheet against AAP MLA from Bathinda Rural seat Amit Rattan Kotfatta and his personal assistant in a bribery case.
However, the opposition parties claim that the AAP will not take any penal action against its corrupt Punjab leaders including Fauja Singh Sarari, Amit Rattan Kotfatta, Vijay Singla, and others.
Also, the civil society groups are protesting vociferously as they allege that a local AAP MLA is involved in a huge land grabbing scam around Mattewara forest in Ludhiana.
Activists assert that a large area of government land belonging to Greater Ludhiana Area Development Authority (GLADA) near Mattewara has been illegally occupied in collusion with the AAP MLA. It is also alleged to be an environmental crime.
But the dormant Bhagwant Mann government is not taking any steps to tame its dishonest leaders. Moreover, the police and bureaucrats in the state are so corrupt that they work hand in glove with the criminal politicians and turn a blind eye to the crimes happening in Punjab.
Bhagwant Mann has not only damaged the social status of Punjab, but the illiterate man has also ruined the economic structure in the state as he does not understand any subject required to govern a state.
While the Punjab debt has already crossed Rs. 300,000-crore mark, the Bhagwant Mann government has failed to control government expenditure. As a result, severe unemployment has hit the state and people are running away from Punjab to live in other countries.
COLLUSION IN CRIME
Among other crimes, drug addiction is a major problem which is killing thousands of people – men as well as women – in the state. A 2022 study by the Post Graduate Institute of Medical Education and Research (PGIMER) revealed that over 3 million people consume drugs in Punjab, while the state government has failed to stop addiction.
In order to win Punjab election deceptively last year, Kejriwal made a false promise of combating the drug menace in just three months of forming the AAP government. 
However, after a year of the Bhagwant Mann government, the drug situation has gone from bad to worse and lethal drugs are being openly sold in almost all parts of Punjab in collusion with police and other officials. 
It is alleged that Bhagwant Mann is not willing to stop drug addiction because AAP politicians are involved in this lucrative racket which is killing the youth of Punjab. The priority of AAP is to make money by hook or by crook in Delhi and Punjab so that the party could expand its operations in different states of India.
The AAP is not ready to take action against its corrupt ministers and MLAs because it is alleged that AAP sold election tickets to them for crores of rupees. Now these politicians are committing acts of corruption to recover the bribe money they paid to AAP.
When the harassed people protest, their voice is suppressed with force. Under directions from the Bhagwant Mann government, the police unleash brutality on protesting farmers, teachers, and social activists, and many of them are arrested and jailed under frivolous charges. 
The human rights violations are so rampant in Punjab that the Bhagwant Mann government is being criticized in different parts of the world. In March 2023, U.S. Rep. Ilhan Omar (D-MN) expressed deep concern over increasing human rights abuses in Punjab, which has a large number of people belonging to the Sikh minority community. 
Ms. Omar urged the U.S. administration to protect the human rights of all, particularly the rights of all religious and ethnic minorities. In a statement, Rep. Omar – who represents Minnesota's 5th Congressional District in the U.S. House of Representatives – said that she is profoundly concerned about the human rights situation in Punjab, India.
Now it is largely believed that if AAP and Bhagwant Mann are allowed to run the government for five years, they will completely ruin Punjab. However, today there is no effective opposition in the state to challenge AAP.
The main opposition political outfits – including Congress, Shiromani Akali Dal (SAD), and Bharatiya Janata Party (BJP) – are almost extinct in Punjab. The so-called leaders in these parties are so corrupt and weak, that they do not question the wrongdoings of the government.
A few social activists are working in Punjab but they are not quite organized. Therefore, their random protests have no impact on CM Bhagwant Mann who is running the government without any accountability.
Obviously, the people of Punjab are facing a dreadful future and soon they may lose their history and identity as Delhi-based AAP has refused to understand and address the local problems. 
Now the only alternative with Punjabis is to form a new political group of local leaders who have been working selflessly for the people of Punjab. And in order to save the people of Delhi, the Central government should consider options to dismiss the Kejriwal government.
By Rakesh Raman, who is a national award-winning journalist and social activist. He is the founder of the humanitarian organization RMN Foundation which is working in diverse areas to help the disadvantaged and distressed people in the society. He has also launched the "Power Play: Lok Sabha Election 2024 in India" editorial section to cover the news, events, and other developments related to the 2024 election.
Support RMN News Service for Independent Fearless Journalism
In today's media world controlled by corporates and politicians, it is extremely difficult for independent editorial voices to survive. Raman Media Network (RMN) News Service has been maintaining editorial freedom and offering objective content for the past more than 12 years despite enormous pressures and extreme threats. In order to serve you fearlessly in this cut-throat world, RMN News Service urges you to support us financially with your donations. You may please click here and choose the amount that you want to donate. Thank You. Rakesh Raman, Editor, RMN News Service.