Govt Orders Vigilance Inquiry Against Sampathkumar Gang of Delhi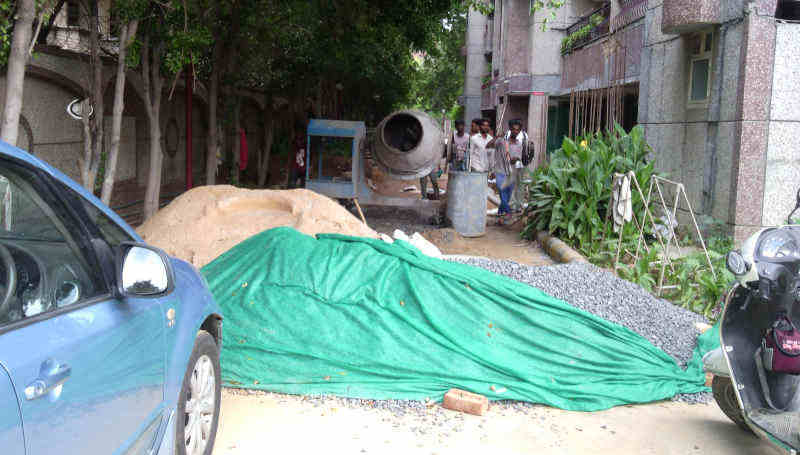 Govt Orders Vigilance Inquiry Against Sampathkumar Gang of Delhi
Gang Headquarters: DPS Cooperative Group Housing Society (DPS CGHS), Plot No. 16, Sector 4, Dwarka, New Delhi 110 078
October 10, 2019
Since there is sufficient prima facie or circumstantial evidence of illegal activities and corruption at DPS CGHS, the anti-corruption agencies have ordered further probe.
By Rakesh Raman
The Directorate of Vigilance (DOV), which is the top anti-corruption department of the Delhi Government, has directed the Registrar Cooperative Societies (RCS) to hold inquiry against the DPS CGHS managing committee (MC), which operates as the Sampathkumar gang (or S-Gang).
In a notice dated 30.09.2019, the RCS office has asked the S-Gang* to send its reply within 15 days – that is, by October 15, 2019 for the corruption inquiry ordered by the Vigilance department. 
As a journalist and social activist, I had complained against the S-Gang to higher anti-corruption agencies in India because the gang members were presumably bribing the RCS officials to get the already ordered corruption investigations delayed.
I have submitted multiple documents including proof of crime and corruption being committed by the S-Gang members. Since there is sufficient prima facie or circumstantial evidence of illegal activities and corruption at DPS CGHS, the anti-corruption agencies have ordered further probe.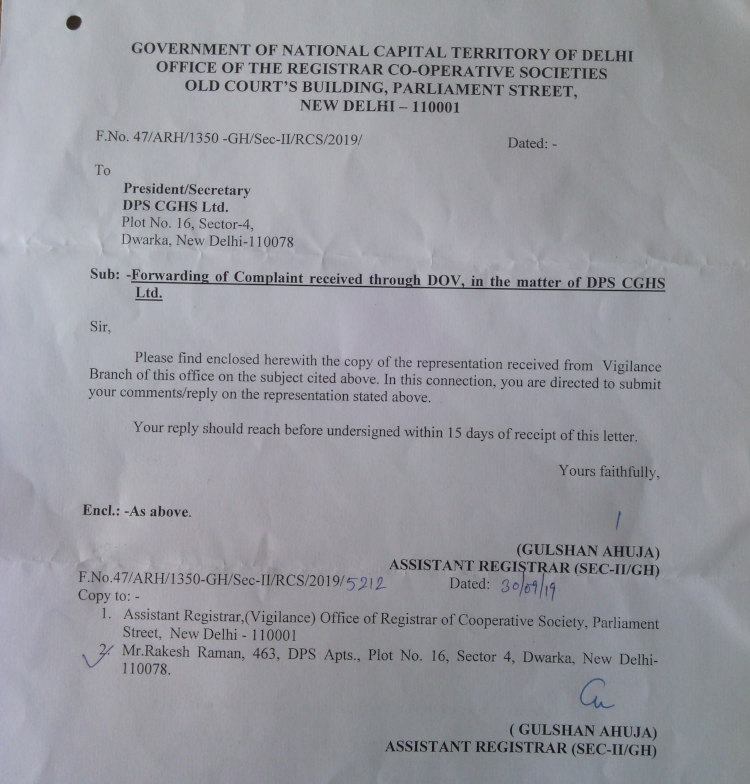 In another notice dated 30.09.2019, the RCS office has also asked the S-Gang to explain about the unlawful activities that the gang members are committing at DPS CGHS under the garb of the MC of the society. The S-Gang is again ordered to send its reply within 15 days – that is, by October 15, 2019.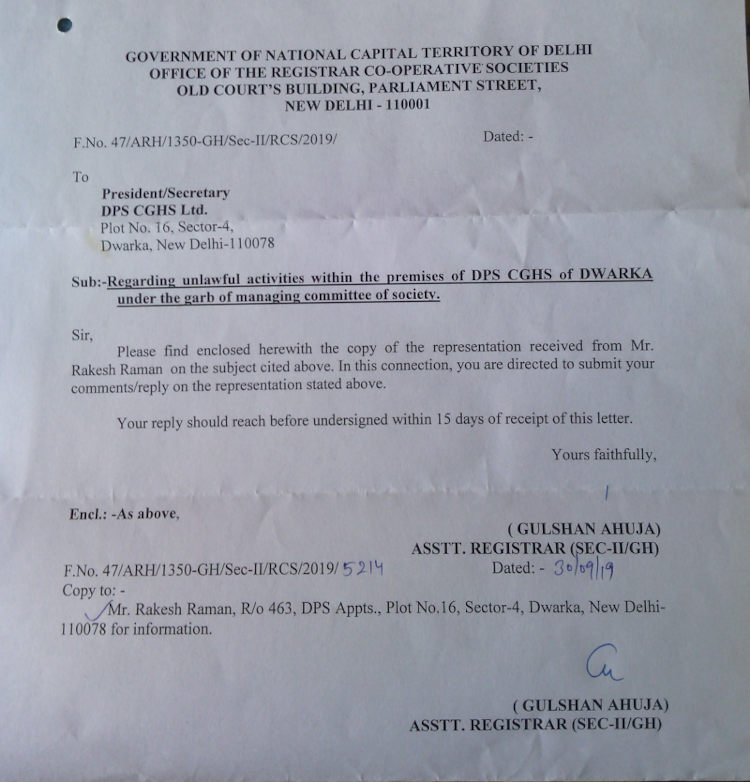 Formed by M.N. Sampathkumar – who claims to be a former employee of Air India – Sampathkumar gang (or S-Gang) is committing a range of crimes including corruption, fraud, cheating, extortion, bribery, intimidation, illegal car parking racket, labour rights violations, underhand dealings with vendors, and so on.
Earlier, with its letter dated 30.08.2019, the RCS office had also issued a notice to the S-Gang (or DPS CGHS MC members) asking the gang members to explain why they broke the gas pipelines and criminally stopped gas supply to the flats during the illegal floor area ratio (FAR) construction. The S-Gang has not yet responded, as I have not received the response from the RCS office.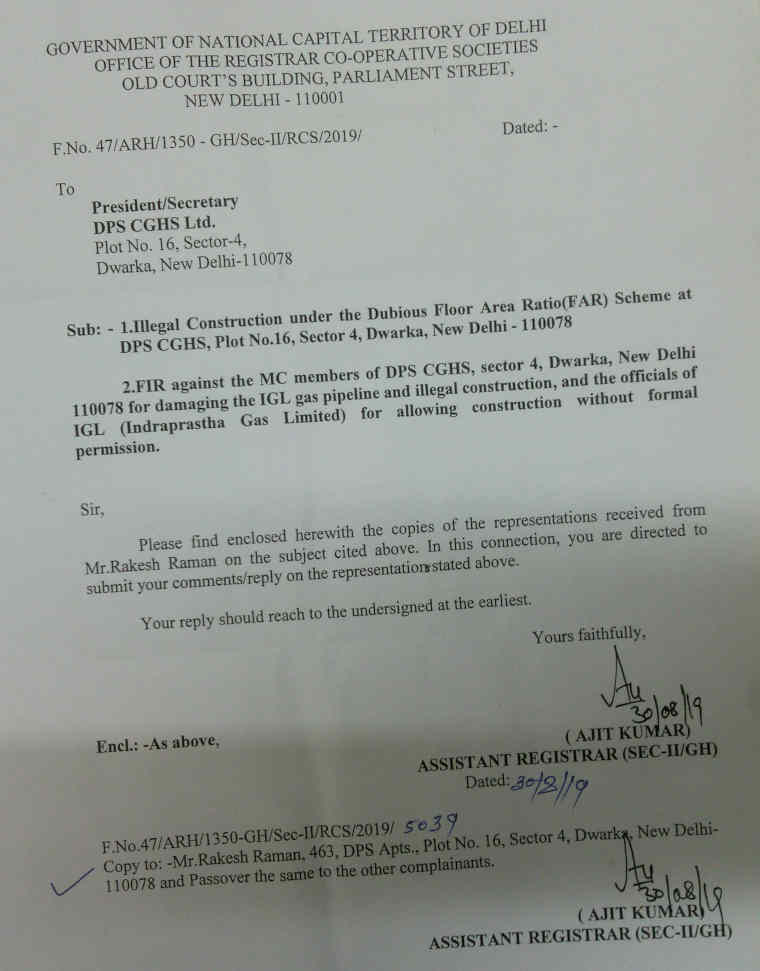 The S-Gang should have informed all the society members about the government notices that it is receiving for its crimes and put these notices on the society website. But since S-Gang has been hiding its crimes and corruption, it did not inform the members whose money the S-Gang members are looting. 
Therefore, through this report, I am informing the members about the increasing crimes of S-Gang so that the gullible members should not join hands with the S-Gang and should not give any money to the gang members to support their criminal activities such as the dubious FAR construction or repairs in the society.
EXPANSION OF S-GANG
While DPS CGHS MC secretary Sampathkumar (Flat No. 151) works as the ganglord, the other S-Gang leaders in the MC include Neeraj Kumar Vaish (Flat No. 153), R. Balasubramanian (Flat No. 322), Leela Swami (Flat No. 173), Sandeep Taneja (Flat No. 473), Manguram Tyagi (Flat No. 133), and Naseem Afshaque (Flat No. 172).
As their criminal activities have been expanding dramatically, the S-Gang members have roped in a number of other DPS CGHS members who are actively participating in the S-Gang's crimes. In my complaints submitted to the law-enforcement agencies, I have included more names of members who are supporting the illegal activities of the S-Gang. 
These are Dilip Rozekar (Flat No. 111), M.M.Shukla (Flat No. 112), C.B. Swami (Flat No. 173), Pranav Kulshreshtha (Flat No. 163), Ravinder Sharma (Flat No. 113), O.P. Khanduja (Flat No. 261), Manish Bisht (Flat No. 253), Kaushik Banerjee (Flat No. 273), Narender Kumar (Flat No. 233), L.S. Thakur (Flat No. 301), Gaurav Sood (Flat No. 223), Sunil Bansal (Flat No. 311), Dr. Alok Varshney (Flat No. 323), Vineet Dua (Flat No. 412), Kashmera Randhawa (Flat No. 431), Vikas Sharma (Flat No. 451), and R.K. Saggi (Flat No. 422).
Moreover, the S-Gang claims that four more members have decided to support its criminal activities. They are Davinder Wazir (Flat No. 123), Anita Bhagat (Flat No. 401), K.V. Varghese (Flat No. 313), and H.L. Kaul (Flat No. 121). Presumably, these members have been either bribed or threatened by the MC to join the gang.
The names of all these additional members of S-Gang appear in my complaints with their specific roles in the crimes while the corruption money involved at DPS CGHS is over Rs. 20 crore and corruption is still increasing. This money will be recovered from the S-Gang members after their indictment.
Also, the following external firms have been hired by the accused S-Gang members (DPS CGHS MC members) for the illegal FAR construction / repairs project without following the proper tendering / purchase processes. According to official documents, the firms involved in the project are:
Vivek & Arti Architects

[Contact: Mr. Vivek Malhotra, Architect, COA No: CA/89/12072, Registered Valuer: Cat-I/478/127/2003-2004 of B-3/55, Janakpuri, New Delhi – 110058 with contact 9654787858] 

Om Star Constructions Pvt Ltd

[Contact: Mr. Sanjay Kumar Goel, D-17, First Floor, Pandav Nagar, Patparganj (Near Indane Gas Agency), Delhi – 110092 with contact 011-45615262, 22485372, 9310015350]

Design N Design Architects

[Contact: S-4, Anupam Plaza, I.I.T. Crossing, Hauz Khas, New Delhi 110016. Ph: 011-26853257]

Team Professional Consultant and Resource Managers

[Contact: 436, Sec-4, Vaishali, Ghaziabad-201012 (UP), Ph: +91-120-4167814 / +91-9718811005]
Although the S-Gang of Sampathkumar should have publicly informed these private firms about the corruption inquiries that it is facing, it has concealed this information. Now, when they know that the DPS CGHS MC is under corruption inquiries, these firms should stop working on the illegal construction project in the building.
CORRUPTION INVESTIGATIONS
Currently, the S-Gang members (or DPS CGHS MC members) are facing a financial inspection ordered by the RCS Court under Section 61 of the DCS Act, 2003 for corruption of an estimated amount of Rs. 20 crore. 
The accused gang members are also facing a case under Section 37 of the DCS Act, 2003 for their supersession (termination) under charges of large-scale corruption, impropriety, abuse of power, and other irregularities. 
In order to avoid the series of corruption inquiries, the S-Gang members may try to quit their MC positions and abscond. But the long arm of law will catch them. And the new members of the MC after election will be equally responsible for the crimes of S-Gang if they failed to get the S-Gang members prosecuted in order to recover the money that they have swindled.
Now, along with the RCS Court, the corruption case against DPS CGHS MC members (who operate as S-Gang) has also reached the Court of the Financial Commissioner (FC Court) which is a higher court to the RCS Court and primarily deals with serious financial crimes. 
As I have submitted conclusive evidence against the S-Gang members to the anti-corruption agencies, soon the charge sheet is expected to be filed against them to proceed with the trial and subsequent prosecution. 
Since the RCS officials are complicit in the crimes and corruption that is happening at DPS CGHS, they are delaying the inquiries. With such deliberate delays, the RCS officials are not only supporting corruption, but they are also giving an opportunity to the accused DPS CGHS MC members to misuse their positions to threaten the petitioners, influence the key witnesses, and tamper with the financial and other documents that are supposed to be inspected in the inspection ordered by the RCS Court.
Therefore, the inspection ordered by the RCS Court at DPS CGHS cannot be fair and genuine if the DPS CGHS MC members are not removed from their positions and taken into custody before starting the financial inspection.
Moreover, since rampant corruption happens at RCS office, the DPS CGHS MC members may bribe the RCS officials to get the inspection in their favour. So, the findings of the inspection ordered by the RCS Court cannot be trusted.
In these circumstances, in my new complaints I have demanded a forensic audit by a specialized anti-corruption agency that will hold a thorough probe into the financial and other crimes at DPS CGHS. The findings of the forensic audit will form the basis for prosecution of the S-Gang members and their accomplices.
There may be judicial delays, but the Sword of Damocles will keep hanging over their heads, as I am working hard to get all S-Gang members (or DPS CGHS MC members) and their accomplices arrested and imprisoned. 
---
You can click here to study the criminal history sheet of Sampathkumar and his gang which is operating from DPS CGHS of Dwarka, New Delhi. *S-Gang = DPS CGHS managing committee (MC) and accomplices
---
By Rakesh Raman, who is a national award-winning journalist and social activist. He is the founder of the humanitarian organization RMN Foundation which is working in diverse areas to help the disadvantaged and distressed people in the society. He also creates and publishes a number of digital publications on different subjects.
About Rakesh Raman

Rakesh Raman is a national award-winning journalist and social activist. Besides working at senior editorial positions with leading media companies, he was writing an exclusive edit-page column regularly for The Financial Express (a daily business newspaper of The Indian Express Group).
Nowadays, for the past about 8 years, he has been running his own global news services on different subjects. He also has formed a free Education and Career Counselling Center for deserving children at a poor J.J. Colony in Dwarka, New Delhi under his NGO – RMN Foundation. 
He runs an exclusive community-driven anti-corruption social service "Clean House" to help the suffering residents of Delhi raise their voice against the growing corruption and injustice in housing societies where millions of people live. He also has formed an environment protection group called Green Group in Delhi.
He creates and distributes a number of digital publications that cover areas such as technology, law, environment, education, politics, corruption and transparency. He also publishes Real Voter digital magazine that focuses on politics and governance in India.
Earlier, he had been associated with the United Nations (UN) through United Nations Industrial Development Organization (UNIDO) as a digital media expert to help businesses use technology for brand marketing and business development.
Contact
Rakesh Raman
463, DPS Apts., Plot No. 16, Sector 4
Dwarka, Phase I, New Delhi 110 078, INDIA
You may please contact me on my email.
Editorial Disclosure: I have written this report not only as a journalist, but also as a victim of the fraud and intimidation happening at DPS CGHS. I am facing repeated threats from the MC members and their supporters because I have been raising my voice against their corruption, lawlessness, environmental crimes, and human rights violations.
Support RMN News Service for Independent Fearless Journalism
In today's media world controlled by corporates and politicians, it is extremely difficult for independent editorial voices to survive. Raman Media Network (RMN) News Service has been maintaining editorial freedom and offering objective content for the past more than 12 years despite enormous pressures and extreme threats. In order to serve you fearlessly in this cut-throat world, RMN News Service urges you to support us financially with your donations. You may please click here and choose the amount that you want to donate. Thank You. Rakesh Raman, Editor, RMN News Service.