S-Gang of Sampathkumar Aims to Illegally Grab Properties in Delhi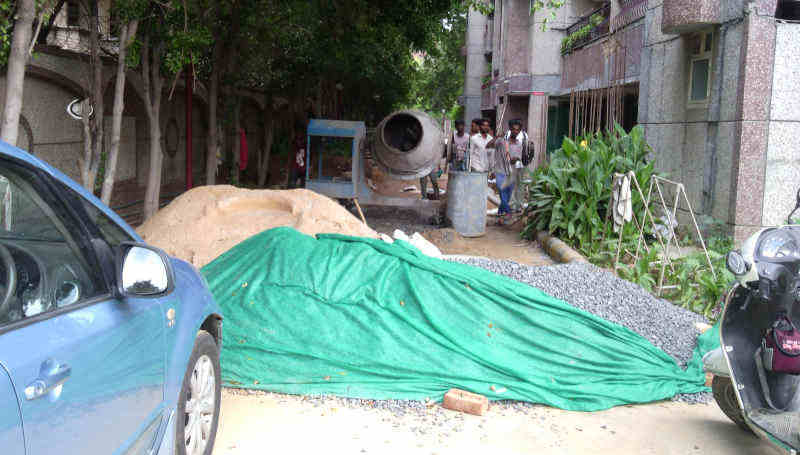 S-Gang of Sampathkumar Aims to Illegally Grab Properties in Delhi
Gang Location: DPS Cooperative Group Housing Society (DPS CGHS), Plot No. 16, Sector 4, Dwarka, New Delhi 110 078
September 1, 2019
As part of its criminal plan to illegally grab the flats of other owners, S-Gang has started an illegal and harmful construction project in the society building so that people should leave their flats in panic.
By Rakesh Raman
The S-Gang, which has been formed by M.N. Sampathkumar, is rapidly gaining notoriety in the crime world of Delhi. In just a couple of years, S-Gang has extended its tentacles in diverse domains of criminality such as corruption, fraud, cheating, bribery, intimidation, and so on.
Now, its focus is on property grabbing. S-Gang – on the lines of D-Company – has joined hands with builders' mafia to usurp people's houses by forcibly driving them out. Led by Sampathkumar – who claims to be a former employee of Air India – these days, the S-Gang has occupied DPS Cooperative Group Housing Society (DPS CGHS) of Dwarka in Delhi.
The top gang members of S-Gang – including Sampathkumar, Neeraj Kumar Vaish, R. Balasubramanian, Leela Swami, Sandeep Taneja, Manguram Tyagi, and Naseem Afshaque – are currently operating as the managing committee (MC) of DPS housing society.
ILLEGAL OCCUPATION OF FLATS
In order to illegally take possession of other members' flats in the society, S-Gang is actively working on a criminal plan which has presumably been made in connivance with the local police, officials of Delhi Development Authority (DDA), Registrar Cooperative Societies (RCS) of Delhi Government, builders, dishonest politicians, and a few more members of the DPS housing society.
The unchecked criminal activities of the S-Gang indicates that India has already become a politically unstable banana republic with rampant corruption, extreme lawlessness, and exploitation of the ordinary citizens.
Criminals are openly bribing the police and other law-enforcement agencies to break laws and commit crimes in cold blood. Police and government officials refuse to take action against the criminals. As a result of this administrative chaos, poverty, unemployment, inflation, and crimes are increasing while foreign investors are not willing to invest in India.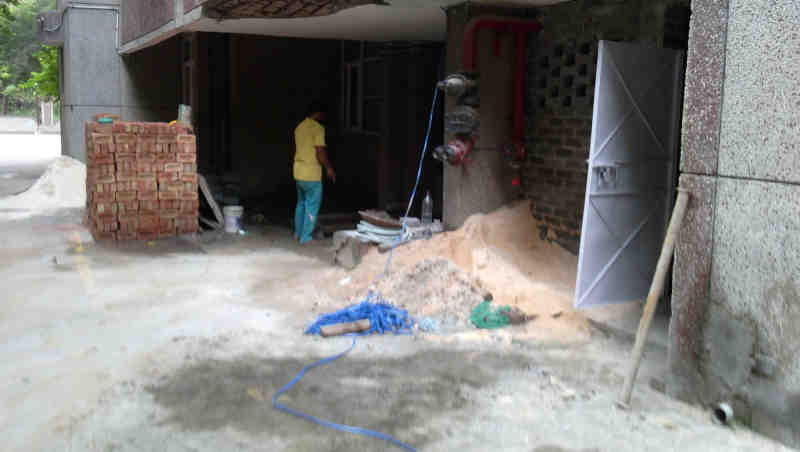 As part of its criminal plan to illegally grab the flats of other owners, S-Gang has started an illegal and harmful construction project in the society building so that people should leave their flats in panic. 
The gang members have ruined the entire building by razing the green parks where children used to play, constructing illegal concrete structures at common areas, digging deep pits which are mostly full of dirty water, and breaking the already constructed parts of the building.
Worse, the S-Gang has spread the construction material and heavy construction equipment across all parts of the building in such a way that now it is almost impossible for the fire tenders to enter and operate in the building in the event of fire which could result in many deaths and destruction in the DPS CGHS building.
The situation is more alarming because in the past few weeks, Sampathkumar's S-Gang broke the IGL (Indraprastha Gas Limited) gas pipeline multiple times which could have resulted in numerous casualties in the building.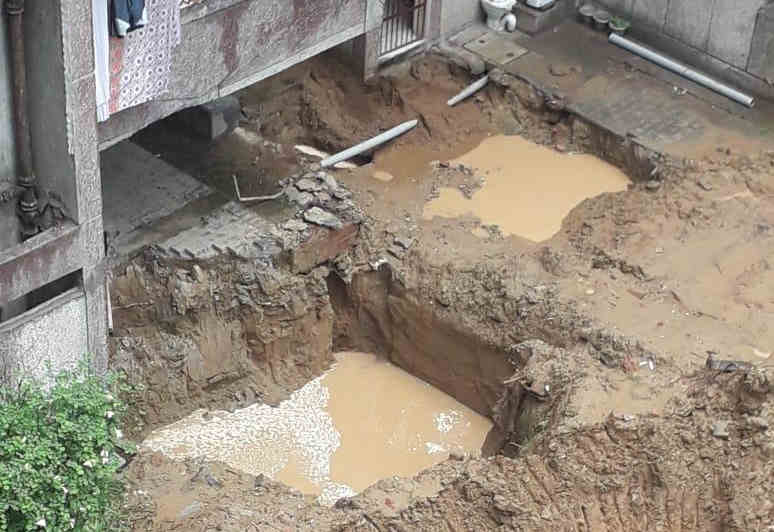 The S-Gang also criminally keeps stopping gas supply in the houses of the building. Since the IGL officials are complicit in this crime and probably bribed by the S-Gang, they are not stopping the dangerous construction activity at DPS CGHS building.
Moreover, the residents are also worried because the building is always crowded with dozens of construction labourers and other workers who are engaged in the construction activity. 
With the aim to spread panic among the flat owners so that they should run away, the S-Gang has indicated that the harmful construction, which was started in July 2019, will run for years. As the construction is spreading lethal dust / noise pollution and other disturbances in the building, people are quietly leaving their flats.
OBJECTION LETTER FROM MEMBER
Since most flat owners are scared of the revengeful behaviour of the S-Gang members, they do not raise their voice against the nefarious activities of the gang. A few days ago, however, a society member Abdul Jamil Urfi mustered some courage to challenge the tyranny of the S-Gang.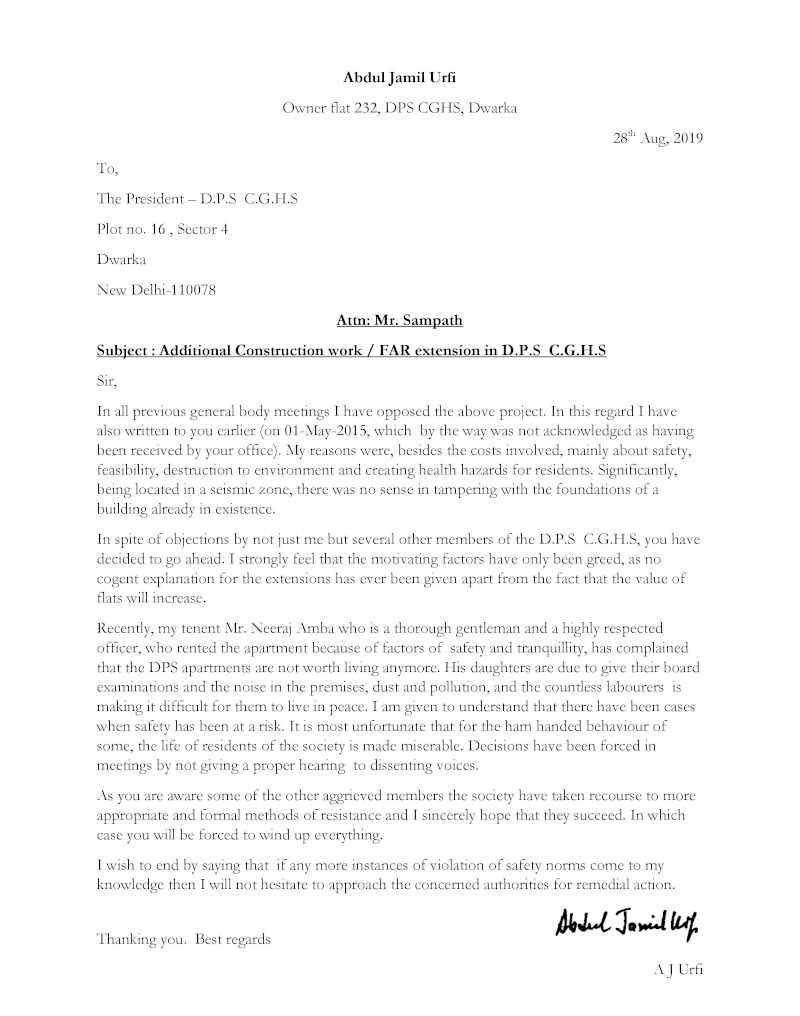 In his letter written to the gang leader Sampathkumar, the flat owner Urfi has raised a number of concerns related to the environmental damage and health risks posed by the harmful construction that the S-Gang has started. He also revealed that his tenant is vacating the flat because DPS CGHS flats are not safe for living as risky construction is happening in the building.
Although the S-Gang members who operate secretly did not inform other residents about Urfi's letter that is full of objections, they are expected to retaliate by issuing some frivolous expulsion notice to Urfi or through some other vindictive act against him. 
As they are hardcore criminals, the S-Gang members are intimidating those members who are complaining against their crimes. Sampathkumar is using expulsion notices as threat weapons to silence those who raise their voice against his gang's criminal activities.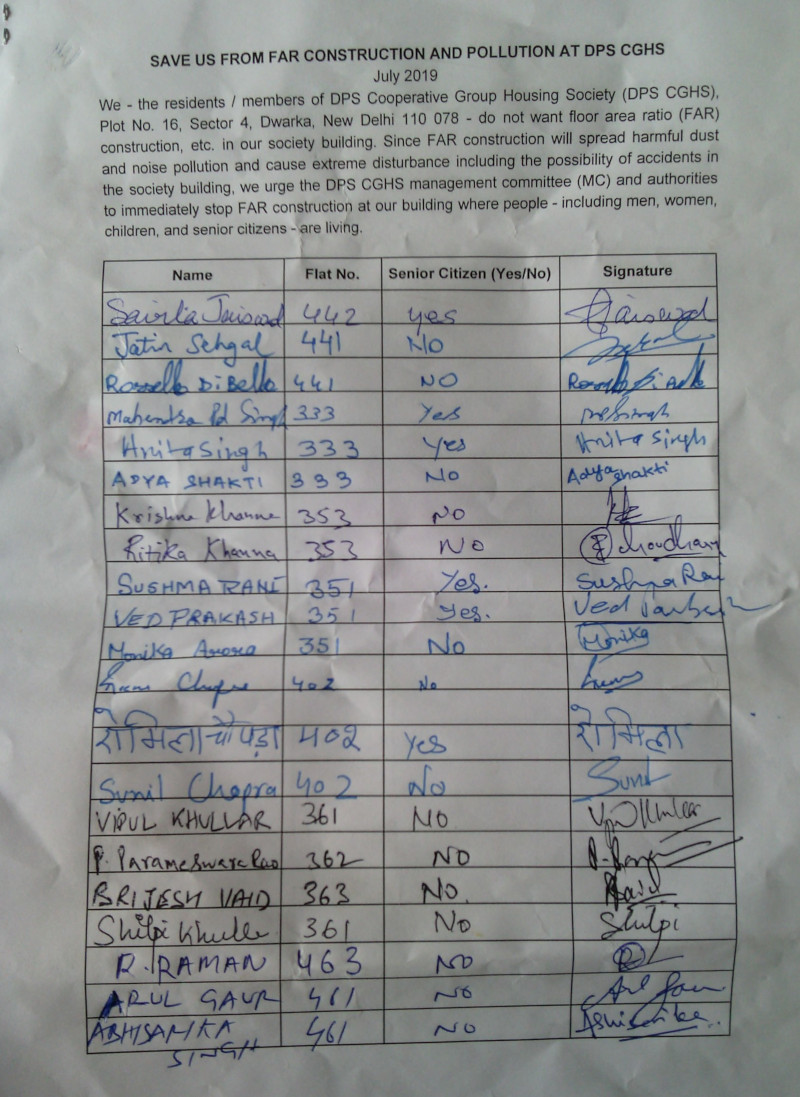 Of late, Sampathkumar – along with his gang members – sent notices to illegally expel a number of members from the society. The victims include the complainants and petitioners who have filed cases against S-Gang's crimes. 
The criminality of Sampathkumar's gang can be assessed from the fact that it also sent expulsion notices to two senior citizen women to harass them because they oppose the scandalous activities of Sampathkumar's gang.
With all these criminal actions against the flat owners and by starting a harmful construction activity in the building, the S-Gang wants most flat owners to sell their flats in distress so that the S-Gang members and the complicit builders could buy those flats at very cheap rates. 
DISPUTED PROPERTY AND BENAMI TRANSACTIONS
As the DPS CGHS has already become a disputed and ruined property under the evil plans of the S-Gang, it is learnt that the flat owners are not able to sell their flats even at half the price of the current market value. 
Now, for instance, there are hardly any buyers to pay even Rs. 1 crore for a flat that was selling at about Rs. 1.5 crore a year ago. The prices will further fall because with the illegal construction activity that will continue for many years, the S-Gang will make the DPS CGHS building a virtual hell where it will be impossible for normal human beings to live. Obviously, flat owners as well as the tenants will run away.
It is also learnt that some of the S-Gang members have already started working as property agents and buying multiple flats in the building in the name of their family members. Other gang members are buying properties and creating benami (property owned under the name of a proxy to conceal the identity of the actual buyer) assets in different areas of Delhi or other parts of the country.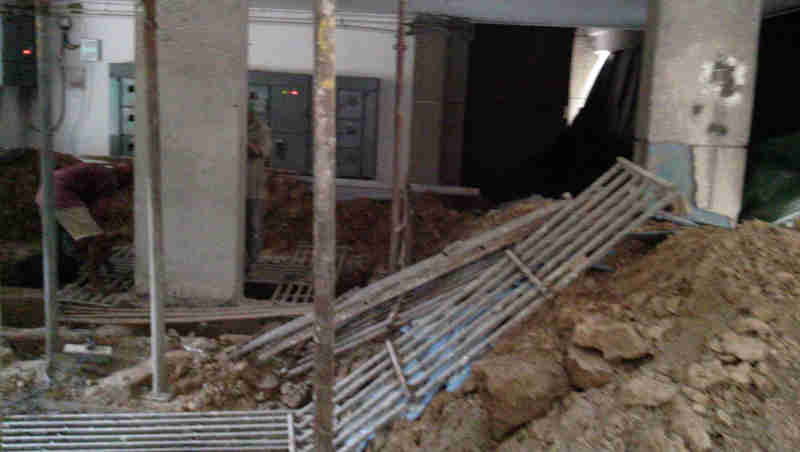 With their criminal plan, members of Sampathkumar's S-Gang are virtually forcing the flat owners to vacate their flats or sell them at cheap rates. As the massive construction activity has wreaked a total havoc in the building in which hundreds of people are living, the owners have no other option but to leave their flats and live in safer places outside. 
Since the S-Gang enjoys a tacit protection from the corrupt authorities including the police, DDA, and RCS, its criminal enterprise is growing at a rapid pace. 
Now, the onus is on the residents to openly oppose the harmful construction and other criminal activities of the S-Gang if they want to save their flats and live peacefully. They should write their objection letters – like the flat owner Urfi has done – and openly circulate these letters among all other residents. 
Note: The residents who want my help to raise their voice against the crime and corruption of the S-Gang can always contact me at my address or email given below.
---
You can click here to study the criminal history sheet of Sampathkumar and his gang which is operating from DPS CGHS of Dwarka, New Delhi.
---
By Rakesh Raman, who is a national award-winning journalist and social activist. He is the founder of the humanitarian organization RMN Foundation which is working in diverse areas to help the disadvantaged and distressed people in the society. He also creates and publishes a number of digital publications on different subjects.
About Rakesh Raman

Rakesh Raman is a national award-winning journalist and social activist. Besides working at senior editorial positions with leading media companies, he was writing an exclusive edit-page column regularly for The Financial Express (a daily business newspaper of The Indian Express Group).
Nowadays, for the past about 8 years, he has been running his own global news services on different subjects. He also has formed a free Education and Career Counselling Center for deserving children at a poor J.J. Colony in Dwarka, New Delhi under his NGO – RMN Foundation. 
He runs an exclusive community-driven anti-corruption social service "Clean House" to help the suffering residents of Delhi raise their voice against the growing corruption and injustice in housing societies where millions of people live. He also has formed an environment protection group called Green Group in Delhi.
He publishes Clean Climate environment news magazine that covers local and international environment news and issues to engage with different stakeholders who are trying to protect the environment.
He creates and distributes a number of digital publications that cover areas such as technology, law, environment, education, politics, corruption and transparency. He also publishes Real Voter digital magazine that focuses on politics and governance in India.
Earlier, he had been associated with the United Nations (UN) through United Nations Industrial Development Organization (UNIDO) as a digital media expert to help businesses use technology for brand marketing and business development.
Contact
Rakesh Raman
463, DPS Apts., Plot No. 16, Sector 4
Dwarka, Phase I, New Delhi 110 078, INDIA
You may please contact me on my email.
Support RMN News Service for Independent Fearless Journalism
In today's media world controlled by corporates and politicians, it is extremely difficult for independent editorial voices to survive. Raman Media Network (RMN) News Service has been maintaining editorial freedom and offering objective content for the past more than 12 years despite enormous pressures and extreme threats. In order to serve you fearlessly in this cut-throat world, RMN News Service urges you to support us financially with your donations. You may please click here and choose the amount that you want to donate. Thank You. Rakesh Raman, Editor, RMN News Service.