Arrested Delhi Minister Manish Sisodia Must Be Kept in a Harsh Detention Camp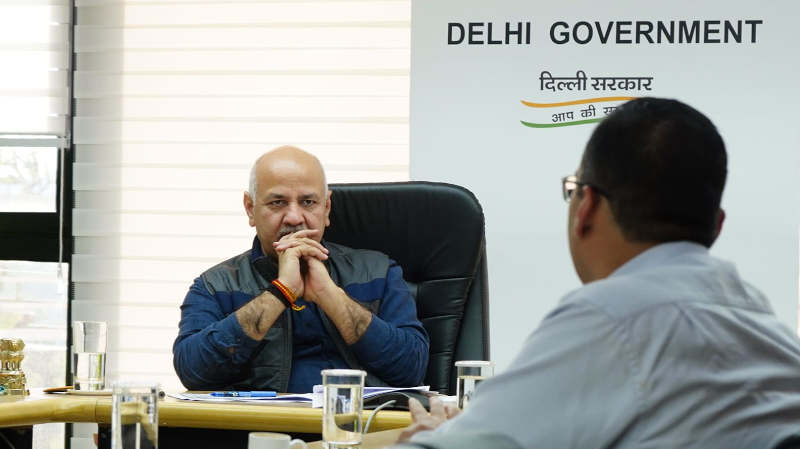 Arrested Delhi Minister Manish Sisodia Must Be Kept in a Harsh Detention Camp
Sisodia and his accomplice Satyendar Jain should be incarcerated in a harsh detention camp or a concentration camp outside Delhi so that they do not enjoy the luxurious treatment  in Delhi's Tihar jail. 
By Rakesh Raman
A politician Manish Sisodia – who belongs to the Aam Aadmi Party (AAP) of Delhi chief minister (CM) Arvind Kejriwal – has been arrested by the Central Bureau of Investigation (CBI). 
Sisodia has been under investigation for a massive liquor scam and the central agency had asked him to face the interrogation on February 26 after which he was arrested.  
In a statement released on February 26, CBI said that Sisodia was arrested because he gave evasive replies and did not cooperate in the investigation despite being confronted with evidence. 
Reports suggest that Sisodia was produced in a court on February 27 and the court has granted a 5-day custody to the CBI for his further interrogation so that other culprits in the criminal network could also be caught, convicted, and jailed. 
It is likely that soon other AAP politicians – including Kejriwal – may be jailed for various crimes and acts of corruption that they may be committing secretly. In fact, under the Kejriwal government, Delhi has become the corruption capital of India.
Similarly, AAP politicians in Punjab led by CM Bhagwant Mann may be arrested and jailed as Sisodia's dubious Delhi liquor policy is being implemented in Punjab also. The president of the Shiromani Akali Dal (SAD) Sukhbir Singh Badal has urged the Punjab Governor to hold a probe into the alleged Rs. 500-crore liquor policy scam committed by the AAP Government in the state. 
IMPRISONMENT OF AAP POLITICIANS
Sisodia – who is a prime accused in the liquor scandal – shamelessly went in a procession to the CBI office on February 26 with a crowd of AAP supporters who shouted slogans in his favour as if he is a champion in some competition.
In a dramatic manner, Sisodia also went to Raj Ghat – a memorial dedicated to Mahatma Gandhi in Delhi – to ostensibly show that he follows the truthful path of Mahatma Gandhi and he is innocent in this case.
Instead of showing proof of his innocence, Sisodia and his accomplices in AAP are resorting to all sorts of deceptive tricks to mislead the investigating agencies which are probing the liquor scandal and other scams in which Sisodia is allegedly involved.
Surprisingly, Sisodia also said that he is not afraid of going to jail, because he knows that jails provide all types of luxurious facilities to top politicians who are imprisoned for their crime and corruption cases.
Another jailed Delhi Government minister Satyendar Jain – who is a colleague of Sisodia – is enjoying a VIP treatment including full-body massage inside the jail cell. AAP politician Jain was sent to jail last year for his alleged involvement in a serious money laundering case. 
Obviously, Sisodia is not scared of going to jail because jail is a kind of picnic spot for AAP leaders. There is also a possibility that in the night when other prisoners are locked inside their cells, the corrupt politicians are released by corrupt jail officials so that they could enjoy nightlife and come back to jail after a few hours.
In fact, conventional imprisonment is not the right punishment for corrupt politicians and bureaucrats. They should rather be caged in a prison such as the Guantanamo Bay detention camp, which is a U.S. military prison known for its harsh treatment of prisoners.
FALSE STATEMENTS
Earlier, in a tweet written in Hindi, Sisodia had said on February 18 that the CBI had summoned him for questioning. Without any substantiation, he added in his tweet that the law-enforcement agencies failed to find any proof of his wrongdoing and he is being stopped from providing education in schools.
Sisodia – who is an education minister in the Kejriwal government – has been trying to hide behind school education which is so bad in Delhi that the students fail to learn anything in schools that could help them in their careers. Sisodia has destroyed the careers of millions of students as he failed to provide quality education in schools.
Now, instead of telling the truth about the liquor scam, Sisodia is mischievously diverting the topic to school education although he is the prime accused in the liquor scandal.
Earlier, the Enforcement Directorate (ED) – which investigates serious financial crime cases – had revealed that 140 mobile phones were changed by over 30 persons allegedly involved in the liquor scam of Delhi.
The ED claimed in a special Prevention of Money Laundering Act (PMLA) court in November last year that Sisodia and others involved in the excise / liquor scam have changed a total 140 phones with the intention to destroy digital evidence during the relevant period. The value of these phones is estimated to be Rs 1.20 crore.
Sisodia has been telling lies to escape the legal dragnet. After attending a CBI hearing on October 17 last year in this case, Sisodia claimed without any evidence that CBI asked him to quit AAP and join Bharatiya Janata Party (BJP) which will make him Delhi CM. 
Among his lies, Sisodia also said that CBI has admitted that there is no case against him but he is being harassed like his colleague Satyendar Jain, who is in jail for the past many months in a money laundering case.
But in a statement released on October 17, CBI refuted all the claims of Sisodia and said that Sisodia was questioned strictly on the allegations in the FIR (first information report) and the evidence collected so far during the course of investigation. CBI added that Sisodia's statement will be verified in due course and further action will be taken as per requirements of investigation.
LIQUOR SCAM CASE
After the August 19 raids by the CBI at Sisodia's residence, he and his AAP accomplices are telling flagrant lies or half-truths with the aim to protect him in the liquor mafia collusion case.
Sisodia – who is a deputy CM under Delhi CM Arvind Kejriwal – is facing serious allegations of corruption, criminal conspiracy, and falsification of government accounts, while the CBI has filed an FIR in which Sisodia's name is at the top of a list of 15 accused in this case.
The opposition party in Delhi BJP has been running aggressive campaigns to get Sisodia removed from his position in the government. But Kejriwal is not removing him presumably for the fear that he might divulge the names of other AAP politicians – including Kejriwal – who may be involved in liquor scam and other scandals.
In July 2022, the Lt. Governor (LG) Vinai Saxena – who is the administrative head of Delhi – had asked the CBI to probe Sisodia's surreptitious links with the liquor mafia that led to massive corruption in the sale of liquor shop licences in the city.
An August 22 article in The New Indian Express details different aspects of the case along with the names of the accused who allegedly colluded with Sisodia to run the criminal liquor network involved in an estimated corruption of hundreds of crores of rupees.
Now, instead of answering the media questions related to Delhi liquor scam in which Sisodia is allegedly involved, the AAP members are unsuccessfully trying to divert the case to unrelated issues such as Delhi school education that Sisodia handles.
In their media interactions on Sisodia's liquor scam case, the AAP spokespersons had been unnecessarily flaunting a New York Times (NYT) school education article which looks like an advertorial (advertisement or paid article) arranged by AAP's publicity department. The article without any research falsely praises Sisodia and Delhi school education. But the article never exonerated Sisodia in the liquor mafia scandal. 
Now, Sisodia and his accomplice Satyendar Jain should be incarcerated in a harsh detention camp or a concentration camp outside Delhi so that they do not enjoy the luxurious treatment  in Delhi's Tihar jail. 
More importantly, all the money (possibly hundreds of crores of rupees) embezzled in the scandals along with heavy interest should be recovered from them and they should not be allowed to work in any public office after the prison sentence.
The AAP politicians should also be interrogated sternly in order to know the names of their accomplices in AAP or external outfits who are involved in the liquor scam or other scandals so that all of them could be similarly convicted and jailed.
By Rakesh Raman, who is a national award-winning journalist and social activist. He is the founder of the humanitarian organization RMN Foundation which is working in diverse areas to help the disadvantaged and distressed people in the society.
He has also been publishing The Integrity Bulletin news magazine since 2018 to cover local and international corruption issues to engage with different stakeholders who are trying to combat corruption in the world.
Support RMN News Service for Independent Fearless Journalism
In today's media world controlled by corporates and politicians, it is extremely difficult for independent editorial voices to survive. Raman Media Network (RMN) News Service has been maintaining editorial freedom and offering objective content for the past more than 12 years despite enormous pressures and extreme threats. In order to serve you fearlessly in this cut-throat world, RMN News Service urges you to support us financially with your donations. You may please click here and choose the amount that you want to donate. Thank You. Rakesh Raman, Editor, RMN News Service.