Modi Defamation Case: Why Gujarat Courts Refuse Relief to Rahul Gandhi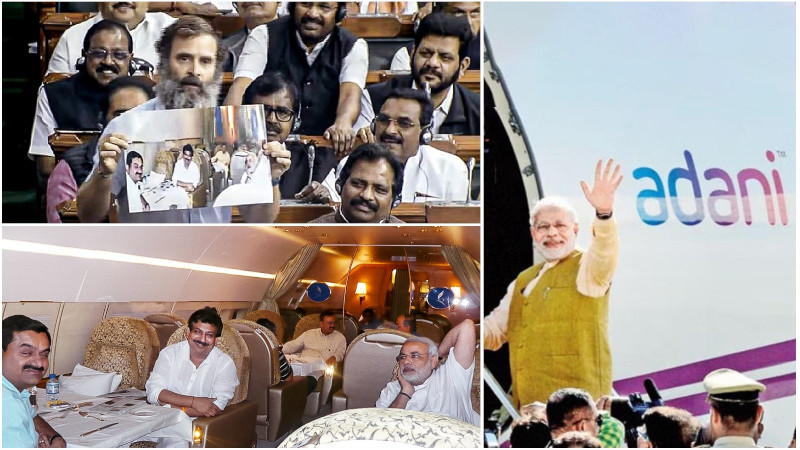 Modi Defamation Case: Why Gujarat Courts Refuse Relief to Rahul Gandhi
Rahul Gandhi should not be surprised if he is jailed in this defamation case or a subsequent case filed in the court through rogue petitioners and decided by pliant judges.
By Rakesh Raman
Once again a court in Gujarat has refused to provide relief to Congress leader Rahul Gandhi who has been convicted in a frivolous defamation case. As expected, the Gujarat High Court today (July 7) rejected Rahul Gandhi's request to put on hold his conviction in the case.
The courts and state agencies in Gujarat are frequently being used to prosecute and convict the opponents of prime minister (PM) Narendra Modi who was a chief minister (CM) of Gujarat and allegedly involved in the 2002 Gujarat massacre in which thousands of Muslims were murdered.
Recently, on July 1, 2023, the same Gujarat High Court dismissed the bail application of activist Teesta Setalvad who had filed a petition in the Supreme Court against the exoneration of Modi in the Gujarat violence case. 
In order to punish her for raising her voice against Modi, Ms. Setalvad was convicted with dubious charges and jailed in 2022. As Gujarat courts blatantly defy the law to harass Modi's critics, now Rahul Gandhi is the target of Gujarat court judges.
That is why Rahul Gandhi did not get relief in the Gujarat High Court where he had filed an appeal to stay his conviction in the "Modi" surname defamation case.
"The refusal of the Gujarat High Court to stay the ridiculous conviction of Rahul Gandhi for defamation (due to which he has been disqualified from Parliament), exposes the weakness of the Gujarat judiciary. Hopefully, the Supreme Court will set this right," a Supreme Court lawyer and activist Prashant Bhushan tweeted today (July 7).
Although it is said that Congress has a slew of good lawyers who can argue Rahul Gandhi's case properly in the court, none of them could save him in multiple court hearings in different courts.
As a result, the Gujarat High Court Bench of Justice Hemant Prachchhak refused to grant any relief to Rahul Gandhi. The case was assigned to Justice Prachchhak when another judge Justice Gita Gopi had recused herself from hearing the case.
Congress complains that the case against Rahul Gandhi is part of a political vendetta, as the Congress leader was accusing PM Modi of a criminal collusion with oligarch Gautam Adani who is facing a series of financial fraud allegations.
GUJARAT FACTOR
It is alleged that in order to implicate Rahul Gandhi in a false case, the petitioner – a member of Modi's Bharatiya Janata Party (BJP) – had filed his complaint in Gujarat, although Rahul Gandhi had made his remarks about "Modi" surname in Karnataka.
It is largely believed that the courts in Gujarat cannot dare to defy Modi's diktats as Modi was a brutal leader in Gujarat. According to a report by The Wire news service, Justice Hemant Prachchhak was one of the lawyers defending former BJP minister Maya Kodnani, an accused in the 2002 Gujarat riots case. In fact, Modi was also an accused in Gujarat riots.
The Wire has also reported that another judge Robin Paul Mogera, who was hearing Rahul Gandhi's appeal in the Surat (Gujarat) Sessions Court in this defamation case, was home minister and BJP leader Amit Shah's lawyer in the 2006 Tulsiram Prajapati fake encounter case. Amit Shah is a close associate of Modi.
Also, Congress alleges that the Surat District Court's Justice Harish Hasmukhbhai Verma who punished Rahul Gandhi with a two-year sentence in March was promoted suddenly in December 2022 before his judgment, although he was not getting promotion since 2015. 
Subsequently, this judge Verma hurriedly handled Rahul Gandhi's case to convict him in the defamation case for making an innocuous statement about "Modi" surname. The surreptitious involvement of all these Gujarat judges in this defamation case cannot be a mere coincidence.
In his remarks, Rahul Gandhi had compared PM Modi with fugitive businessmen Nirav Modi and Lalit Modi, saying "How come all thieves have the common surname Modi?"
He made this statement in a 2019 public rally that he addressed in Karnataka. But ignoring territorial jurisdiction, a random petitioner was allowed to file his petition against Rahul Gandhi in Gujarat where Modi was the chief minister.
According to reports, the case was filed against Rahul Gandhi by Modi's party colleague Purnesh Modi who is a BJP MLA and former Gujarat minister. 
In his complaint, the BJP leader alleged that Rahul Gandhi defamed the entire Modi community with his remarks, although the petitioner is not directly affected by Rahul Gandhi's statement. 
Neither PM Modi nor any of the other Modis that Rahul Gandhi mentioned filed the petition against him. It is increasingly happening that some mercenary petitioners who are not directly involved in cases file petitions against people who need to be harassed and surprisingly courts accept such petitions.
[ VIDEO: क्या 'मोदी' मानहानि मामले में जेल जाएंगे राहुल गांधी? ]
Astonishingly, the Gujarat court convicted Rahul Gandhi to the maximum prison sentence in this case – which is two years and which served as a ground to disqualify him from parliament.
Although it is being projected as a court decision to disqualify Rahul Gandhi from parliament, we must understand that in all autocratic regimes that work under the garb of democratic systems, the rulers silently use complicit courts to impose their own decisions on opponents to suppress all kinds of dissent. 
Similar shady court trials happened in other autocratic countries such as Russia, Belarus, and Myanmar to imprison political opponents such as Vladimir Kara-Murza and Alexei Navalny in Russia, Nobel Peace Prize winner Ales Bialiatski in Belarus, and Nobel laureate Aung San Suu Kyi in Myanmar.
According to a BBC report, the UK Foreign Office announced sanctions against one judge and two investigators involved in Kara-Murza's trial. The sanctions will also impact two Federal Security Service (FSB) agents suspected of links to his sudden, critical illness in 2015 and 2017 caused by a toxin that has never been identified.
Similarly, the Gujarat judges who are giving controversial judgments against Modi's political opponents should be tried in international courts or judicial forums to get them prosecuted and sanctioned for their misdemeanors and questionable behaviour. 
WEAK RAHUL GANDHI
As India is also an autocratic nation, Rahul Gandhi should not be surprised if he is jailed in this defamation case or a subsequent case filed in the court through rogue petitioners and decided by pliant judges.
In order to make it appear like a normal case, the court had suspended the Congress leader's prison sentence for 30 days allowing him to apply for bail. While the suspension period expired on April 22, the imprisonment can still happen. 
Congress said it is an attempt by the Modi regime to terrorize Rahul Gandhi who is questioning Modi on various issues. And it seems that as usual Rahul Gandhi – who is a weak man – is again terrorized. 
Now, after conviction in the defamation case, Rahul Gandhi is so terrified that he has stopped talking about Modi-Adani collusion in the financial fraud case. Earlier, after the Modi regime's hostile actions against Rahul Gandhi, he was so scared that he stopped questioning Modi and his government on issues such as Rafale corruption case, Pulwama terror attack, Gujarat riots case, Pegasus spyware scandal, and election frauds with electronic voting machines (EVMs).
Once again frightened Rahul Gandhi has gone into hibernation and is silently waiting for the next court order about his conviction in the "Modi" defamation case or other future cases which may be filed against him.
These days, instead of speaking in India, Rahul Gandhi is going to other countries to criticize Modi and his government. In May, for example, during his U.S. tour Rahul Gandhi lambasted Modi, saying that Modi is a mediocre man who does not understand any subject.
However, the U.S. politicians – particularly President Joe Biden – are so cunning that instead of speaking against Modi or his despotic actions, they hobnob with Modi for their commercial interests. [ You can click here to visit the Defeat Biden Campaign webpage. ]
Therefore, Rahul Gandhi has few options to stand up against Modi. And in all probability, the Modi regime will not allow Rahul Gandhi to contest in the 2024 Lok Sabha election as he is likely to be implicated in multiple legal cases and jailed before the election.
Usually, the police and courts do not take action against Modi, the Modi government, and the leaders of Modi's BJP. The politicians and police officers are scared because they have seen the horrific cases of Haren Pandya's murder and imprisonment of Gujarat riots whistleblower Sanjiv Bhatt's who tried to raise their voice against Modi. 
These cases have been recorded in the recent BBC documentary 'India: The Modi Question' which describes Modi's role in the Gujarat violence of 2002.
Similarly, most judges must be scared after witnessing the fate of judge Loya (Brijgopal Harikishan Loya) who had died in mysterious circumstances. In this case, BJP leader Amit Shah – who is now the home minister of India – was the prime accused.
But no investigation or investigating officer can dare to point the finger at Amit Shah who controls the police and other law-enforcement agencies. Judges and investigating officers know that if judge Loya can die in an inexplicable manner, they also can be made to face the same fate.
Earlier it had happened in the Vyapam scam case in which, like Amit Shah, another BJP leader and Madhya Pradesh chief minister Shivraj Singh Chouhan was an accused. As the investigation into the Vyapam case was progressing, the witnesses and others familiar with the case started disappearing and dying mysteriously.
Obviously, most witnesses, police officers, and judges will not dare to go against the will and actions of Modi and his accomplices. The Gujarat judges have followed the same unwritten rule and convicted Rahul Gandhi.
Meanwhile, Congress has decided to approach the Supreme Court to get relief for Rahul Gandhi.
By Rakesh Raman, who is a national award-winning journalist and social activist. He is the founder of the humanitarian organization RMN Foundation which is working in diverse areas to help the disadvantaged and distressed people in the society. He has also launched the "Power Play: Lok Sabha Election 2024 in India" editorial section to cover the news, events, and other developments related to the 2024 election.
Support RMN News Service for Independent Fearless Journalism
In today's media world controlled by corporates and politicians, it is extremely difficult for independent editorial voices to survive. Raman Media Network (RMN) News Service has been maintaining editorial freedom and offering objective content for the past more than 12 years despite enormous pressures and extreme threats. In order to serve you fearlessly in this cut-throat world, RMN News Service urges you to support us financially with your donations. You may please click here and choose the amount that you want to donate. Thank You. Rakesh Raman, Editor, RMN News Service.