FAR Construction and Pollution Poised to Kill People in Delhi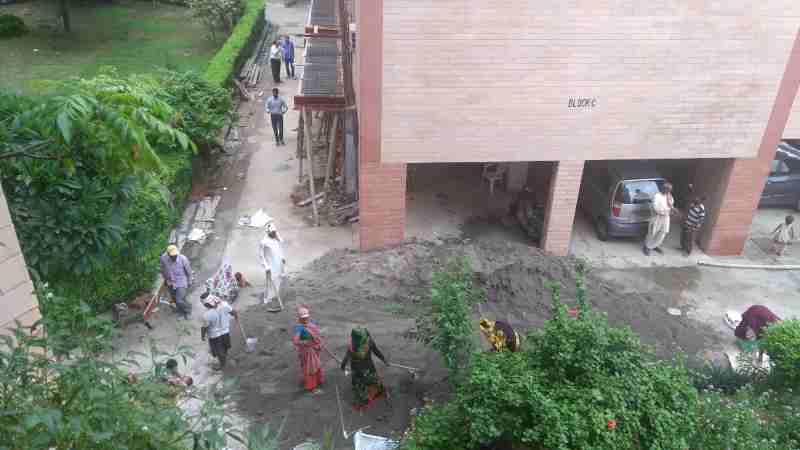 With the ill-conceived FAR (floor area ratio) construction policy, the Delhi government is using extended construction as a weapon of mass destruction (WMD) which will first torture people with the lethal dust and noise pollution and then finally kill them mercilessly.
By Rakesh Raman

A little knowledge is a dangerous thing. The saying fits well for Delhi's naive politicians and bureaucrats who are hell-bent to kill the local citizens by spreading construction dust and pollution in every nook of the city.
The extended building construction which is happening under the government's cruel FAR (floor area ratio) rules is going to harm at least one million people who live in and around Delhi's cooperative group housing societies.
With this ill-conceived FAR policy, the Delhi government is using extended construction as a weapon of mass destruction (WMD) which will first torture people with the lethal dust and noise pollution and then finally kill them mercilessly.
The new FAR scheme allows inhabited group housing complexes of Delhi to extend their existing buildings by allowing individual flat owners to add more rooms, etc. while ignoring the health and safety concerns of others who prefer to live in a clean, peaceful environment.
Bureaucratic Naivity
Today, it is a known fact that most politicians in India are illiterate and bureaucrats have no knowledge about any modern subject that is required to provide a smooth governance to the citizens.
This fact is reflected in the worsening Human Development Index (HDI) of India. Published by the United Nations Development Programme, HDI indicates the level of skills in a country and lets you know if people in that country are able to achieve their goals. Unfortunately, India falls at No. 131 in the global list of countries ranked on the basis of their HDI.
Now bureaucrats' lack of knowledge in the evolving subject of environment is visible in their decision to allow FAR construction and pollution in Delhi.
[ Environment Protection: Join Green Group of Dwarka ]
With an utter disregard to the environment protection needs, the Government of India is breaking its own commitment to the global community.
The Union Cabinet of India chaired by Prime Minister Narendra Modi had given its approval to ratify the Paris Agreement (on Climate Change) on 2nd October 2016, the day of Gandhi Jayanti.
But unfortunately bureaucrats – who are allowing FAR-based pollution – do not understand the effect of pollution on Climate Change. They do not understand that the main cause of global warming or the human-led Climate Change is environmental pollution which contaminates the atmosphere with pollutants such as chemicals and energies.
Pollution, therefore, has become a major factor that is causing 'global warming' or Climate Change. As compared to the perils of environmental pollution that affect human health, the Climate Change brings mass destruction with floods, droughts, hurricanes, tornadoes, volcanic eruptions, earthquakes, and tsunamis.
---
Killing Effects of Pollution
Air pollution directly causes 3,000 premature deaths in Delhi every year.
The Associated Chambers of Commerce and Industry of India (Assocham) has released an environment survey revealing that 5-10% of the national capital's workforce was sick due to respiratory problems – which is damaging the Indian economy.
Assocham also said air pollution is preventing workers from doing their jobs efficiently, which is affecting industrial productivity in India.
While increasing pollution will adversely impact tourism industry, most investors will be reluctant to invest in India.
Pollution kills 1.2 million Indians every year and costs the economy an estimated 3% of GDP.
Hundreds of thousands of people – particularly farmers – in India are always under the threat of environmental hazards such as floods and droughts caused by Climate Change.
There are interlinkages between greenhouse gases, climate change and air quality. Many air pollutants that are harmful to human health and ecosystems also contribute to Climate Change.
Atmospheric / construction dust causes a whopping 38% of pollution.
Apart from vehicular pollution, there are damaging thermal effects of dust on climate. Research reveals that dust-related atmospheric aerosol pollution has a hazardous effect on climate.
---
As India is already experiencing a trust deficit in the global arena because of its weak environmental protection policies, the country's position will further get damaged if the government allowed the pollution-filled extended construction activity to continue in India's capital New Delhi.
Construction and Corruption
But why is the Indian / Delhi government watching quietly when millions of people in Delhi are facing a silent death? Answer: Corruption.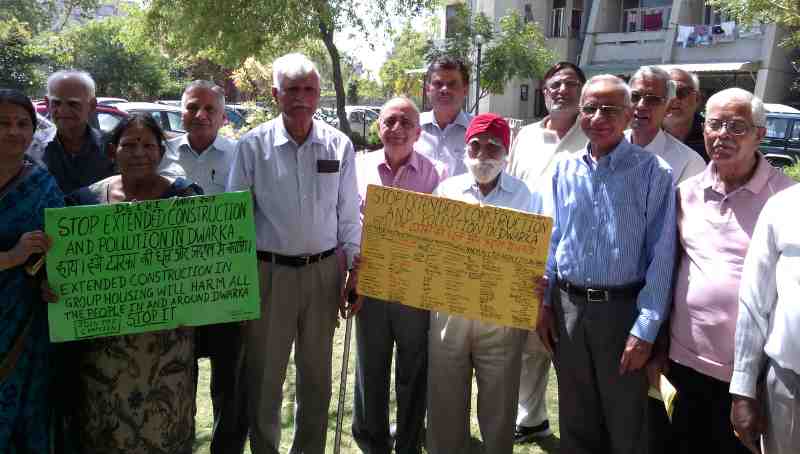 The sudden surge in extended construction activity – which also includes redevelopment of housing complexes – is supposed to be driven by a criminal nexus between builders and corrupt Indian politicians.
As the managing committees (MCs) of the housing societies – which are governed by the Registrar Cooperative Societies (RCS) of the Delhi Government – are mostly corrupt, they are forcing the residents to accept extended construction.
Estimates suggest that the extended construction and building redevelopment projects in Delhi's Dwarka – which is said to be the largest residential suburb in Asia – alone are worth more than $4 billion (Rs. 25,000 crore approximately).
The value of such projects in the city of Delhi is estimated to be around $50 billion while the construction activity will run for at least five more years – till 2022.
The builders and MCs of housing societies need various government permissions before starting the extended construction activity. They will obviously bribe the government officials to get clearances illegally and start construction.
[ FAR Construction: Dwarka Residents Blame DDA for Corrupt Practices ]
A huge part of this corruption money is expected to go to Indian politicians who are allowing this illegal activity to happen while depriving citizens of their right to pollution-free living guaranteed under the Article 21 of the Constitution of India.
As most politicians in India are history-sheeters with serious criminal records, they use the corruption money to win elections by bribing the voters and tampering with electronic voting machines (EVMs).
Increasing Lawlessness
The police and law-enforcement agencies are reluctant to take action against the MCs of housing societies because they are supported by deep-pocketed builders and corrupt Indian bureaucrats and politicians.
Various government departments in Delhi are so careless that they are ignoring the advice of specialized pollution-control agencies such as the Delhi Pollution Control Committee (DPCC) which has warned them about the risks of extended construction and pollution.
In August 2017, DPCC wrote a letter to the Vice Chairman (DDA), Commissioner (South Delhi Municipal Corporation), Sub Divisional Magistrate (Dwarka, Delhi), and Delhi Police Commissioner to take action in order to stop extended construction and pollution. But all these departments have simply ignored the DPCC advice and pollution is increasing. Click here to read the DPCC letter.
The National Green Tribunal (NGT) of India – established under India's constitutional provision of Article 21 – has also observed that one of the major sources of air pollution is dust emission from construction activities, which must be stopped to avoid pollution-related diseases and deaths. But the corrupt government departments which are giving permissions for this avoidable construction have even ignored the NGT directive.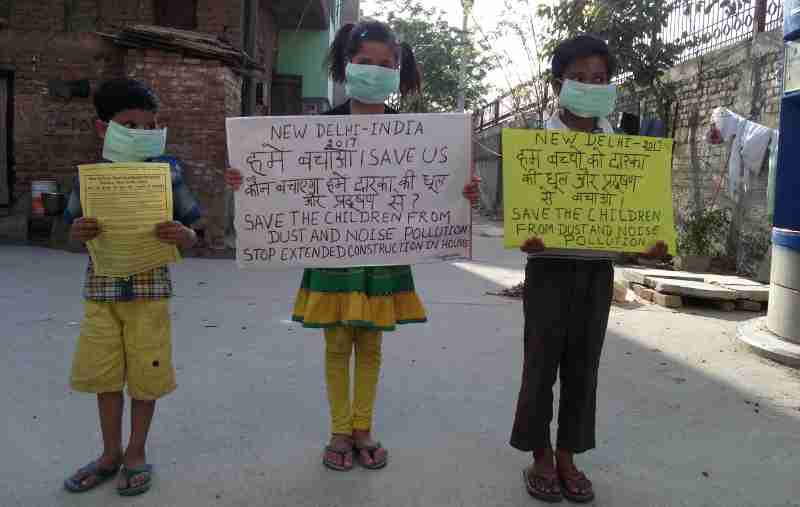 Although FAR construction and pollution will affect all men, women, and children, it is extremely harmful to senior citizens (people above 60 years of age) because of their weaker immune systems.
They will not be able to recover from ailments – such as asthma, bronchitis, airway inflammation, coughing, and wheezing – caused by high levels of dust pollution. The situation will get worse for the senior citizens when they will not be able to bear the health care costs for the increased physical disorders from such pollution.
[ Delhi Pollution Is More Dangerous for Children and Senior Citizens ]
As FAR construction in housing societies will happen in different parts of Delhi, nearly 5 million senior citizens are virtually facing a painful death. And there is no government existing in Delhi that cares for these harmed senior citizens.
All their requests to the Delhi Government and the Government of India to save them from harmful dust and noise pollution have been falling on deaf ears.
Although the Maintenance and Welfare of Parents and Senior Citizens Act, 2007 – initiated by Ministry of Social Justice and Empowerment, Government of India – is supposed to provide "simple, speedy and inexpensive mechanism for the protection of life and property of the older persons," it is a completely ineffective piece of legislation.
The senior citizens say they have been running from pillar to post to get extended construction stopped in group housing societies, but the authorities have refused to listen to them.
Invalid Arguments
The concerned government departments and the managing committees (MCs) of group housing societies offer an invalid argument that if majority of the members in a Society supports extended construction decision, the other residents will have to accept it.
How is that possible? If the decision of the majority of members is driven by greed and not by need, it cannot be imposed on others who want to live peacefully in a harmless environment.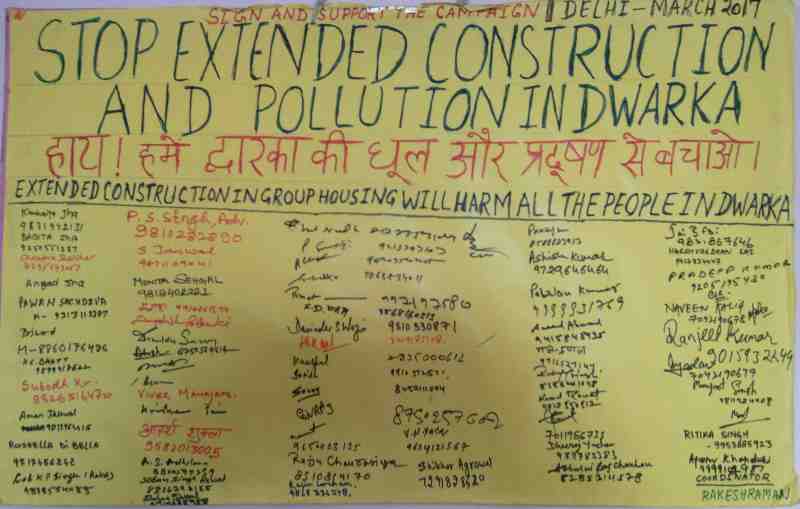 As MCs contend that the majority of members support them in General Body Meetings (GBMs), their majority argument is meaningless. By this weird logic, if majority of the members say that they should kill others, will the MC of a Society kill the innocent people? The majority rule cannot apply in such cases where even one person's life is at risk.
Moreover, most MCs of group housing societies are controlled by criminals who win the vote and support of other law-breaking residents / members in elections and GBMs by allowing them many illegal activities such as unauthorized car parking inside the Society buildings, illegal alterations in individual flats, and so on. This is a kind of corruption and bribe to get others' support.
Thus, these MCs get even the illegal decisions (such as the FAR-based extended construction) approved in GBMs – which are in fact bogus meetings. Obviously, the GBM decisions cannot be imposed on other members.
But the Delhi government departments such as the DDA and the office of Registrar Cooperative Societies (RCS) have refused to acknowledge this fact and they are accepting the fraudulent decisions taken by MCs in bogus GBMs.
[ Extended FAR Construction Causes Gas Pipeline Breakage in Dwarka ]
Government fails to understand that adding more rooms to existing rooms in a flat cannot be a need – particularly when most residents have very small families. It will also widen the rich-poor gap in a country where millions of people are still homeless and some rich are making more rooms which they do not need.
The decision for harmful construction of MCs can be construed as an attempt to murder, as the construction-related pollution, disturbance, and possible accidents can kill innocent human beings.
The different Society MCs also say that the government rules allow such extended construction. But, in fact, these rules are environmentally hazardous and will harm the health and lives of people living in the Society. No government in the world can make any rule that is aimed to kill its own citizens. Will the Delhi / Indian government kill its own people?
FAR Construction Not Allowed in Occupied Housing Societies
As their eyes are on making easy money from high-value construction projects, the MCs of group housing societies are misleading the residents by saying that government has allowed extended construction.
But the government had clearly stated that extended construction under floor area ratio (FAR) rules is not allowed in already constructed and occupied group housing societies.
A government notification from the office of the Lt. Governor of Delhi states that "it has been decided in public interest that increased FAR should not be permitted in respect of already constructed and occupied CGHS (cooperative group housing societies)." [ Click here to read the government notification. ]
Many MCs baselessly argue that it is an old rule, but the point is that this rule was made keeping in view the "public interest" because extended construction will be harmful in occupied housing complexes. Then how can the "public interest" concern suddenly change after a couple of years?
The government's oblique permission to allow extended construction in the existing upmarket flats is not addressing any housing needs in the country where millions of people are still homeless.
People who prefer clean environment suggest that the government should only focus on addressing the housing needs of homeless poor by building new low-cost houses for them. The affluent people should not be allowed to expand their swanky flats because such an expansion will be risky for people living in the buildings.
With these facts, they urge the Delhi government and the Government of India to immediately issue clear instructions to stop the extended construction activity in group housing societies of Delhi.
[ Sign the Greenpeace Petition: Stop Extended Construction and Pollution in Delhi ]
If the avoidable construction is carried out in the group housing complexes where people – men, women, and children – are already living, it will deprive them of their right to live in a clean environment.
However, the politicians and bureaucrats are working in a totally irresponsible manner as they are not taking any steps to stop construction-related dust and noise pollution.
If any government exists in Delhi and it wants to save its own people, it must immediately stop FAR construction in group housing societies. The government must clarify its stand on extended construction through advertisements in leading newspapers and information on government's own websites.
Moreover, the Delhi government must also change the Cooperative Societies Rules so that the MCs should be allowed to use the majority vote only for simple, non-financial decisions, and not to impose their ill will on others, as is happening in the FAR construction projects.
By Rakesh Raman, who is a government's National award-winning journalist and social activist. He has formed an environment-protection group called Green Group in Delhi. Earlier, he had been associated with the United Nations (UN) through United Nations Industrial Development Organization (UNIDO) as a digital media expert to help businesses use technology for brand marketing and business development. He also runs a free school for deserving children under his NGO – RMN Foundation.
Support RMN News Service for Independent Fearless Journalism
In today's media world controlled by corporates and politicians, it is extremely difficult for independent editorial voices to survive. Raman Media Network (RMN) News Service has been maintaining editorial freedom and offering objective content for the past more than 12 years despite enormous pressures and extreme threats. In order to serve you fearlessly in this cut-throat world, RMN News Service urges you to support us financially with your donations. You may please click here and choose the amount that you want to donate. Thank You. Rakesh Raman, Editor, RMN News Service.