One Nation, One Election Is Better Than One Nation, No Election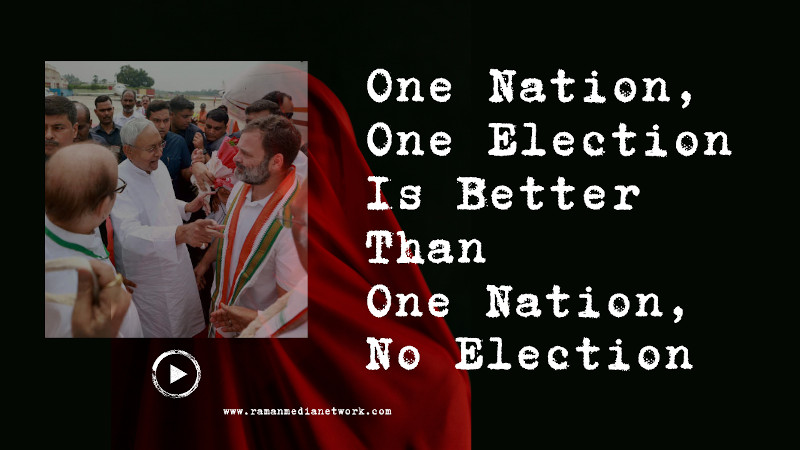 One Nation, One Election Is Better Than One Nation, No Election
God only knows the benefits of having 'One Nation, One Election' or changing India's name to Bharat, but when Smarat Modi has favoured these changes, no one can stop him.
By Rakesh Raman
Two Facts About PM Modi
Fact 1: No opposition can defeat Modi
Fact 2: If you think you can defeat Modi, see Fact 1
If prime minister (PM) Narendra Modi has decided to do something however bad that may be for Indians, he will do it single-handedly – come what may.
You have already seen it multiple times on issues such as draconian demonetization, torturous Covid lockdown, deadly farm laws, and so on. 
Now, Modi is hell-bent to have 'One Nation, One Election' to hold elections only once in five years for all the states and the national election in which he himself contests.
When opposition parties did not accept his repeated diktats on one election, he has formalized his decision by forming a perfunctory committee which is full of his toadies who cannot decide anything against the will of Modi.
Clearly, it is the foolishness of opposition leaders who have not realized the transformation of Modi from just a PM to the status of a Samrat or an eternal ruler of independent Bharat formerly known as India.
God only knows the benefits of having 'One Nation, One Election' or changing India's name to Bharat, but when Smarat Modi has favoured these changes, no one can stop him.
Tomorrow, if Modi declares at 8:00 p.m. in a TV announcement that there will be no election in India and he will rule the country alone until he leaves this mortal world, there is no judicial or legislative mechanism to oppose his declaration.
All the law-enforcement systems including courts in India are already dysfunctional or are fully controlled by the Modi regime (which is in fact Modi alone). So, he will start behaving as an invincible monarch without any opposition.
[ YouTube Podcast: एक राष्ट्र, एक चुनाव One Nation, One Election ]
In another scenario, if he is kind enough to hold an election, he can order the election authorities to declare him and his Bharatiya Janata Party (BJP) victorious even before the votes are counted.
Since no election commissioner or court judge can dare to disobey Modi, he will be declared the winner in an ostensibly legal process. Then some foolish Indians like old cricketers and senile Bollywood actors will celebrate his victory on Twitter and others including opposition leaders will keep sulking. But Modi will become the ruler forever. That is the truth.
MODI SUPPORTERS
Those opposition leaders who think that they can defeat Modi and BJP in the 2024 Lok Sabha election – if it is held – are living in a fool's paradise. No opposition party can challenge Modi and BJP as they are destined to win the election next year if it takes place. 
Since most opposition leaders are intellectually challenged, they fail to understand that Modi's biggest supporters are not voters, but the electronic voting machines (EVMs). It is being repeatedly observed that in order to avert suspicion, Modi and BJP selectively manipulate EVMs in some key state elections and Lok Sabha elections in which Modi contests. 
If Modi is the PM, he can easily control states even if BJP has not won in those states. Then Modi can use the central agencies such as the Enforcement Directorate (ED) or the Central Bureau of Investigation (CBI) to tame the non-BJP governments in different states. 
Although in July 2023 the Supreme Court of India willy-nilly agreed to hear a petition that seeks to stop the misuse of EVMs, no court judge can dare to take any decision that may displease their boss Modi. In other words, EVMs will persist to help BJP win if an election is held.
TERRIFIED LAW-ENFORCEMENT AGENCIES
Usually, the police and courts do not take action against Modi, the Modi government, and the leaders of Modi's BJP. The politicians and police officers are scared because they have seen the horrific cases of Haren Pandya's murder and imprisonment of Gujarat riots whistleblower Sanjiv Bhatt who tried to raise their voice against Modi. 
These cases have been recorded in the recent BBC documentary 'India: The Modi Question' which describes Modi's role in the Gujarat violence of 2002. Similarly, most judges must be terrified after witnessing the fate of judge Loya (Brij Gopal Hari Kishan Loya) who had died in mysterious circumstances. In this case, BJP leader Amit Shah – who is now the home minister of India – was the prime accused.
But no investigation or investigating officer can dare to point the finger at Amit Shah who controls the police and other law-enforcement agencies. Judges and investigating officers know that if judge Loya can die in an inexplicable manner, they also can be made to face the same fate.
Earlier it had happened in the Vyapam scam case in which, like Amit Shah, another BJP leader and Madhya Pradesh chief minister Shivraj Singh Chouhan was an accused. As the investigation into the Vyapam case was progressing, the witnesses and others familiar with the case started disappearing and dying mysteriously.
Obviously, most witnesses, police officers, and judges will not dare to go against the will and actions of Modi and his accomplices. The Supreme Court and other courts only make some loose informal statements in courtrooms against the Modi government's hostile actions, but they never pass formal judgments to punish Modi or his belligerent colleagues.
Since Modi is not willing to replace EVMs with ballot papers, the Supreme Court will never annoy Modi by taking any decision against the use or misuse of EVMs in elections.
While the courts are already compromised, the Modi government has decided to further clip their wings. In August 2023, the Modi government introduced a new legislation that will exclude the Chief Justice of India from the process of appointing the top election officers such as the Chief Election Commissioner and other Election Commissioners. 
This step will help Modi to have pliant election officers who will continue with EVMs and will not accept any demand from the opposition parties to discard EVMs and instead use ballot papers in elections – particularly the Lok Sabha elections.
These handpicked election officials will also not entertain any complaint of EVM election frauds when Modi and BJP win the upcoming elections in different states and particularly the Lok Sabha election.
FOOLISH OPPOSITION LEADERS
Since most opposition leaders are foolish, they take into account only the traditional factors when planning their election campaigns. For example, the opposition party Congress thinks that if it can defeat BJP in the recent Karnataka election, it can repeat its performance in the Lok Sabha election also.
But Congress fails to understand a simple fact that Congress did not win the Karnataka election. Rather, Modi allowed Congress to win that election so that the old-and-obsolete party does not raise any EVM issue when Modi and BJP form the government again in 2024 after winning the election with EVMs.
Strangely, the opposition parties believe that if they keep denouncing Modi on Twitter or TV, they will be able to defeat him. But that is a wrong belief. 
While the Godi media (or lapdog media) is controlled by the Modi regime, it appears that the opposition parties, particularly Congress, are supporting Virodhi media (or opponent media) to criticize Modi and BJP.
Today, a number of Virodhi media channels in Hindi are operating on YouTube. They keep condemning Modi and praising Congress in their programs. But these programs are so crude and biased that they cannot be trusted and they cannot help Congress win. 
Also, Congress and other opposition parties think that Modi is winning elections by spreading hate and communal violence between different communities. But Modi is only creating a fake facade of raising the Hindu-Muslim and Mandir-Masjid issues in his election campaigns to hoodwink the opposition parties. 
Actually, Modi and BJP are largely dependent on EVMs to win elections. A few voters whose votes count in elections are so poor, illiterate, and gullible that they are tricked by Modi with false promises to vote for BJP. 
These handful of uneducated voters are not capable of understanding the factors such as inflation, unemployment, corruption, and lawlessness that are persisting in the Modi regime. Obviously, the opposition parties cannot make these factors as real issues to win the elections. At present, the only issue is that of EVMs. But in future, Modi can make any autocratic announcement to stay in power forever.
So, in order to hold free and fair elections, it is extremely important to use ballot papers instead of EVMs in all elections even if the results are delayed because of manual counting of votes. 
DIFFICULT TRANSFER OF POWER
The opposition parties can hope to win the Lok Sabha election if ballot papers are used. The main focus of opposition parties should be to win the Lok Sabha election in 2024 rather than the state elections. 
The democracy in the country can be restored only if autocrat Modi is dethroned. In that case, it is not very important for opposition parties to win state elections. The opposition groups should also consider the possibility that Modi will not easily transfer power if he loses the 2024 Lok Sabha election. He can either get himself declared the winner or use some other tricks to continue in his position.
As an ardent follower of former U.S. President Donald Trump who is known for his dictatorial tendencies, Modi can repeat what Trump did in January 2021 to stay in power even after his defeat in election. Trump staged a virtual coup with the help of his violent supporters to protect his position unscrupulously. Modi has more ferocious supporters than Trump's.
Moreover, if Modi is fearing defeat, he can change the Constitution as some of his accomplices are indicating so that he could rule forever. Another dictator, Russian President Vladimir Putin – worshiped by Modi – staged a similar constitutional coup in 2021.
Putin signed a legislation that allows him to stay in power until 2036, while his second consecutive and fourth overall presidential term ends in 2024. Modi can also make such a law by changing the Constitution.
With an evil desire to rule without accountability, Modi can also make a law to further curb powers of the judiciary as it recently happened in Israel. Under the garb of a judicial reform plan, Israeli PM Benjamin Netanyahu curtailed the Israeli Supreme Court's ability to overturn decisions made by government ministers. 
With a BJP majority in parliament, Modi can easily pass such laws that can allow him to be the PM or Supreme Leader even after his defeat in the Lok Sabha election. Since the Supreme Court of India is already very weak, it will not accept any opposition demand to stop such laws.
So, along with tackling the EVM issue, the opposition parties should also immediately make strategies to take power from Modi if he is defeated in the 2024 election or there is no election.
If they fail to do so, the opposition leaders will keep cursing Modi on Twitter for the next many years, but won't be able to get rid of him.
By Rakesh Raman, who is a national award-winning journalist and social activist. He is the founder of the humanitarian organization RMN Foundation which is working in diverse areas to help the disadvantaged and distressed people in the society. He has also launched the "Power Play: Lok Sabha Election 2024 in India" editorial section to cover the news, events, and other developments related to the 2024 election.
Support RMN News Service for Independent Fearless Journalism
In today's media world controlled by corporates and politicians, it is extremely difficult for independent editorial voices to survive. Raman Media Network (RMN) News Service has been maintaining editorial freedom and offering objective content for the past more than 12 years despite enormous pressures and extreme threats. In order to serve you fearlessly in this cut-throat world, RMN News Service urges you to support us financially with your donations. You may please click here and choose the amount that you want to donate. Thank You. Rakesh Raman, Editor, RMN News Service.