Threatened Journalist in Delhi Seeks Pro Bono Legal Help
Threatened Journalist in Delhi Seeks Pro Bono Legal Help
Appeal From: Rakesh Raman
To: All Indian and international attorneys, advocates, honest politicians, government officials, human rights organizations, and others who believe in civil liberties
Appeal
1. Save me from criminal intimidation and defamation
2. Help me file a Public Interest Litigation (PIL) to save millions of people from dust and noise pollution in Delhi
3. Help me fight against bureaucratic corruption
---
Response from the Office of the Prime Minister of India
As I had sent my request to the Prime Minister Office (PMO) to seek justice and save me from threats, I received a response from Mr. Ambuj Sharma in PMO. He asked me to directly write to the PM. I sent the following email to him.
To
Mr. Ambuj Sharma
Under Secretary
Prime Minister's Office
South Block
New Delhi
August 28, 2018
Subject: Threatened Journalist in Delhi Seeks Legal Help
Dear Mr. Sharma,
Thank you for your email in response to my request on the above-stated subject. But I am sorry to say that "Write to Prime Minister (PM)" option that you have suggested is not effective at all, as I have tried it before. I have also interacted with you earlier for different cases that I handle as part of my social work. But none of those cases are resolved.
You can tell the PM from my side that the administrative systems have totally collapsed. Rampant corruption and lawlessness is happening almost everywhere. Government officials are only sending people's complaints randomly from one department to another but people's grievances are not being resolved. These officials simply close the cases after sending people's complaints to some other departments while the complainants keep suffering.
Instead of solving public problems, the government officials force the poor public to go to courts. Most people do not have the resources to go to courts. And if courts have to do everything, why do we need the government and government officials?
I experience this bureaucratic inefficiency almost everyday because I run a community-driven anti-corruption service given at the following link:
[ Report Corruption in Delhi Housing Societies to Clean House ]
Link: http://www.ramanmedianetwork.com/report-corruption-in-delhi-housing-societies-to-clean-house/
You are, therefore, requested to discuss this matter with PM Modi and help me by taking decisions in PM office instead of sending emails back to me or some other department. I expect a constructive approach from PM office in handling and solving my problem.
Request for an immediate response.
Rakesh Raman
Response: In response to my request stated above, I received an email dated August 28, 2018 from the Cabinet Secretariat of the Government of India informing me that my case has been forwarded to an official in the Cabinet Secretariat.
I have received multiple such emails in the past for different cases that I handle for the suffering people. But all those cases are gathering dust in official files while poor people keep suffering. The government must understand that this kind of bureaucratic inefficiency and carelessness is the worst form of corruption.
As I have some faith in the Indian judiciary, I am requesting for pro bono legal help to take these cases in the courts in order to get justice.
Rakesh Raman
---
Case Details
I am a national award-winning journalist and social activist. Besides other senior editorial positions, I was writing an edit-page tech business column for The Financial Express newspaper. Now, for the past over 7 years, I have been running my own online news services. Earlier, I have worked with the United Nations (UN) through United Nations Industrial Development Organization (UNIDO) as a digital media expert.
As I write extensively about local and international corruption issues, these days I am also running "Clean House" online social service to report on corruption in Delhi's cooperative group housing societies (CGHS) where millions of people live.
I use this free editorial service like a "community court" to help Delhi residents raise their voice against corruption and other illegal activities – which are increasing rapidly in housing societies. The total corruption money involved is thousands of crores of rupees.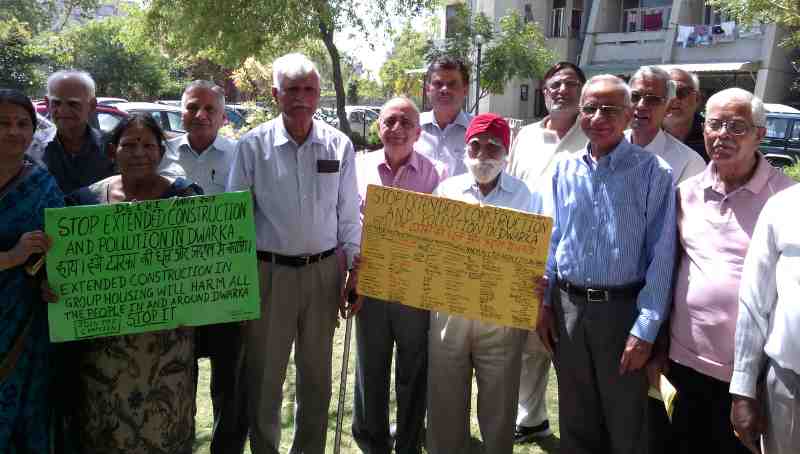 I compile the corruption cases and report about them to the government and law-enforcement agencies requesting them to take action. Most of my complaints are against illegal construction – worth thousands of crores of rupees – which is happening and increasing in Delhi's housing societies.
This construction is also spreading lethal dust and noise pollution in and around housing complexes where millions of people live. While I have formed a "Green Group" to stop pollution in Delhi which is among the most polluted cities in the world, I run major environment-protection campaigns in the city.
I also regularly write articles and research reports on my news site to inform the authorities so that they should get this construction and pollution stopped. The pollution is basically increasing because of rampant bureaucratic and political corruption in Delhi.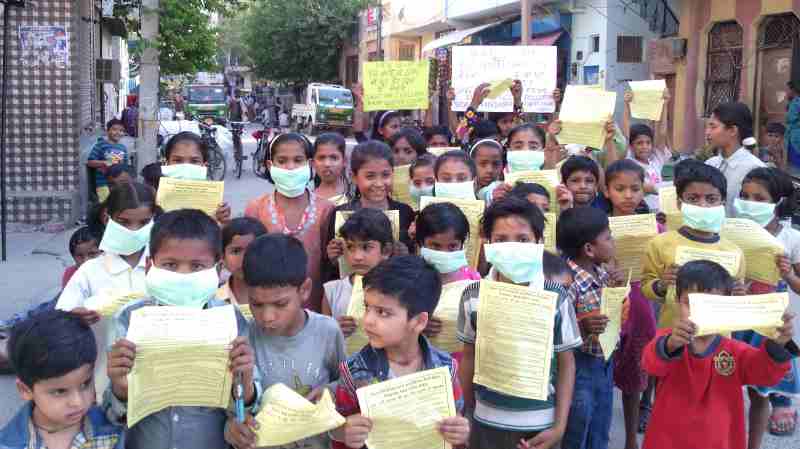 In response to my complaints, many corrupt officials – including IAS officers – are facing corruption inquiries. As the illegal construction racket is being run by builders' mafia in connivance with managing committee (MC) members of housing societies, bureaucrats, and politicians, my anti-corruption work is posing a strong resistance to their criminal activities.
Threats to Me
I have been raising my voice against corruption, lawlessness, environmental damage, and human / labour rights violations in housing societies. In order to suppress my voice, my Society's (DPS CGHS) MC members – who are operating hand in glove with deep-pocket builders – are sending multiple verbal and written threats to me.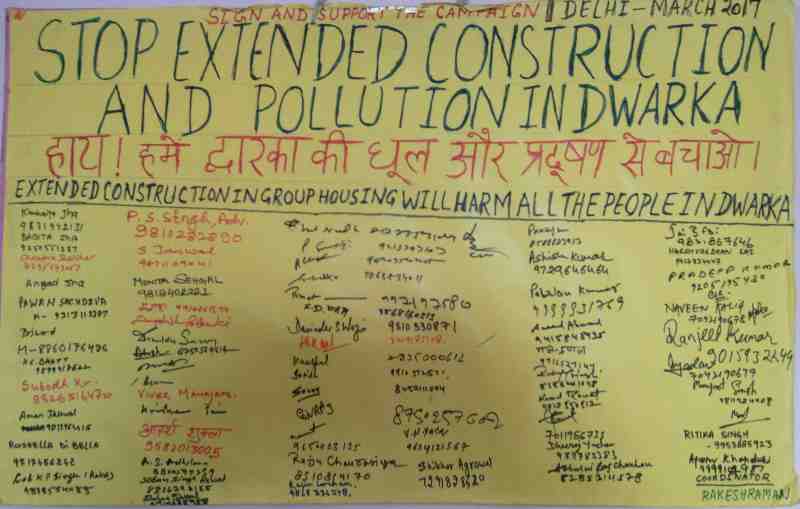 It is easier for my Society's MC members – who are part of the bigger citywide criminal racket – to target me because I live in their housing Society. They are asking me to stop writing news stories about their corruption and illegal activities while they have planned a major construction project which will spread massive dust and noise pollution in the occupied housing society.
Their threats include false police complaints against me, threats of physical harm to me, expulsion notices, legal notices, attack on my freedom of expression / press freedom, and slanderous attacks on my social as well as professional status.
I have already received more than half dozen legal notices asking me to change the content on my news site. The accused also have filed many false police complaints against me and had filed an expulsion case to get me expelled from the Society where I live. Moreover, they are regularly circulating slanderous information about me among the residents just to defame me.
These criminals – who are facing many government / judicial inquiries for illegal activities – are forcing me to stop writing about their corruption in my news articles and remove their names from my news site. This is a blatant attack on my press freedom and my freedom of expression guaranteed to me by the Constitution of India. The attack is also part of a larger trend visible in India where journalists are not quite free to discharge their professional responsibilities.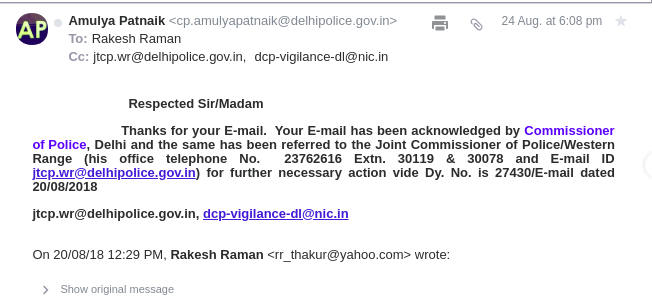 I have complained about the repeated threats to me to Mr. Amulya Patnaik, Commissioner of Police Delhi; Col. Rajyavardhan Rathore, Minister of State for Information & Broadcasting, Govt. of India, and Mr. Anil Baijal, Lt. Governor of Delhi. Although the Delhi Police acknowledged the receipt of my complaints, unfortunately the police have not taken any action against the accused while the threats to me are increasing.
You may please click here to read about one of the cases of threats to me with a letter written by the accused to Delhi Police to file FIR (First Information Report) against me and my news service.
I sent another complaint of threats to me to Mr. Amulya Patnaik, Commissioner of Police, Delhi on August 20, 2018. Although the police have again acknowledged the receipt of my complaint, so far no action has been taken by the police to protect me from the threats.
You are, therefore, requested to pursue this case with Delhi Police and other law-enforcement agencies in order to help me protect my fundamental right of freedom of expression so I could live and work in a fearless environment.
These days, I am working alone for my news services and the social services that I offer through my charity organization RMN Foundation. The threats that I am receiving regularly have severely affected my work as I am not able to focus on my professional work.
As I have limited financial resources, you are also requested to provide / arrange pro bono legal help for me so that I could approach a higher court for justice.
I also want this legal help to file a Public Interest Litigation (PIL) in the court to get the building construction stopped in Delhi's occupied group housing societies. This construction – which will run for years – is spreading massive dust and noise pollution that is harming the health of millions of people in Delhi.
Request for an immediate response.
About Me – Rakesh Raman

Rakesh Raman is a government's national award-winning journalist and social activist. Besides working at senior editorial positions with India's leading media companies, he had been writing an edit-page column for The Financial Express, a business newspaper of the Indian Express group.
Nowadays, for the past about 7 years, he has been running his own global news services on different subjects. He also has formed an environment-protection group called Green Group in Delhi. He has created a comprehensive online information service to educate the Indian voters for the upcoming Lok Sabha election scheduled to happen in 2019.
He is also running a community-driven free online social service under the banner "Clean House" to help the suffering residents of Delhi raise their voice against the growing corruption and injustice in group housing societies where millions of people live.
Recently, he has released a comprehensive research report "Dark Streets: Research Report on Corruption in Delhi's Housing Societies" that focuses on massive corruption and illegal activities in Delhi's Cooperative Group Housing Societies. He has also released a research report on the poor quality of education in Delhi government schools.
He also has formed a free Education and Career Counselling Center for deserving children at a poor J.J. Colony in Dwarka, New Delhi under his NGO – RMN Foundation.
Earlier, he had been associated with the United Nations (UN) through United Nations Industrial Development Organization (UNIDO) as a digital media expert to help businesses use technology for brand marketing and business development.
Contact
Rakesh Raman
463, DPS Apts., Plot No. 16, Sector 4
Dwarka, Phase I, New Delhi 110 078, INDIA

Note: I keep my mobile phone (9810319059) switched off and I cannot afford frequent commuting for meetings because I have limited financial resources. You may please contact me on my email.
Support RMN News Service for Independent Fearless Journalism
In today's media world controlled by corporates and politicians, it is extremely difficult for independent editorial voices to survive. Raman Media Network (RMN) News Service has been maintaining editorial freedom and offering objective content for the past more than 12 years despite enormous pressures and extreme threats. In order to serve you fearlessly in this cut-throat world, RMN News Service urges you to support us financially with your donations. You may please click here and choose the amount that you want to donate. Thank You. Rakesh Raman, Editor, RMN News Service.